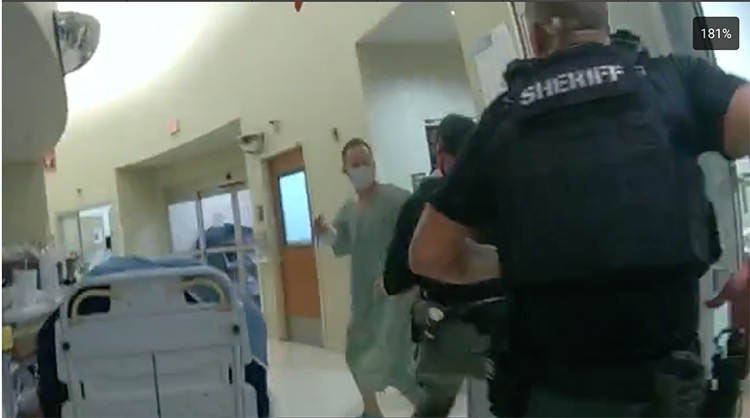 INDIAN RIVER COUNTY — A 29-year-old patient was fatally shot at Cleveland Clinic Indian River Hospital after deputies said he lunged at officers with a pair of large scissors Saturday. The Treasure Coast man's name was not publicly released.
"It happened in five seconds. He could've killed anyone in that hospital. He committed suicide by cop," Indian River County Sheriff Eric Flowers said during a Sunday news conference in front of the sheriff's administration building. "The deputies did what they were trained to do."
.@IRCSheriff Eric Flowers gives update on two shootings that happened Saturday, including a fatal deputy-involved shooting at Cleveland Clinic Indian River Hospital. #VeroNews pic.twitter.com/xuS7IxUAhO

— Nicholas Samuel (@JournalistNickS) March 27, 2022
This is the second deputy-involved shooting to happen in the county within three days.
The names of the two SWAT team members who shot at the man were not released. Both deputies were placed on paid administrative leave, which is routine for police-involved shootings, Flowers said.
Sheriff's officials on Sunday released body camera footage of the shooting. The hospital footage – which has a wider angle – was expected to be released Monday.
The incident at the hospital was one of three unrelated shootings that happened late Saturday and early Sunday in Indian River County. The hospital was on lockdown for several hours overnight, Flowers said.
A 27-year-old man – Patrick Casimir – was shot and killed in the evening at the Irish American Club in Vero Beach, police spokesperson Darrell Rivers said. Vero Beach police were expected to provide more information on the club incident Monday morning.
A third shooting – which deputies suspect was accidental – happened at a county residence. A man and woman, who are husband and wife, were taken to area hospitals for treatment, Flowers said.
The woman remained in stable condition Sunday, Flowers said. The man had minor injuries; it was unclear if he had been released from the hospital.
There was no known danger to the public, staff or patients for the shooting incidents.
Hospital shooting
The man killed at Cleveland Clinic Indian River Hospital had been brought to the emergency room earlier for a mental health evaluation, Flowers said. The man was sitting on a hospital bed in the hallway about 10:30 p.m. when he stood up, grabbed a pair of large scissors and started running.
Four deputies already inside the emergency room started to run toward the man, but then ran back after he held the scissors over his head. Hospital footage, which has not been publicly released, showed the man appear to lunge at the deputies before he was shot.
"He died right away," Flowers said.
Irish American Club shooting
Vero Beach police responded to reports of a shooting about 1:30 a.m. Sunday at the Irish American Club in the 1300 block of 20th Street. Officers found Casimir on the ground with multiple gunshot wounds, police said.
The man was taken to Cleveland Clinic Indian River Hospital, where doctors pronounced him dead, officers said. A motive in the incident was not available.
Police were searching for possible suspects and surveillance footage in the area, Rivers said.
Those with more information on the shooting should call the police department at 772-978-4600. Callers can remain anonymous by contacting Treasure Coast Crime Stoppers at 1-800-273-TIPS or tcwatch.org.
Home shooting
A third shooting – which was not deadly – occurred at 8:36 p.m. Saturday at a residence in the 5700 block of 59th Court, located down the street from Storm Grove Middle School, Indian River County Assistant Fire Chief David Rattray said. Rattray said a bullet struck a woman in the shoulder and a man in the finger.
"Both were hit by the same bullet," Rattray said. The ages for both were not immediately available.
The woman was flown to HCA Florida Lawnwood Hospital in Fort Pierce, Rattray said. The man was taken by ambulance to Cleveland Clinic Indian River Hospital.
This story will be updated.