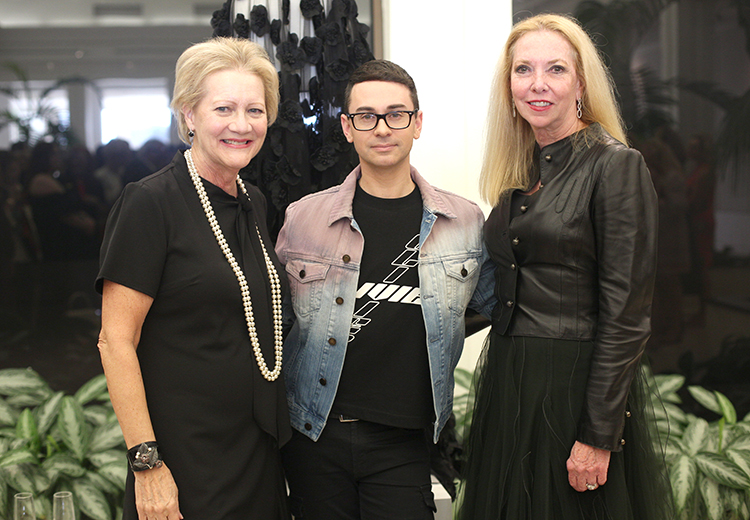 Award-winning American fashion designer Christian Siriano was welcomed by an appreciative audience of fashion-forward fans as the guest speaker of the fifth annual Fashion Meets Art fundraiser at the Vero Beach Museum of Art, presented by Windsor.
Although he is best known for the stunning gowns he has created for the rich and famous, his collections are also sold at retail shops, including his own boutique – the Curated NYC – and he most recently added a new Siriano Interiors collection.
"This has very rapidly become one of our signature events. And I have to thank our co-chairs, who are also the founders of Fashion Meets Art, Karen Loeffler and Melinda Cooper," said Brady Roberts, VBMA CEO, before thanking committee members and sponsors.
"I told Christian when I met him this afternoon that he was the inspiration behind Fashion Meets Art," said Loeffler, who facilitated a Q&A with Siriano in the Holmes Great Hall.
"In 2017 I watched Christian on the talk show circuit, and he was promoting his upcoming book, 'Dresses to Dream About.' While Christian was dreaming about dresses, I was dreaming about events. And I thought, we need to have a fashion-focused event at the Vero Beach Museum of Art. So really, this introduction of Christian Siriano is five years in the making."
Loeffler began the conversation by asking him, "Do you believe that fashion is art?"
"As I progressed in my career, I realized that people are living their lives in my work, but I really think of my work sometimes as sculpture," said Siriano, adding that he likes that people bring life to his work. "Fashion can be fantasy, but I also like to see people wearing it."
As slides of his fabulous designs sported by well-known fashion models and celebrities scrolled across a screen behind him, Siriano spoke with humor and charm about his rise to fame after studying in London, where he interned under Vivienne Westwood and Alexander McQueen.
"I wasn't accepted into any design school in New York," shared Siriano, adding with a laugh that he now turns down requests for commencement speeches at those same schools.
Following his win on Season 4 of Bravo's "Project Runway," he launched his first collection in 2008, and the rest, as they say, is history.
"We're going to get distracted by these images," said Siriano, as he would break off to delight the audience with personal stories of his experiences with the famed wearers of his designs.
He spoke a little about his 'Victoria Matrix' collection for Fall '22, an exciting, inclusive and eclectic collection, which debuted this winter in an unusual place, the basement of the Empire State Building.
Siriano was also pleased to relate that although designers at the famed Met Gala are allowed to exhibit only one piece, his contribution to the exhibit, "In America: A Lexicon," was a triptych of three versions of the same black dress for three body types – nongender, normal and curvy – another demonstration of his inclusive style.
"It goes back to my idea that there are no rules anymore," said Siriano when asked where his imagination was taking him next.
"I think we should be able to wear what we want to wear, wherever you're going, whatever you're doing," said Siriano. "We want people to live life and have the most fashionable moments they can, because if it makes them feel good, then great. That's all that really matters."
After Siriano answered questions from members of the audience, Loeffler announced that Leslie Bergstrom and Gregory Allen Ness will co-chair next year's Fashion Meets Art event on Feb. 28, 2023.
Siriano graciously met with sponsors at a private reception prior to his talk, as well as afterward with members of the entire audience at a second reception, catered by Windsor.
Photos by Kaila Jones