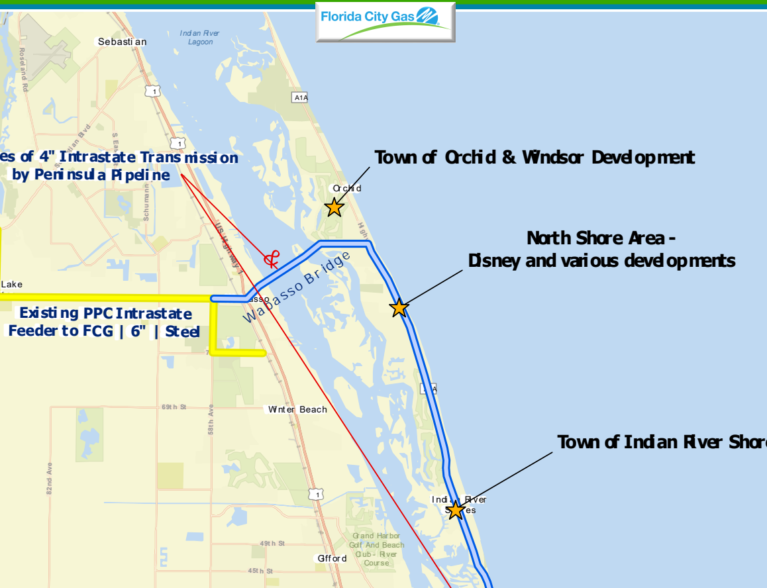 Peninsula Pipeline Corp. has obtained two of the five major approvals required to construct a natural gas pipeline to Indian River County's barrier island, and hopes to have the pipeline finished by the end of the year.
However, Florida City Gas may be able to provide natural gas service to residents and businesses even before the pipeline is completed if it can find sites for compressed natural gas trailers on the barrier island, a utility spokeswoman said last week.
"The timing piece is still in flux," said Bianca Soriano, a spokeswoman for FPL, FCG's parent company.
"Where and when is something we have to determine with private land owners, the county and local municipalities, and then we can arrange for temporary land use for the trailers," Soriano said. "They are very common throughout the industry to transport compressed natural gas."
Construction on the 11.5-mile pipeline is set to start in the second quarter of 2022 and be completed by the end of the year, said Brianna Patterson, a spokeswoman for Peninsula Pipeline, a subsidiary of Chesapeake Utilities Corp.
So far, Peninsula Pipeline has obtained permits from the U.S. Army Corps of Engineers and Florida Department of Transportation, Patterson said.
The project still needs permits from the Florida Department of Environmental Protection and Indian River County and a license from Florida East Coast Railway, Patterson said.
The pipeline will start at a natural gas facility in the vicinity of 58th Avenue and 85th Street on the mainland, extend east across the Indian River Lagoon near the Wabasso Causeway Bridge to State Road A1A, then go south until it reaches the Beachland Boulevard business district, a PPC map shows.
"PPC has procedures in place to protect the environment during and after construction," Patterson said. "The pipeline will be designed, constructed and operated in accordance with all regulations and environmental permits.
"We monitor construction activity that occurs within our right-of-way and on-call technicians are available every day of the year to respond quickly to any situation," Patterson said. "In addition, should the need arise, valves are installed at key locations along the pipeline that enable the flow of gas to be diverted or stopped as needed.
"Through our rigorous maintenance and inspection programs, along with a strong community partnership, we can ensure that the pipeline will operate safely and reliably, virtually unnoticed, in perpetuity," Patterson said.
Peninsula Pipeline is building the pipeline pursuant to a transportation service agreement, Soriano said.
Florida City Gas expects the pipeline will be ready to start bringing natural gas service to homes and businesses on Indian River County's barrier island next year and it hopes to complete most pipeline connections within five years, Soriano said.
FCG is setting up meetings with local officials in hopes of getting gas service started on the barrier island even before the pipeline is completed, Soriano said.
"We've met with some and we're going to meet with others in the next couple of weeks to have those discussions," Soriano said. "There are opportunities to be able to start serving customers through compressed natural gas.
"Were that granted, yes, you could potentially start serving customers through the compressed natural gas while construction is ongoing," Soriano said. "Those are all still in discussion."