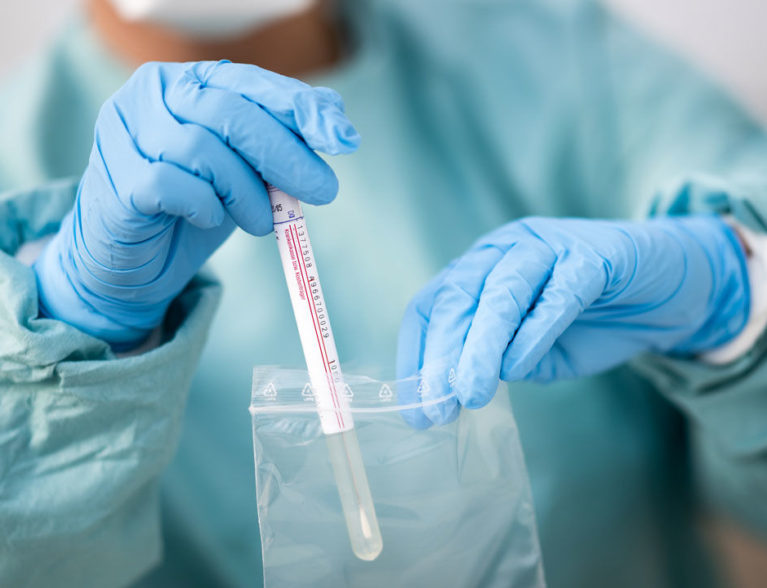 The number of new COVID-19 infections in Indian River County tripled in one week over the Christmas holidays, jumping from 217 cases on the Dec. 24 report to 659 cases on the Dec. 31 report published by the Florida Department of Health.
Locals who monitor the pandemic via the Centers for Disease Control and Prevention's Covid Data Tracker will see a totally different set of statistics, but county Emergency Services Director Chief Tad Stone said on Monday the state report is always more accurate than the CDC's numbers.
"It's not a mistake," Stone said of the 659 new cases listed on the FDOH weekly report, pointing out that many of the popular and busy retail COVID-19 testing locations such as Walgreens pharmacies are not captured in the CDC's numbers, and adding next week's number will likely rise when the next report comes out on Friday.
"We've been seeing 140 to 150 cases per day," Stone said.
So far, Stone said, the Omicron surge hasn't reduced the level of service his fire-rescue crews provide, though about 6 percent of the nearly 300-member staff has been out sick or quarantined.
"We've been able to cover it with overtime," he said. "We had one mandatory overtime shift on Sunday, that shift got hit especially hard."
To prevent the virus spreading in the close quarters where firefighters and paramedics work and live, Stone re-implemented temperature and symptom checks three times a day for employees.
"They are checked before they start their shift, then again mid-shift and again at the end of shift before they leave," Stone said. "We started that two weeks ago."
Both vaccinated and unvaccinated employees are testing positive. "It's as contagious as measles," Stone said.
Because the Emergency Operations Center must be staffed and operational 365 days a year, Stone said he's limiting access to the inner offices, and instead meeting with people who do not work in the building and members of the public in the EOC's media room. But so far, Stone said there's no plan to limit access to other county offices and facilities, or to require masks to enter.
For upcoming disaster drills where representatives from the county, cities and local law enforcement and government agencies will be on-site, Stone said he's upping safety precautions and requiring temperature checks.
Indian River Shores Public Safety Department has had 20 percent of its 40-member staff out with COVID-19 in the past three weeks, Public Safety Chief Rich Rosell said. And of the eight people who caught the virus, five were fully vaccinated. Fortunately, everyone recovered and was back to work as of Monday.
The Palm Beach Diocese Catholic Schools, which include St. Helen and John Carroll Catholic schools that Vero students attend, told parents and staff on New Year's Eve that all students and teachers would need to mask up indoors when classes resumed on Monday. The Catholic schools have also halted large events and were taking a look at how the latest covid surge may affect extracurricular activities and athletics.
St. Edward's School on the barrier island was also weighing whether masks were needed on campus again.
"We are currently mask-optional but are keeping a close eye on the numbers. We're going to meet again at the end of the week and see where the numbers stand, and make decisions from there," said Director of Marketing and Communications Monica Jennings on Monday. "Like many, we're hoping that this latest surge will blow by quickly."
As of Monday, local courts had not updated their pandemic protocols. A 2020 order mandating masks for everyone entering the courthouse was just lifted back in November, as infection rates fell following the Delta variant surge of August and September.
As case numbers rise due to the Omicron variant's transmissibility, the demand for COVID testing and for Regeneron shots and other treatments has also increased. The closest state-run monoclonal antibody treatment site is the St. Lucie County Fairgrounds in Fort Pierce. Brevard County also has a site in Rockledge, north of Melbourne.
Gov. Ron DeSantis announced Monday that Florida has nearly $1 billion in this year's budget for monoclonal antibody distribution, and that the Florida Division of Emergency Management is ready to open new treatment sites around the state within a day or two.
But he said Florida is waiting on shipments of 30,000 to 40,000 doses of three different monoclonal antibody drugs from the federal government. DeSantis said Florida has ample funding to purchase these treatments directly from the manufacturers, but the federal government currently has an exclusive arrangement to procure these drugs.
The CDC Data Tracker said 13 COVID-positive patients were admitted to the hospital in Indian River County over the seven days from Christmas to New Year's Eve, and no patients died from coronavirus in that seven-day period.
Florida Surgeon General Dr. Joseph Ladapo reported on Monday that available hospital capacity statewide remained high and intensive-care unit admissions were low. He said only about 50 percent of patients counted in the covid hospitalization numbers were admitted for COVID-19 symptoms. The other half tested positive for the virus upon being admitted for a different illness or injury.