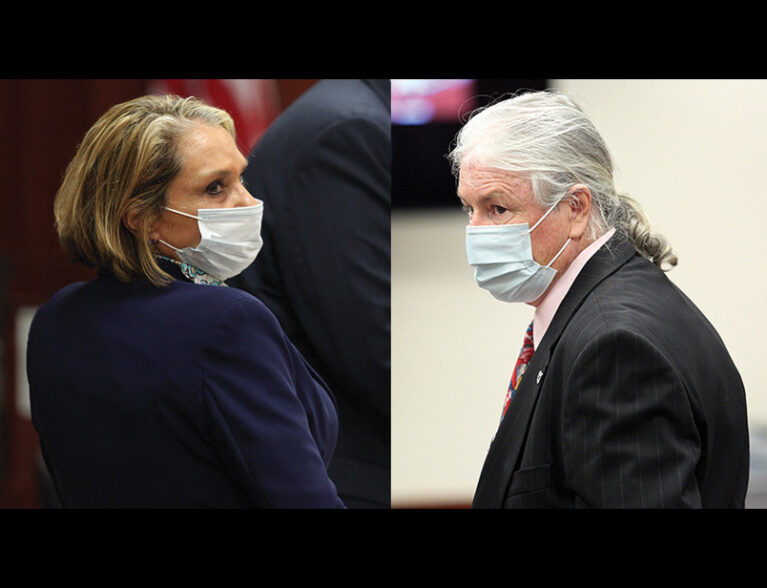 INDIAN RIVER COUNTY — Former Sebastian City Council members Damien Gilliams and Pamela Rapp Parris were sentenced Tuesday in their criminal case involving perjury and violation of the Sunshine Law. But the judge allowed the pair to remain free on bond, pending appeals on their convictions.
Judge Michael Linn handed down the sentencing in courtroom 8 at the Indian River County Courthouse. The sentencing – which was postponed twice – lasted from 9 a.m. to about 3 p.m.
Gilliams was sentenced to six months in jail, while Parris was sentenced to three months, Assistant State Attorney Lev Evans said. Gilliams and Parris were both ordered to pay $2,500 in fines for the convictions.
The sentencing stems from a meeting held April 22, 2020 at Sebastian City Hall. Gilliams, Parris and former Vice-Mayor Charles Mauti were in attendance.
Prosecutors described the meeting as illegal and said the public was not notified.
City officials said Gilliams, Parris and Mauti met in the chambers and locked the doors behind them before holding the meeting. Authorities said the meeting was an attempt to oust Mayor Ed Dodd, City Manager Paul Carlisle and City Attorney Manny Anon Jr. out of office.
Mauti later pled no contest and was issued a non-criminal violation of the Sunshine Law after he agreed to work with the state attorney's office.
A six-person jury found Gilliams and Parris guilty in May.
Gilliams was convicted on three counts of violation of the Sunshine Law and one count of perjury. Parris was convicted on one count of violation of the Sunshine Law and two counts of perjury.
Both Gilliams and Parris appealed the conviction and sentencing. Linn granted the pair an appellate bond, allowing them to be out of jail pending the outcome of their appeal with the appellate court.
Linn ordered a $125,000 appellate bond for Gilliams and a $10,000 appellate bond for Parris, Evans said.
Linn ordered Gilliams and Parris to pay a combined total of $26,098.50 to the city of Sebastian for restitution. Prosecution and investigation costs will be determined at a Sept. 29 court hearing, Evans said.