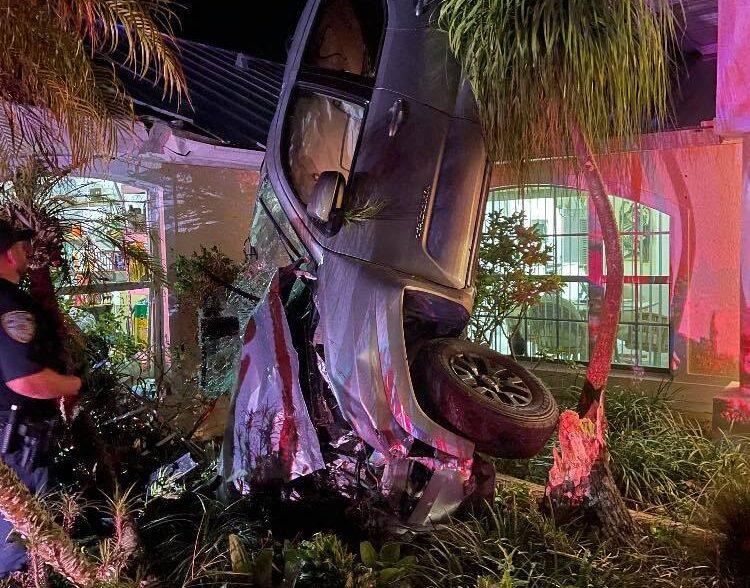 SEBASTIAN — An unidentified woman was hurt after she was ejected from a truck that veered off the roadway and flipped onto a residence late Sunday, fire rescue crews said.
The truck went into the air and hit the side of the garage, Indian River County Fire Rescue Battalion Chief Jamie Coleman said. The force of the crash caused the woman to be thrown from the truck, through the windshield and through the garage's window.
She was found on the garage floor, where authorities said she landed.
No one inside the home was injured, Coleman said.
The single-vehicle crash involving a Toyota Tacoma happened about 11:30 p.m. Sunday in the 1300 block of Schumann Drive in Sebastian, north of Barber Street. Coleman said the woman in the Toyota lost control of the vehicle before striking the side of the garage.
The truck landed between the front door and the garage, Coleman said.
"It appeared the truck flipped. The rear of the truck landed on the roof of the home, and the nose of the truck was on the ground," Coleman said.
A husband and wife were sleeping in a bedroom in the residence when they heard the commotion. The husband went to the garage and saw the woman lying on the floor, Coleman said.
The woman was flown to a trauma center, though it was unclear which one. Coleman said the woman has non-life threatening injuries.
"She's a lucky lady," Coleman said.
The Indian River County Sheriff's Office was investigating the cause of the crash.