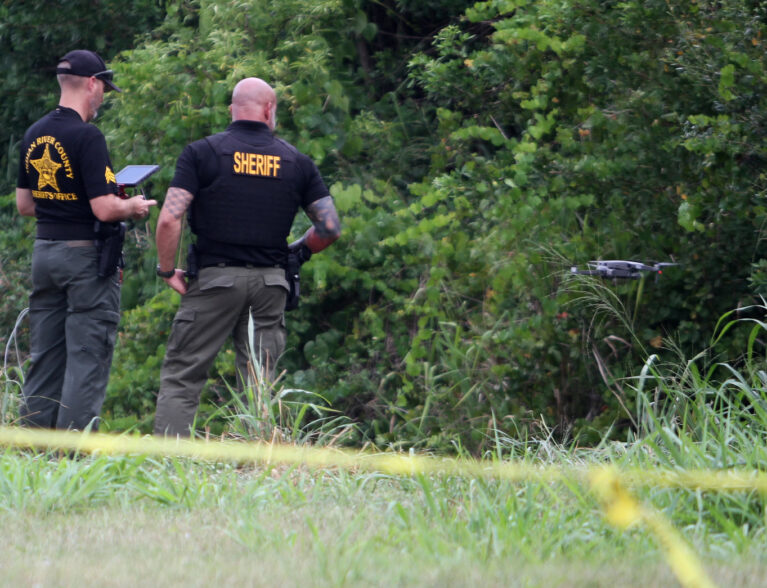 INDIAN RIVER COUNTY — Deputies continue to investigate a death where they said a man put a woman's body in a recycling bin and then dumped her into a canal more than a week ago.
Indian River County deputies on Saturday arrested Marcus Javon Rosier, 37, of the 4200 block of 28th Avenue, Gifford, on two counts of abuse of a dead human body, tampering with or destroying evidence and possession of a firearm by a convicted felon. Rosier was held Tuesday at the Indian River County Jail on $60,000 bond.
Deputies discovered the woman's decomposed body Friday in a canal near 28th Avenue and 41st Street. Detectives on Saturday identified the woman as Maria Guadalupe Romo, 33, of the 500 block of 37th Avenue.
The Medical Examiner's Office was unable to determine Romo's cause of death because of the severe condition of the body, officials said. Medical examiners said there were no reported signs of trauma to Romo's body, which had been left in the canal for seven days, reports show.
Deputies said Rosier never reported Romo's death and tried to hide her body in an attempt to hinder the investigation.
The investigation
Deputies conducted a welfare check July 21 at Romo's residence after her boyfriend reported her missing. The man said he and Romo got into an argument four days earlier, a missing persons report shows.
The man told deputies he had not heard from Romo since she left the home.
Deputies on Friday found Romo's body in the canal after a resident reported a large number of buzzards in the area. The canal is west of U.S. 1.
Deputies were able to identify the body as Romo from her clothing and tattoos, reports show. Deputies said Romo had on blue shorts, a black bathing suit top and a black tank top.
She also had a tattoo that read "Israel Jr" on the right side of her neck, reports show.
Deputies learned Romo was last seen at a home where Rosier lives in the 4200 block of 28th Avenue. The home is just 82 feet from the canal where Romo's body was found, deputies said.
Deputies spoke with the homeowner, who said he saw Romo and Rosier walking together the morning and afternoon of July 17 outside of the residence. The homeowner said he later saw Rosier pushing the recycling bin around in the yard.
Deputies spoke to Rosier, who said he and Romo were engaging in sexual acts outside of the home when Romo stopped moving, reports show. Rosier told deputies Romo's body was cold to the touch.
Rosier then emptied a large blue recycling bin nearby, put Romo's body inside and wheeled the bin to the canal, reports show. Rosier then dumped Romo's body in the water.
Rosier was arrested and booked into the county jail. Rosier has an arraignment at 8:45 a.m. Sept. 10, court records show.