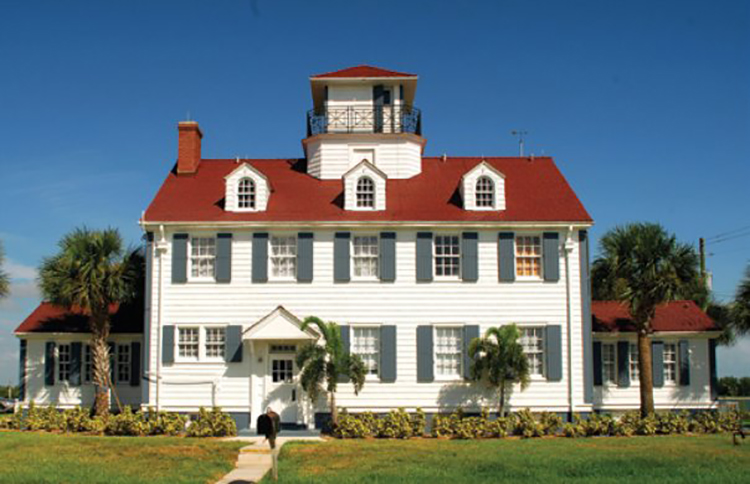 The Ocean Research & Conservation Association, a prominent local environmental nonprofit supported by island residents, has received both a big financial boost and a major logistical setback in the past several weeks.
At about the same time ORCA's 15 staffers learned the organization would receive $750,000 in new funding from the Florida Legislature for their mission to clean up the Indian River Lagoon, they were told to vacate their longtime headquarters in the old U.S. Coast Guard Station building in Fort Pierce. 
Their landlord, Indian River State College, told them they have to move by July 8. College officials told Vero Beach 32963 the landmark frame building on the shore of the Fort Piece Inlet, constructed in 1936, is too old for continued occupancy. 
ORCA's managing director Warren Falls said the staff will decamp to the organization's satellite laboratory on Airport North Drive in Vero Beach and do some work remotely while looking for a new permanent home in a central location along the 156-mile-long lagoon.  
Meanwhile, ORCA is deciding where in the lagoon to erect two new Kilroy water quality monitoring stations it plans to add to its current array of 18. 
Kilroys are custom-made devices loaded with electronic and chemical monitoring devices that track and communicate lagoon water quality in real time to help research scientists, government officials and environmental groups make informed decisions about lagoon cleanup efforts.
Falls said ORCA is considering two possible "areas of concern" in canals that flow into the lagoon in St. Lucie and Brevard counties where there are no Kilroy units. He said Indian River County is already well covered by the sensor network.
"Our goal is to look at inputs into the Indian River Lagoon, which canals may be contributing to [pollution in] the lagoon," he said. "We can look at conditions in the lagoon all day long, but until we know what's coming in from where, it's a guessing game."
The Kilroy network, launched in 2015 with about $1.2 million in seed money from the Legislature, picks up more water-quality information than aquatic sensors operated by state agencies, monitoring temperature, depth, salinity, dissolved oxygen, fluorescent dissolved organic matter, oxidation reduction potential, turbidity, algae growth, and the nutrients nitrate, nitrite and orthophosphate. 
The small but sophisticated stations, which ORCA builds itself, originally numbered 25, but state budget cuts under then Gov. Rick Scott slashed the number to eight.  
Since then, new local and state funding has allowed ORCA to rebuild the network, which now includes18 Kilroys installed in water bodies that feed the estuary, with two more to come.
Falls said measuring water quality parameters in real time provides important information to scientists and local natural resources managers.
Kilroy data provides early warning of impending pollution threats, measuring vertical migration of algae when it is not visible on the surface before an actual bloom occurs and shows illegal discharges of fresh water that load the lagoon with harmful nutrients such as nitrogen and phosphorus.
Local schools use the data to teach students environmental science, and the public can check on lagoon water conditions anytime, day or night, at www.teamorca.org.  
"We're always looking to expand the network," Falls said.  "Hopefully, the more information we have, the better the decisions we can make, and the faster we can clean the waters."