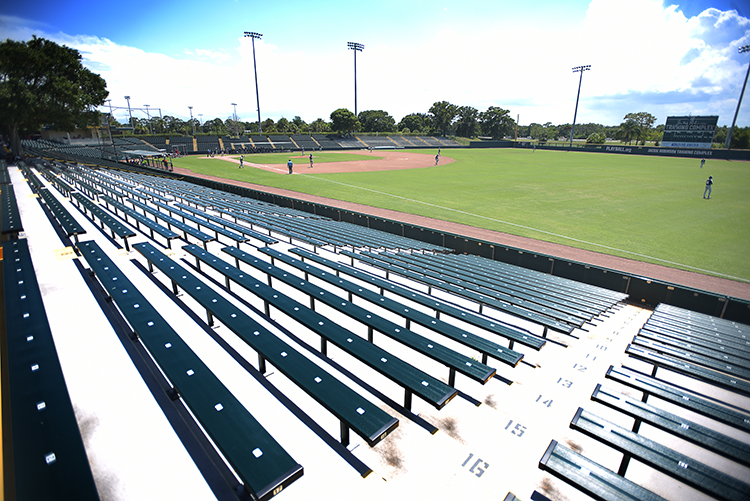 For about 30 minutes last week, I was back in my baseball-writing past, chatting with former All-Star outfielder Ken Griffey Sr. on the Holman Stadium concourse at the once-sacred ground many of us still call Dodgertown.
"I made every trip here from Tampa," Griffey said, recalling the spring-training memories of his youth, when he was a fixture in the Cincinnati Reds lineup that won back-to-back World Series in the mid-1970s.
"It took us three hours to get here, and then we had to sit in the hot sun for another three hours because the dugouts weren't covered," he continued. "There was no outfield fence, either – just a berm – so you could run up the hill and catch a fly ball."
He paused for a moment, then added: "Yeah, this place brings back a lot of memories."
That's why it's still here – and still something Vero should be proud of.
Simply put, the place looks great – thanks to upgrades made since Major League Baseball took over the lease in 2018, changed the name to the Jackie Robinson Training Center, and began to operate it as a place to develop young baseball and softball players.
It wasn't too long ago that Holman Stadium had become an eyesore. Now, though, the 6,500-seat ballpark again is worthy of its glorious past. The fields are finely manicured, the property is beautifully landscaped and the buildings on campus have been, or are being, refurbished.
And there is a brand-new addition – Building 42.
Named after the iconic uniform number of Major League Baseball's first Black player and scheduled to open next month, the still-under-construction facility will include an indoor infield, batting cages, classrooms and meeting rooms.
"Major League Baseball is doing a heck of a job with this place. Just look around," said Griffey, who was in town along with a dozen other former MLB players and managers for the MLB Boys Breakthrough Series, June 7-11.
"Established in 2008, the Breakthrough Series is a joint effort on behalf of USA Baseball and Major League Baseball … [aimed at developing elite young players] on and off the field through seminars, mentorship, gameplay, scout evaluations, video coverage and the highest level of instruction, all while providing a platform for the players to perform for scouts and collegiate coaches," according to mlb.com.
Players at last week's event – which was free for participants, paid for by USAB – were sophomores and juniors from high schools around the country.
Besides hosting MLB development camps, the Jackie Robinson complex has become the official training facility of the U.S. Women's National Softball Team, which conducted a training camp on the premises in April as part of its preparations for next month's Tokyo Olympics.
The complex also continues to serve as a training site for a wide range of youth sports teams that come to bask in the ambiance of the historic facility while sharpening their skills.
Even though most people haven't visited the complex since the Los Angeles Dodgers ended the six-decade marriage between the team and Vero Beach 13 years ago, when they moved their spring-training headquarters to Arizona, what we still think of as Dodgertown remains a special place.
"It means something because, for a long time, the Dodgers and Dodgertown were a big part of Vero Beach's identity," said Craig Callan, who ran the complex for more than 40 years and still lives here. "Under the O'Malleys' leadership, the Dodgers were a family, and Vero Beach was a part of that family.
"The Dodgers weren't just the hometown team," he added. "They were embedded in the community."
To be sure: Thousands of newcomers have moved here in the years since the team left town and hardcore Dodger fans are a dwindling group as spring training in Vero Beach has become a distant memory.
Other than the annual Jackie Robinson Celebration Game on April 15, when the St. Lucie Mets move one of their Florida State League home games to Holman Stadium to commemorate Robinson becoming Major League Baseball's first Black player, there's not much reason to go there.
But we should still be thrilled that the Jackie Robinson Training Complex is here.
Even if the complex's upcoming youth sports tournaments and training sessions don't necessarily excite you, it's worth driving over for a visit.
Walk around. Take in the decades of history that reside in the park-like surroundings, where Robinson's legacy is celebrated at every turn. Let your mind drift back to the Dodgertown of yesteryear – a place that baseball poets, in print and over the airwaves, once called America's quintessential spring-training home.
That's what I did last week.
That's why I'm thankful this place is still here, still home to baseball, still reminding us of a very special time in Vero Beach.
It is an honor to have Robinson's name so prominently connected to our community, helping keep our link to baseball history and our own past alive.