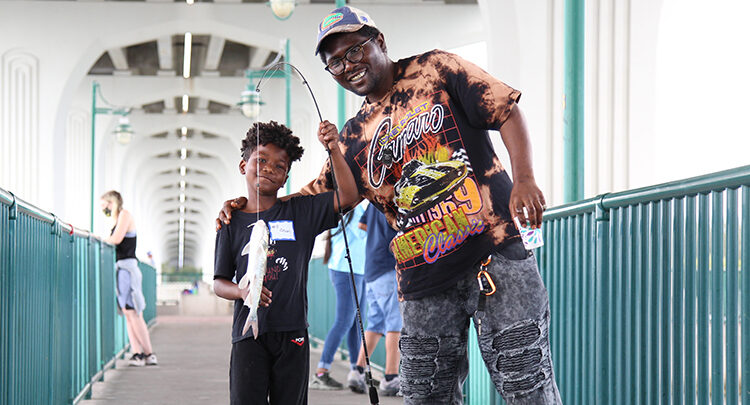 Poles at the ready, a smaller but no less eager number of children tried their luck at the recent Take a Kid Fishing event, hosted by the Kiwanis Club of Vero-Treasure Coast. A lovely breeze kept things cool as the youngsters dangled their poles over the railings of the fishing catwalk underneath the Merrill Barber Bridge.
"The schools wouldn't allow us to put up flyers this year, so that hurt us," said event chair Jim Wolfe of the smaller-than-usual turnout.
Al Sammartino, current Kiwanis president, explained that instead of flyers, the school district now utilizes a "virtual backpack" system. "They put it in for one day, so if they missed it, they missed it, so we didn't get the turnout. But the kids are having fun and we're having fun; it's all good."
The morning of fishing, entirely free to children ages 5 to 12 who wish to participate, is just one way the Kiwanis Club meets its mission of serving the children of the community. Also on hand were several volunteers from the Indian River Charter High School Key Club, who often provide assistance with the various Kiwanis projects.
"We don't have as many kids, but they're catching fish left and right," said George Fetterolf, watching as the youngsters pulled up an array of marine life, including mangrove snapper, puffer fish, catfish, tiny crabs and even a clam – and what they thought was a car battery.
"I look and I watch these kids, like this little guy over here," Fetterolf added. "I was just about to go over and help because he wasn't catching anything but oysters, and he got one. He was so excited."
For many, it was the first time they had ever fished and, once past the icky part of hooking a slimy shrimp piece (especially heads, with their long antennae), they focused on the task at hand – sitting patiently while awaiting the big one and giggling with delight when they caught even the teeniest of fish.
One by one and grinning ear-to-ear, each child walked up to the table with their squiggling catches to have hooks capably removed by Luke Sammartino, get them measured and counted by his grandfather, Al Sammartino, before tossing them back, often to get caught again.
"Phew," said one little boy, shaking his wrists dramatically after pulling up a tiny mangrove snapper, "that was heavy!"
"His name is 'Pirate' because he has a black patch," said 8-year-old Rosa with certainty, referencing the little grunt she caught. Soon after, having pulled up a pufferfish, she declared, "I think I'm going to call my fifth fish 'Balloon.'"
Bait was donated by Vero Tackle & Marina, and prizes, for such categories as biggest and littlest fish, ugliest fish and most caught, were donated by Trophies, Novelties & More.
The fishing was all catch-and-release, but nobody went home hungry. For safety's sake, they opted to have more than a dozen pizzas delivered rather than grilling up the usual hot dogs and hamburgers.
For more information visit verokiwanis.com.
Photos by Kaila Jones