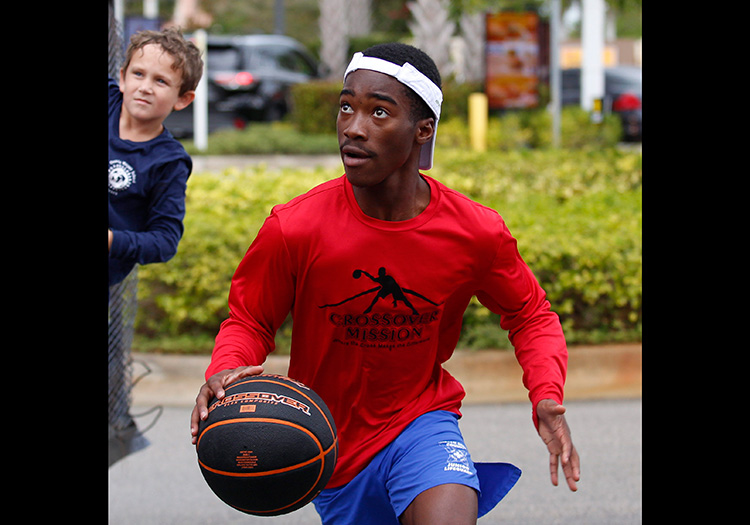 There are always questions at times like this, when a young life filled with so much promise is cruelly taken in a tragic accident no one saw coming.
The first question is: Why?
Why did Bidensky "BT" Termidor's celebratory leap into the lagoon off an on-campus dock – a last-day-of-class rite of passage for St. Edward's School seniors for nearly 15 years – need to end in such horror?
Why did such a wonderful moment have to go so dreadfully wrong for a beloved, 18-year-old student-athlete who was about to graduate with honors, and continue his education at the University of North Florida on an academic scholarship?
Why didn't he jump in, make the traditional splash and quickly return to the surface along with his 50-plus classmates?
There is no good answer.
Certainly, there's no answer that offers any real solace in the wake of Termidor's drowning on Friday afternoon, after St. Edward's seniors completed their "senior walk" along the school's outdoor halls and ran to the dock.
Some may say it was "God's will," but even people of faith struggle when trying to make sense of the death of someone so young, with such a bright future ahead.
Others, of course, will be more pragmatic and ask: Why did St. Edward's embrace such a tradition, knowing there was the possibility someone could drown?
That question is likely to be asked, in writing and in the not-too-distant future, by a lawyer.
You can be sure that the question already has been asked and answered in the minds of the school's board of trustees.
This once-fun, previously harmless tradition cannot be allowed to continue.
That doesn't mean future seniors won't jump off the dock. They'll simply do it when no one is watching – because, well, that's what 17- and 18-year-olds do. Remember: Students began this tradition spontaneously.
Given the litigious nature of America today, however, the lagoon leaps no longer can be done with the school's blessing.
It doesn't matter that Termidor's drowning in 6 to 10 feet of water was the first since the tradition was launched, or that it appears to have been a freak accident.
But that also raises the question: How could it have happened?
How did Termidor, who jumped off the dock with dozens of other seniors, stay submerged for 4 to 6 minutes before a classmate noticed that he was missing and went down to get him?
How was a standout, two-sport athlete not able to fight his way to the surface, where he could've yelled for help?
Speculation was rampant last weekend, when members of the St. Edward's community grappled with the loss, wondering if Termidor was unintentionally knocked unconscious while under water.
Did another jumper, who didn't see Termidor under the surface, accidentally jump on top of him, possibly knocking the wind out of him and driving him deeper toward the lagoon's murky bottom?
Did Termidor know how to swim?
Sheriff's deputies interviewed witnesses on the scene, and those statements will be used during the agency's investigation, along with any cellphone videos of the incident. An autopsy was to be conducted.
St. Edward's, meanwhile, was communicating only through news releases and emails to members of the school's community, which was asked to "refrain from sharing any cell-phone footage" from the incident "out of respect for the family."
The school canceled middle and upper school classes Monday, and held a memorial service Monday morning on campus.
The boys lacrosse team, which postponed Friday night's state playoff game against Lake Highlands Prep in Orlando, rescheduled the regional final for Tuesday night, when players wore "BT" stickers on their helmets.
In an email to his players, St. Edward's lacrosse coach Doug Bailey wrote that the stickers were a symbol that the team would "dedicate the rest of our playoff run to BT, his ear-to-ear smile and his life."
Sources familiar with the incident said senior lacrosse player Ryan Barnett returned to the lagoon and pulled Termidor from the water. Bystanders immediately began CPR in an attempt to revive him, continuing until a county Fire Rescue crew showed up minutes later.
Termidor was taken to Cleveland Clinic Indian River Hospital, where he was pronounced dead.
"Everyone is devastated," said one parent who attended Monday's service but requested anonymity. "There were tears everywhere you looked. Nobody who was there wants to talk about it."
Not publicly.
Not specifically.
Not about what happened on the dock and in the water after Termidor jumped and sank without anyone noticing until it was too late.
So we wait for the Sheriff's detectives to file their report. But at least one of our questions can't be answered by any investigation.
Why?