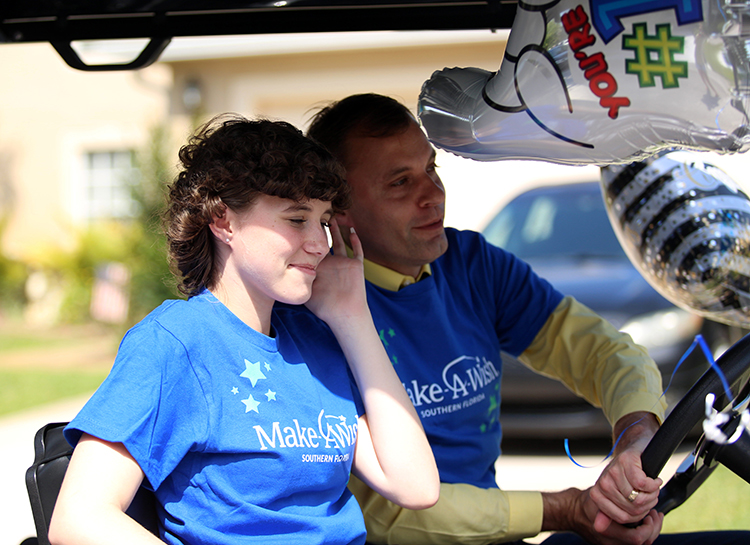 INDIAN RIVER COUNTY — Audie and Pamela Ash never imagined the struggles, long nights and countless hospital trips they would endure as one of their daughters battled stage 4 cancer.
Their daughter, Promise, 15, was diagnosed with Hodgkin's lymphoma in January 2020 at Nemours Children's Hospital in Orlando, her parents said. The Ash family, of Vero Beach, made it a routine to travel to the hospital so Promise can undergo chemotherapy.
It was a frightening few months for the family, who did not know if Promise would ever recover. Then, on June 5, 2020, doctors told the parents that Promise's cancer was in remission, or undetectable.
"First and foremost, we praise God," Pamela Ash said, her voice filled with emotion.
To celebrate Promise's achievement, Pamela Ash contacted Make-A-Wish Southern Florida to surprise Promise with a gift of her choice. Promise's "wish" came true after Make-A-Wish gave her a custom, six-seater golf cart on Thursday – her 15th birthday – outside of her family's two-story home at Lakes at Sandridge complex.
"We've seen what she has had to go through," Audie Ash said. "This is a good day. We're very blessed and thankful."
Make-A-Wish is a nonprofit organization that has granted nearly 13,000 "wishes" since 1983 to children with critical illnesses. The agency aims to grant a wish for every medically-eligible child, like Promise, in its territory.
Make-A-Wish Southern Florida covers 22 counties and four regions in southeast and southwest Florida, on the Suncoast and in the Tampa Bay area. Make-A-Wish volunteers spend time with the children to narrow down what the youth want as a wish gift.
The average cost for Make-A-Wish gifts are about $5,000, agency officials said.
"Once that wish is decided on, we move heaven and earth to make it special," Make-A-Wish Southern Florida Chief Operating Officer Richard Kelly said. "It's important for us to continue to have the support of a caring community. We need a community of supporters to help us fund and identify wishes like Promise's."
Promise's new street-legal golf cart has LED lighting, a Bluetooth enabled sound system, USB ports, a back-up camera and cup holders. Promise, full of laughs and energy, struck poses for the cameras before walking to the golf cart, decorated with blue, white and silver balloons.
Her mother and father wiped away tears as Promise hopped in the vehicle.
"It's amazing" – Make-A-Wish Foundation gifts a 6-seater, custom golf cart to Promise Ash. Ash, 15, Vero Beach, battled cancer last year and recently reached the remission stage. #VeroNews pic.twitter.com/5JLiT3IOAC

— Nicholas Samuel (@JournalistNickS) April 15, 2021
"It's so pretty," said Promise, who was all smiles as she went on her first ride in the passenger seat in the golf cart at her home off Ridge Lake Circle. "It's overwhelming."
Promise Ash takes her first ride in her new custom golf cart down the street from her home off Ridge Lake Circle in Vero Beach. #VeroNews pic.twitter.com/9iE1KrXCTP

— Nicholas Samuel (@JournalistNickS) April 15, 2021
Cancer scare
In July 2019, Promise, a freshman at Indian River Charter High School, started experiencing fevers up to 100 degrees, fatigue and leg pains, her parents said. The symptoms caused her to not be able to walk very far.
Promise's parents took her to the hospital several times before discovering she had stage four cancer in January 2020. The parents took photos to document Promise's journey.  The pictures can be found on the Facebook page "God' Promise Conquering Cancer."
One of the photos showed Promise ringing a bell at a hospital, marking the end of chemotherapy treatment. By June 5, 2020, the cancer was undetectable.
Promise gets check ups at the hospital every three months, her parents said. Promise has a passion for photography and painting, plans to take health classes and wants to be a nurse in the future.
Her own personal health struggle is what inspired her to seek a career in the medical field.
"I like to help people," Promise said.
Photos by Kaila Jones and provided by Ash family