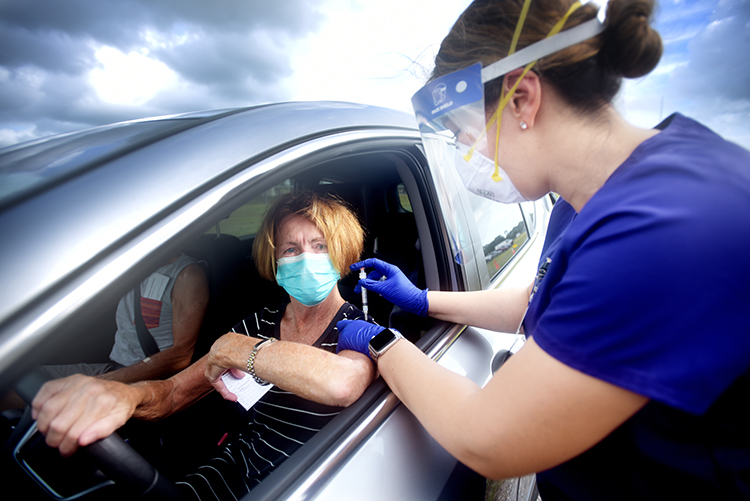 INDIAN RIVER COUNTY — For the first time, county officials will host three drive-up clinics where residents can receive the COVID-19 vaccine without booking an appointment.
"It's first-come first-serve. This gives people flexibility so they can go on their own free time," Indian River County spokesperson Kathleen Keenan said. "We're really excited about it. We're trying to give people additional options."
The drive-up clinics are open to the public and will be held this month at the Indian River County Fairgrounds, county officials said. The schedule for the clinics is as follows:
·         Saturday, April 10, from 11 a.m. to 1 p.m. (300 first dose shots)
·         Friday, April 16, from 9 a.m. to 3 p.m. (450 first dose shots)
·         Friday, April 23, from 9 a.m. to 3 p.m. (450 first dose shots)
County officials will be providing the Pfizer vaccine to individuals at the testing site. The vaccine has been authorized for anyone ages 16 or older.
Residents ages 16 or 17 must have a parent or guardian with them if they plan to get the vaccine. Anyone planning to attend the drive-up clinics must bring their ID.
The county continues to offer COVID-19 vaccine appointments through the Everbridge waitlist system. The drive-up clinics will be held on different days then clinics with appointments, Keenan said.
"If it's successful, then there's a possibility (the drive-up clinics) will continue," Keenan said.
What do I need to bring to my appointment?
Please bring the documents as detailed below to prove Florida residency:
1. An adult resident must provide the County with a copy of his or her valid Florida driver license or a copy of a valid Florida identification card.
2. An adult seasonal resident who cannot meet the requirements of subparagraph 1. may provide a copy of two of the following that show proof of residential address:
a. A deed, mortgage, monthly mortgage statement, mortgage payment booklet or residential rental or lease agreement.
b. One proof of residential address from the seasonal resident's parent, step-parent, legal guardian or other person with whom the seasonal resident resides and a statement from the person with whom the seasonal resident resides stating that the seasonal resident does reside with him or her.
c. A utility hookup or work order dated within 60 days before registration in the medical use registry.
d. A utility bill, not more than 2 months old.
e. Mail from a financial institution, including checking, savings, or investment account statements, not more than 2 months old.
f. Mail from a federal, state, county, or municipal government agency, not more than 2 months old.
https://member.everbridge.net/774197919875078/faq