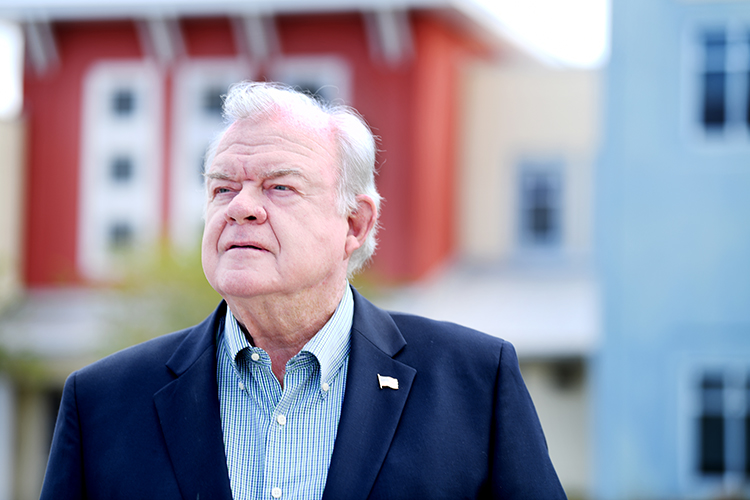 School Board Chairman Brian Barefoot has been trying in recent weeks to figure out how to create a privately funded, not-for-profit foundation to raise money for major school programs and projects in our county.
A former college president with extensive philanthropic fundraising experience, Barefoot seems the perfect guy to lead such an effort. And he has the backing of School Superintendent David Moore and the rest of the School Board, which voted unanimously at its March 8 meeting to approve a policy authorizing Moore to organize the foundation.
But there is a hurdle to overcome before the foundation can become a reality and start funneling money from island philanthropists to the schools for things the school district doesn't have the money for.
The problem is, the policy approved by the School Board requires that the superintendent and school board chairman serve on the foundation's board of directors.
That seems to set up a situation – since Barefoot is an elected official – in which the foundation board's meetings would be subject to Florida's Sunshine Law, and its records to the state's public records statute.
That would be a deal killer for Barefoot, who says the foundation he has in mind can't operate that way.
"You can't do this [type of fundraising] in public or you're going to fail," Barefoot said. "There will be donors who might want to contribute to a specific project, but they won't if their names are going to be mentioned publicly.
"We're hoping the legal experts will find a way in which we can separate a privately run foundation from a public entity," he added. "If we can't do that, then I'm out. But there are foundations affiliated with other school districts, and they're set up outside of the Sunshine.
"So, I think we'll get there."
Let's hope they do.
Our school district needs the money.
"The superintendent has a strategic plan for the district, but not everything in his plan can be funded with taxpayer dollars," Barefoot told Vero Beach 32963 last week. "We have the money to fund the things we need to do, but not the things we'd like to do."
Barefoot currently serves as vice chairman of the Cleveland Clinic Indian River Foundation, which he said has transferred $120 million to the county's hospital since 1998 and could serve as a model for the school district's foundation.
"The way it works there is: The hospital decides it needs to upgrade its cancer facility or heart program, so it goes to the foundation, makes its case and the foundation signs off on it," Barefoot explained.
"The donors know exactly what they're investing in," he added. "The school district needs that same type of funding source."
According to Barefoot, an independently managed foundation would raise money to enhance academic, athletic and artistic opportunities for the county's public school students and provide funding for major capital projects in the district.
Programs could include housing assistance or advanced education for teachers – both of which would help the district recruit and retain high-quality faculty members – while projects might include additional athletic facilities, a music studio and an innovation center.
"This is a very philanthropic community," Barefoot said. "We need to reach out and partner with that community."
Though Barefoot doesn't have a list of big-money island donors waiting for his call with their checkbooks open, he said he has had conversations with "people asking how they can help."
If the foundation is created, he'll advise the district to move deliberately.
"There are a lot of not-for-profits in this community, so it's going to take a while to do the groundwork," Barefoot said. "First, you've got to show people there's a need, but even then you don't want to bite off too much.
"You start with one project and show them what you did," he added. "Let them see the outcome. Once they see what you're trying to accomplish and how you go about doing it, they'll be more likely to become a part of it."
The district already benefits from the fundraising efforts of several local nonprofits, including The Learning Alliance and the Education Foundation of Indian River County, John's Island Foundation and Quail Valley Charities.
But the School Board chairman says the district needs additional financial support to embark on some of the initiatives in Moore's strategic plan.
"The district gets grants, but usually the not-for-profits do what they want to do – not what the district wants to do," Barefoot said. "Also, you'll find the people who contribute to those not-for-profits are different from those who fund project-oriented foundations.
"So, what we need is the ability to raise money for strategic programs and projects the district otherwise can't afford," he added. "A school district foundation would give us that ability."