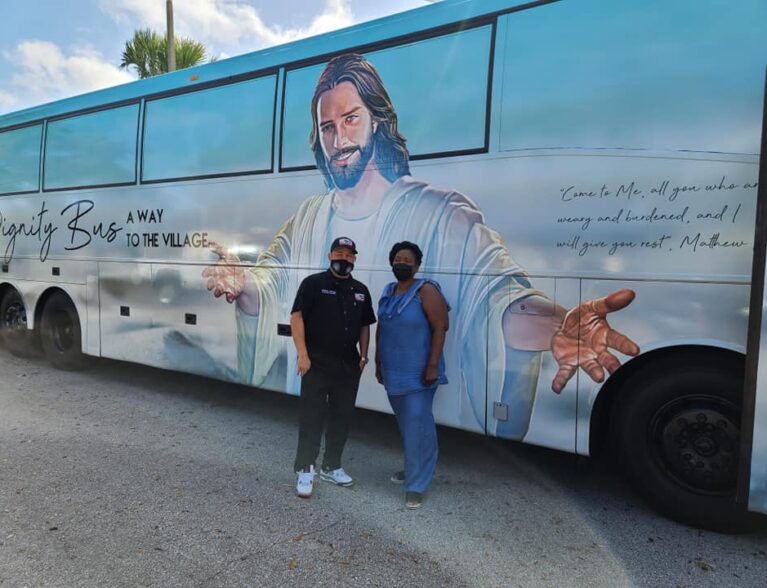 INDIAN RIVER COUNTY — The Source will roll out its emergency shelter 'Dignity Bus' for the first time Monday and Tuesday nights as chilly temperatures were expected to sweep across the area.
The 45-foot long RV – converted inside into 20 sleeping pods – will operate as a cold weather shelter for the homeless and those in need, said officials with The Source, a local Christian outreach ministry. The Dignity Bus is the first mobile emergency shelter in the country, said The Source's Executive Director Anthony Zorbaugh.
"We created the mobile emergency shelter for people to access us," Zorbaugh said.
Monday night will have a low temperature near 40 degrees, along with 15-to-20 mph west northwest winds and gusts as high as 30 mph, according to the National Weather Service in Melbourne. Temperatures on Tuesday night will dip near 38 degrees with 10 mph west northwest winds.
A wind advisory issued earlier for Indian River County remains in effect until 7 p.m. Monday, meteorologists said. A wind chill advisory will start overnight and remain in effect until 9 a.m. Tuesday.
A wind chill advisory means temperatures 35 degrees or below could last more than three hours, forecasters said.
Feb 1st 530 PM | Turning much colder overnight. A Wind Chill Advisory is in effect 1 AM – 9 AM. Gale Warning most areas offshore. pic.twitter.com/xqFxjAcdvw

— NWS Melbourne (@NWSMelbourne) February 1, 2021
The Dignity Bus will pick up those for the cold weather shelter at these times and locations:
• 10 p.m., The Source, 1015 Commerce Ave., Vero Beach
• 10:15 p.m., Intergenerational Recreation Center, 1590 9th St. S.W., Vero Beach
• 10:30 p.m., Pocahontas Park, 2140 14th Ave., Vero Beach
• 10:45 p.m., Walmart, Route 60, Vero Beach
• 11:00 p.m., TA Truck Service, 8909 20th St., Vero Beach, this will be the final destination until 5:30 am.
• The bus will then travel to The Source for breakfast and services
Those in need of beds should call The Source at 772-564-0202 to reserve their spots and location pick up, officials said. Temperature checks will be given before boarding the bus. 
"There are only 20 beds available, so reservations are required," The Source officials said. The bus already has pillows and blankets, Zorbaugh said.
Zorbaugh noted that the Dignity Bus will operate as an emergency shelter seven days a week, 365 days a year regardless of cold weather conditions. The Source obtained the bus last week, Zorbaugh said.
The Source officials said donations are always appreciated. Those who want more information on the Dignity Bus cold weather shelter should contact Zorbaugh at 717-435-2312.