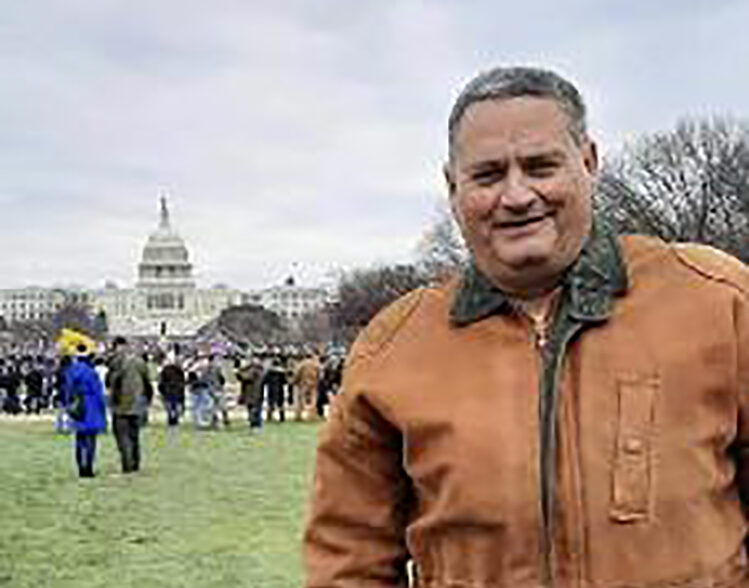 Former Vero Beach Mayor and current Indian River County Republican Executive Committee Chairman Jay Kramer said last week he refused to talk to FBI agents who wanted to question him about his activities while attending then-President Donald Trump's "Save America" rally in Washington, D.C., on Jan. 6.
"Why should I?" Kramer told Vero Beach 32963. "It's not my job to help them with their investigation, especially when they're investigating me."
The FBI has been contacting, questioning and attempting to interview people who attended the rally in connection with its aftermath – the storming of the U.S. Capitol by a Trump-supporting mob that tried to prevent Congress from certifying the results of November's presidential election.
Kramer, who posted and then removed from a social-media site a photo of himself with the Capitol in the distant background, confirmed to this newspaper that he attended the rally.
However, he said he "absolutely" did not participate in the violent and deadly insurrection, in which rioters stole and destroyed property in the United States Capitol Building while searching for elected officials they said they wanted to execute. Kramer claimed he "found out about the Capitol break-in while driving home" after the rally.
Asked about his interaction with the FBI, Kramer said two agents "showed up" at his home after his return from Washington. He identified one of them as Richard Miller, who handed him a business card stating that he works out of the agency's Fort Pierce office.
Miller did not return a phone message, and a Miami-based FBI spokesman replied only via email, stating that the "FBI does not confirm or deny, or otherwise provide updates, on specific investigations.
Kramer, though, said his conversation with the agents didn't last long.
"I told them: 'You work for the prosecution, and I have a right to remain silent,'" he said, adding that he didn't give them a chance to ask if other local Republicans made the trip to Washington for Trump's rally.
"I didn't get that far with them," he said. "They're fishing."
Kramer described the FBI's investigation of Trump supporters as "interesting," saying Americans should be "really concerned" that the agency's motivations have more to do with politics than criminal justice – "like the Mueller investigation."
He said the FBI is trying to compile a list of Trump-backing Republicans, who have become targets.
"People shouldn't be thrilled that the FBI is tracking down people who attended a peaceful rally," said Kramer, who spent several years working for the Justice Department's bankruptcy division in the Northern District of Iowa.
"Why is the FBI investigating politics instead of human trafficking or election fraud?" he added. "Where the hell were they all summer long? You don't see the FBI show up when Democrats have riots.
"I should've told them I was Antifa. They'd have left me alone."
Kramer said he didn't see any hint of violence at the rally, adding that the "crowd around us" was well-behaved and appreciated the Washington police officers assigned to the event.
He blamed the destructive riot at the Capitol on Antifa and other Democratic Party allies, alleging that many of them were quietly and conveniently released after being questioned.
Similar claims by others have been debunked by police and security companies whose cameras captured images of the people who beat police officers and vandalized the Capitol Building.
"There were a lot of non-Trump-supporting people in that Capitol," Kramer said. "I'm sure there were probably a few Trump supporters in there, too. More than 74 million people voted for him, so you're bound to find a few of them in that crowd.
"But the people I saw at the rally – a lot of them were older or retired – I'm sure they'd be against it," he added. "We're the party of law and order. Republicans don't do this stuff."
Kramer said he didn't know why the FBI approached him, but he suspects his standing in the local Republican Party and his decision to attend the rally prompted the visit.
"I'm a Republican," he said. "That's all you need to know."
Kramer said he doesn't know if he'll hear from the FBI again, but he has retained the services of two "extremely good attorneys" and notified the state's party leaders.
"The Republican Party of Florida is very well tuned into this," he said. "I doubt we're going to sit tight."