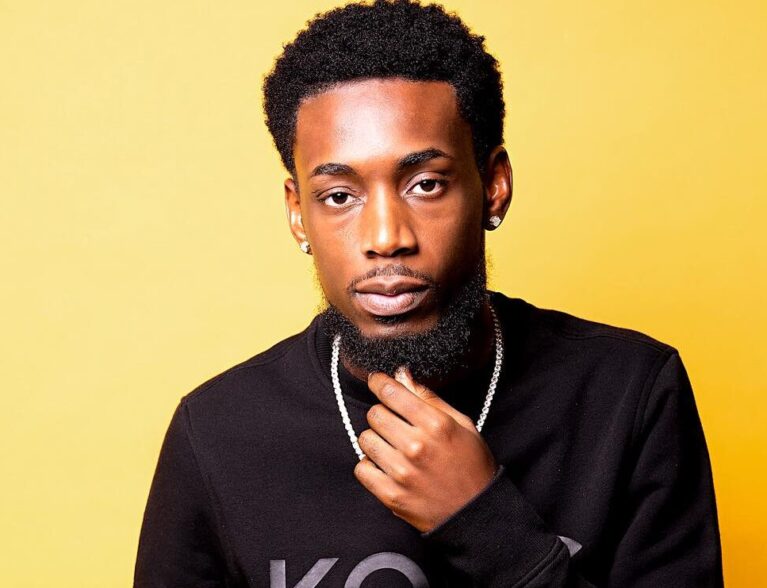 Over the phone, Tyon Davis sounds as if he is already a believer in dreams.
His voice is determined and strong, sharing about the need to take his music to the next level.
Now, the 26-year-old Hip Hop artist – whose first concert was in Vero Beach in September – is in awe that his vibrant, poetic songs about the struggles of life have captured the attention of music producer and Hip-Hop artist Wyclef Jean.
"It was surreal," said Davis, who goes by the stage name "T-Lyon," of recently meeting and collaborating with the three-time Grammy award-winning artist whose production style shaped rap and pop culture in the '90s. "It meant a lot to me. I still didn't let myself believe it until it actually happened."
Davis' unyielding pursuit – with songs casting light on everything from depression, to self-healing and suicide awareness – also earned him the opportunity for his work to be distributed by Heads Music, an independent, women-led music label that partners with Jean.
It is the latest creative move for Davis, a once painfully shy teen who only began singing openly for others two years ago. It is also a chance that comes as Davis' fan base on social media continues to grow beyond his performances in Fort Pierce and Vero Beach.
His dream is not only to make it big as an artist but to showcase his lyrical insight and soulful voice for a generation trying to make sense of the deep national divisions and turmoil that marred 2020.
Davis says he is ready as that once-in-a-lifetime shot to higher musical ground edges closer to reality with a new song with Jean, a globally-known artist whose lyrics reference similar ground on poverty, international politics, soured relationships, and personal growth.
Davis met with Jean in November for a song called "Me, Myself and I," set to be released early next year on music streaming platforms. Jean, 51, a former member of the groundbreaking Hip Hop group "The Fugees," talked about working with T-Lyon, saying the best music is produced when different generations come together and learn from each other.
The two gelled quickly, bopping rhythmically during livecasts on Instagram as the beats came to life in Jean's New Jersey home studio.
"I love how T-Lyon takes direction in the studio. The kid is amazing," said Jean, whose socially conscious output includes "Gone Till November," and the internationally-acclaimed 2000 duet "911" featuring soul music singer Mary J. Blige. "The pulse is in the youth. I am forever a student. I go in (the studio) as Wyclef the student."
Behind the scenes production of "Me, Myself and I," Video provided by TlyonTV
Felt Studios in Vero Beach
Davis held his first show Sept. 26 at Felt Studios, 621 2nd Lane, Vero Beach, a small one-story building just west of U.S. 1 and McKee Botanical Gardens. It was here, at the retrofitted, 1,000 square-foot storage bay, that Davis stood at the microphone and voiced his vision in song before a live audience, studio owner James Ruby said.
The previously empty space was part of Morningstar Screen Printing, and can comfortably fit dozens of people – mostly standing room only –  inside for musical showcases in a city with few such venues.
Ruby said he and his wife purchased the Morningstar Screen Printing building five years ago. In June, the couple opened Felt Studios as an in-person platform for artists from all backgrounds to share their stories and music in Vero Beach.
Davis brought his music to life as part of Felt Studios' music series events. Ruby, a visual artist and filmmaker, said he thinks Davis working with an artist of Jean's caliber is fantastic.
"T-Lyon has a way to create a banging single and weave a story in it. It's narrative-driven and has a message," Ruby said. "There's a plethora of great artists out here."
One of Davis' singles, "Power," has more than 117,000 views on Triller, a music and video social networking app. The lyrics to "Power" revolve around the theme of staying positive while dealing with overbearing struggles in life. In the video, a friend contemplates suicide, as Davis soulfully weaves the rap and melodies together, "Know that everyday the devil test me/but, see I'm living stress free/can't let your energy affect me/I battled suicide/I'm still alive/depression tried to come get me."
The lyrics are part of Davis' conscious music, a journey made personal by a search for self-confidence while overcoming his own thoughts of despondency.
Finding T-Lyon's inner-power
Davis was born and raised in Fort Pierce, a coastal Florida city of 46,000 people, south of Vero Beach. He was a quiet child who kept mostly to himself growing up.
At home, he would only sing behind closed doors and rap with his older brother and sister. Davis' parents, Tiwanda Hill, 52 and retired St. Lucie County School District Employee; and Vincent Hill, 54 and environmental inspector for the city of Port St. Lucie, supported his dreams.
"I wouldn't even sing in front of people until two years ago," Davis said. "I did not do school talent shows." Davis graduated from Fort Pierce Westwood Academy in 2012 and completed one year at Iowa Wesleyan University.
He then ventured into music full time with nothing but passion, determination, and a dream. He absorbed the stories and losses to pen one of his earliest songs – "Devil's Work Remix" – about the deadly cost of street violence and police brutality.
It was a close friend who gave him the musical handle "T-Lyon." He also remained conscious about the world outside his window, penning an essay about the quest for justice following George Floyd's death in police custody in May.
Besides writing, Davis likes to stay involved in the community. Davis said he created a grassroots organization in October called "Ourside" that partners with The Works sports bar in Fort Pierce to feed the homeless and others in need.
"We eat and talk with them," Davis said. "Ourside is for the whole Treasure Coast, but we've only touched St. Lucie County so far. We plan to feed the homeless again around Christmas."
Jean also stays community-driven, encouraging holiday shoppers to support black businesses. Last month, Jean partnered with Google for a series of animated commercials to promote Google's #BlackOwnedFriday campaign.
Inspired by Lauryn Hill 
Davis created several songs with powerful messages behind them, including "Power," before being booked at Ruby's venue. His sound is one that stands out among the rap and club-heavy sounds that echo across Florida's musical landscape.
Lyrically and vocally, one of his biggest musical influences was singer and rapper Lauryn Hill, also a former member of The Fugees who once shared the mic with Jean.
Hill – whose 1998 solo album "The Miseducation of Lauryn Hill" sold 19 million copies globally and earned five Grammy awards – is considered one of the greatest Hip Hop artists of all time, along with being a pioneer of Neo-soul music. The Fugees are no longer active, but their music – which has sounds of beat-infused samples – is still heavily streamed.
"Her music is timeless, it fits in any situation," said Davis, whose music is featured on his own station on Pandora music streaming service. "The way she did her artistry – she could sing and rap. When she started rapping, nobody could touch her. I wanted to mimic her. Her career made me want to go down that same path."
Rising
The path to Davis meeting and working with Jean started with a recent artist talent competition hosted by Triller and Boost Mobile. Davis said Boost Mobile sent him a text message notifying him about the contest. The photogenic artist – who sports a small afro and modest jean jackets – quickly went to social media for support among fans who heard his music for the last year.
For the competition, up-and-coming artists recorded videos of themselves performing, and then uploaded the videos to Triller, a far cry from the days when young rappers would sell mixtapes from car trunks. Davis said he later got an email showing he made the top 30 artists on the site.
The competitors, including Davis, uploaded more video performances for several more weeks. Davis eventually vaulted into the top 10 with his timely song "Virus," which details the harrowing effects of the COVID-19 pandemic throughout communities across the world. Davis excelled to top 3, and then won runner-up.
Davis scored a music partnership with Triller, where he is now a supported artist. Davis said Triller representatives put him in a group email with Jean's manager, Madeline Nelson, and asked if he wanted to be featured in Jean's "The Producer" series.
The Producer is an Instagram-live series where viewers tune in to watch producers and artists create songs together. Davis is the second artist to be featured on the series, Jean told Vero News. It was a stunning moment for Davis where preparation had now met the opportunity to work with one of his musical heroes.
"I didn't think the email was real until the first episode happened," Davis said.
Meeting Wyclef
Davis was featured in four episodes of The Producer Season 2, three of which he participated in from Mack Music Studios in Fort Pierce. "I'm proud of you son," his mother commented during one Instagram livestream.
Davis flew to New York on Nov. 16 for the second episode. He spent time wandering through the concrete canyons of Time Square, soaking in the sights, lights, and sounds in the city considered as a cultural incubator not only for Hip Hop but for artistry. The artist traveled about an hour southwest to New Jersey, where he met Jean at his studio and movie theatre inside his home. The two hit it off immediately.
"As soon as I walked in, he said, 'The king is here,'" Davis recalled in an interview with Vero News. "He was very friendly. He acted as if I knew him all my life."
Jean said Davis seeded the idea behind the song "Me, Myself and I," a tune about personal growth and healing. Jean produced the mid-tempo beat, while he and Davis brainstormed on a catchy, melodic hook and thought-provoking lyrics.
"There's something about a person who has it," Jean told Vero News regarding Davis' style and way with lyrics. "He has the vibe. He has the aura."
Jean, also known for his folk-inflected guitar work, strummed rhythmically as part of the foundation for the song, while Davis layered the track with lyrics, also called "bars." The duo put final touches on the much-anticipated tune in the last episode of The Producer, which aired last Wednesday.
Davis said he plans to drop an album of original music early next year. The artist's vision now is to see his music alongside mainstream artists while carrying the sounds of a new generation into new sonic landscapes.
Jean, who has seen a trove of artists both flounder and succeed, said that five years from now, he sees Davis on the level of other musicians such as Chance the Rapper, Lauryn Hill and John Legend.
"I get to see artists in their rawest form," Jean told Vero News.
Fans like Ruby watched Jean's Instagram series and agreed. Ruby said he was pleased to know that his Vero Beach venue may have had a small role in welcoming to the stage an artist like Davis.
"Seeing (T-Lyon) in the studio with Wyclef was legendary," Ruby said. "I'm a huge fan of the Fugees. The Fugees paved the way for a lot of artists."
Wyclef's inspiration, advice for new artists
Decades before, it was Jean who was the young musical artist searching for a break. Jean, who plays 15 different instruments, was young when he first stepped into the music spotlight in the early '90s. Jean said he was only 17 years old when he performed playing the upright bass in the 1992 hit-song and music video "Don't Sweat the Technique" by Hip Hop duo Eric B. & Rakim.
Jean, who also plays the piano, guitar, and bass guitar, said he was inspired by musicians such as Jimi Hendrix, Carlos Santana, and Bob Marley. Jean said Quincy Jones – the prominent producer, songwriter, and composer who worked with Michael Jackson – first introduced him along with singer Nina Simone during the Montreux Jazz Festival in Switzerland.
"My idol is Quincy Jones. Literally, this is what he has done his entire life," Jean told Vero News.   "For me, looking up to Quincy Jones is a blueprint."
Jean gave a final piece of advice for new artists – practice, practice, practice.
"What separates you from them is grind and consistency," Jean told Vero News. "And the fact that every time someone tells you 'no,' you smile because you know the 'yes' will take you to the moon."