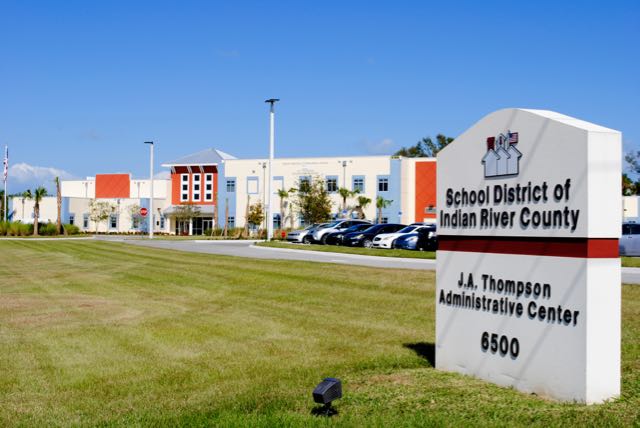 A spike in COVID-19 cases at Vero Beach High School prompted students and educators alike to ratchet up efforts to slow the spread of the virus.
But school administrators are not considering shutting down Vero Beach High School after 16 students tested positive for COVID-19 between Nov. 3 and Nov. 16, more than doubling the total for the school year. 
At least 102 students would have to test positive for COVID-19 in a two-week time-period to reach the threshold for closing Vero Beach High, said School District spokeswoman Cristen Maddux. That would be about 5 percent of the 2,039 students attending Vero Beach High.
The recent outbreak of COVID-19 at the high school resulted in 147 students being directed to quarantine between Nov. 3 and Nov. 16, records show. Five staff members also tested positive for the virus and one additional teacher was directed to quarantine.
"Considering the low number of positive cases that have come from individuals quarantined due to meeting close contact criteria with a positive case, there is not sufficient evidence to support the virus is being transmitted in school," Maddux said last Thursday.
Administrators and custodians are paying special attention to classrooms and common areas that may have been contaminated by individuals diagnosed with the virus, Maddux said.
At the same time, teachers are making sure students wear face coverings and keep a safe distance throughout the day, Maddux said. Classrooms have a cleaning station with disinfectant, wipes, hand sanitizer and gloves.
The recent rise in COVID-19 cases at Vero Beach High coincides with the increase in cases in Indian River County, Maddux said.
Despite the recent COVID-19 outbreak at the school, several Vero Beach High students agreed the situation isn't bad enough to close the school.
"I feel like if you're extra cautious in school they should keep it open," said Kayla Osowski, a freshman. "I don't think they should close it because a lot of people, including me, get a better education when its open."
The recent outbreak prompted everyone at Vero Beach High to become more vigilant about following health and safety protocols, Osowski and other students said.
"It's not as good as the original level, but it's definitely getting back there," said Rachel Estillore, a freshman, about adherence to the rules. "We were a bit comfortable when there wasn't any and now that it's starting to rise again, we're like: 'Oh no! It's back again!'"
"As more people get [the virus], the teachers become more prepared for it, or at least look out for it," Estillore said. "They're more thorough with the whole process."
Estillore and Osowski said they returned to school last Thursday after quarantining for two weeks because a mutual friend tested positive for COVID-19.
"My friend got it from her mom and then her whole family got it," Osowski said. "I hung out with her, so then I had to get quarantined and everyone connected to her had to get quarantined."
Osowski and Estillore said they had no problem keeping up with their studies while working online from home, but other students said they fell way behind and couldn't get the help they needed.
"I think they need to find a better way," said Abby Zorc, a sophomore whose mother is outgoing School Board Chairwoman Laura Zorc. "All my grades have dropped to F's because teachers don't really do a good job of keeping kids up with what they're missing out on. Everyone I know that got quarantined got all F's."
Nowadays, a classmate's absence or a classroom undergoing inspection by state health officials makes students wonder if they were exposed to someone with COVID-19 and could face a quarantine order.
"Today in sixth period, when I walked in, they had some Health Department people in there with a ruler," said Nicholas Zorc, a sophomore and son of Laura Zorc. "I sat pretty close to somebody that I think got it. When they had that ruler going around, my heart dropped because I didn't want to get quarantined."
But Nicholas Zorc said he was far enough away to avoid a quarantine order and feels fine.
Emelyn Castaneda, a freshman, was among the students who said they saw no reason to shut down the Vero Beach High because the outbreak has not been huge, and they learn more by attending class in person.
"Just keep going," Castaneda said. "Many of us just don't do well in online school, so school is better for some of us. Some people work better when they're being taught in person, rather than online learning from a computer."
Castenada said she feels safe in school.
"None of my teachers have been out," Castenada said. "I keep my mask on at all times. I wash my hands before I eat anything. I see people following the rules. The people who were close to the people who tested positive, they've been quarantined."
Prior to the recent surge, a total of 11 students and one staff member had tested positive for COVID-19 at Vero Beach High, records show. Those cases caused the quarantining of 235 students and two staff members. Now, a total of 27 students and six staff members have tested positive, while 382 students have been quarantined since the start of the school year.