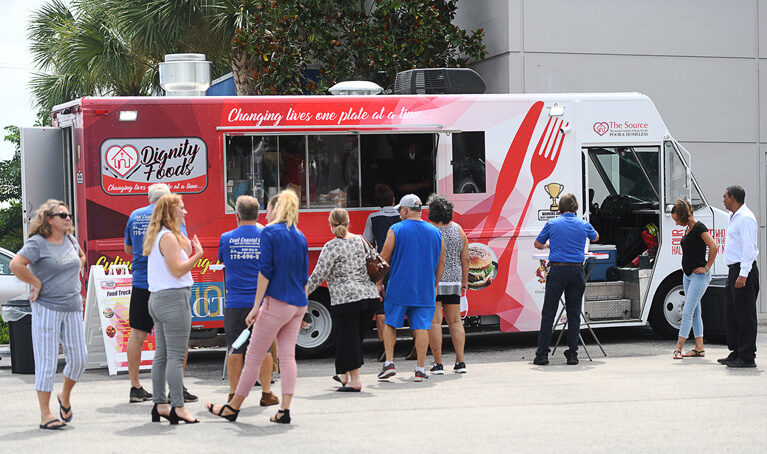 The Source is taking the show on the road with their new Dignity Food Truck, which has begun serving up delicious meals at various locations around town.
For the past 25 years, the Christian outreach ministry has assisted the homeless as a drop-in center, providing them with food, clothing, hygiene items, showers, laundering facilities, mail and phone services, counseling, job readiness programs and community referrals. It also serves as a cold-weather shelter.
The Dignity Food Truck, which was funded by a grant from Impact 100 of Indian River County this past April, is the most recent addition to their Dining with Dignity program, which was launched three years ago. The goal is to train the homeless and unemployed in food industry positions, so that they may work their way to self-sufficiency.
Participants learn food prep skills, meal and nutritional planning and, upon completion, earn State of Florida ServSafe and SafeStaff certification. Their business model runs the gamut from salaried job training and employment counseling to job-placement assistance through relationships built with local restaurants.
The Dining with Dignity program has several tiers based on the trainees' level of experience. Since its inception, 60 participants have found employment and 47 have found a place to live.
Anthony Zorbaugh, executive director of the Source, said that participants are also learning how to prepare and serve breakfast to homeless clients in the Source's dining hall.
"We have created the first made-to-order menu for those in need in the country," said Zorbaugh. "When people come into the Source, they're seated, waited on, and given the menu options."
That program was so well-received by the community that Dignity Caterers was added to broaden experiences through additional training in food delivery and service skills, with participants serving their catered meals at the meetings and events of local businesses and nonprofits.
Feedback is shared with the students to help build up their customer-interaction confidence and hone their skills, and proceeds from food sales are funneled back into benefit programs and services.
"We always had this vision of social enterprises, and how can we continue to be unique in Vero. That's when the food truck idea was born," said Zorbaugh.
The timing couldn't have been better. At the same time as the coronavirus forced the cancellation of events and stymied their catering program, more and more people were seeking their assistance.
The Dignity Food Truck provides another opportunity for culinary students to get hands-on training, cooking for and serving customers in the greater community.
"COVID hit, and we realized it was the perfect opportunity to roll out the Dignity Food Truck," said Zorbaugh.
The Dignity Food Truck made its debut recently in the parking lot of Route 60 Hyundai, luring customers with the scent of tantalizing foods and selling out within two hours. The goal, said Zorbaugh, is to earn $2,500 a week from the food truck to help fund programs and operations.
"The food truck is a creative way for the Source to continue with hands-on training and to generate income," said Pilar Turner, Impact 100 community partner chair. "We are just so delighted to see this project come to fruition so quickly, and at a time when I think it's needed. The Source offers dignity, confidence and independence; helping those in need to be productive members of society."
In addition to ordering meals on location, customers can also download the "I am the Source" app to view locations and menus, and place and pay for orders before heading to the location to pick them up.
The Dignity Food Truck operates from 11 a.m. until food is sold out five days per week. Current locations are: Monday and Tuesday at Tropical Scooters, 1081 U.S. 1; Wednesday at United Against Poverty; Thursday at the St. Lucie County Sheriff's Dept.; and Friday at Route 60 Hyundai.
For information, visit iamthesource.org.
Photos by: Brenda Ahearn
Click HERE to see more or buy photos