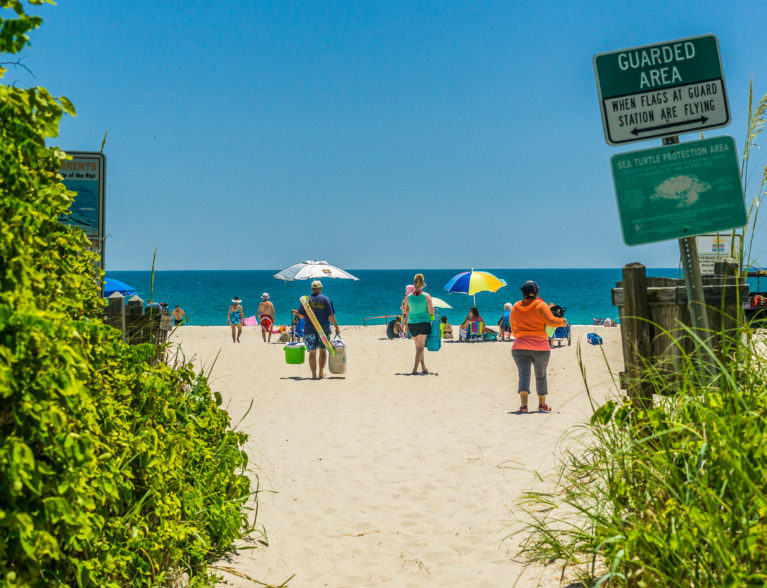 VERO BEACH — The city's three guarded beaches saw an increase of more than 1,500 attendees in June, compared to last year's numbers, a Vero Beach Lifeguard Association report shows.
Lifeguards said 85,520 beachgoers flocked to Jaycee Park, Humiston Park and South Beach Park in June. This is an increase from June 2019, when 84,000 people went to the beaches.
But, this year's numbers are also a decrease compared to June 2018, which saw a record-shattering 110,000 patrons, lifeguards said. Lifeguards said the coronavirus pandemic may have contributed to the decrease in attendance because of concerns people have about social distancing and crowds.
Beach attendance is taken within the guarded beaches – 200 yards each – and 50 yards north and south of each tower, lifeguards said. Patrons outside of those areas are not counted in the monthly reports.
Several afternoon thunderstorms rolled through Vero Beach in June, the start of hurricane season for the United States. Tropical storm Hanna became the first major Atlantic hurricane of the year; as of Sunday, the hurricane weakened into a tropical storm as it rolled over southern Texas and northeastern Mexico.
Storms in Vero Beach did not disturb sea turtle nesting, which lifeguards said was in "full swing." Lifeguards briefly stopped removing seaweed from the beaches, but will continue when sea turtle nesting season ends Oct. 31.
Lifeguards responded to 32 medical calls in June, including four serious incidents where patients were taken to the hospital. Lifeguards saw more than 18,000 visitors during extended summer hours from 5 p.m. to 7 p.m.
When summer ends, lifeguards will return to their regular schedule from 9 a.m. to 5 p.m.
One person was rescued from a rip current in June, lifeguards said. This brings the total number of water rescues to 23 in 2020, compared to 12 in June 2019.
Swimmers should pay attention to beach condition signs and flags, swim near lifeguard towers and avoid swimming during non-guarded hours.