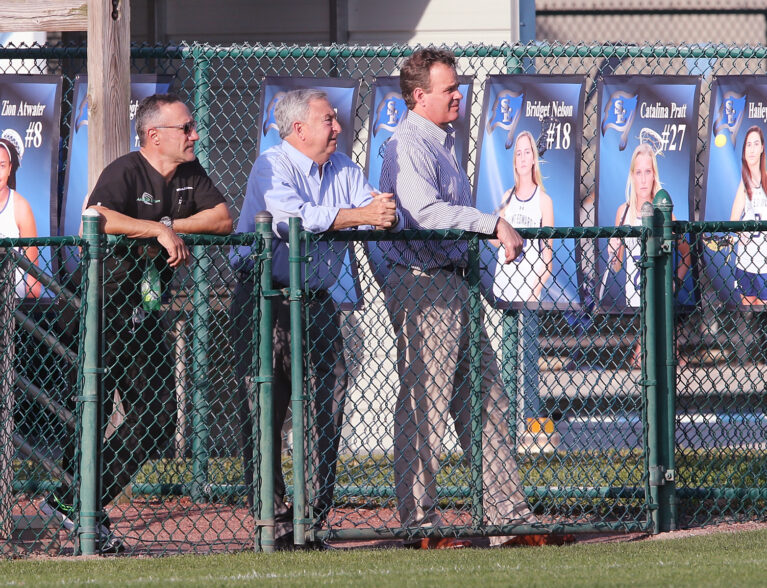 "Handed my keys in Monday (June 22), and Karen and I drove straight through from Vero to Lancaster, Pennsylvania. All good."
That was Mike Mersky officially signing off as St. Ed's Head of School and heading out of town with his wife, thus ending 11 years of service and turning those keys over to his successor, Stuart Hirstein.
Mersky guided the school through turbulent times, beginning from day one with a financial crisis, constantly coping with tropical storms and hurricanes, then being forced to address the frightening possibility of a school shooter, before closing out with your every day pandemic. Many will attest that he met all of those challenges head on.
He will come back to Vero in short order to reaffirm an affinity for the students he nurtured at St. Ed's and the town that will soon become the getaway for a snow bird.
"I will indeed be back for graduation weekend at the end of July," he told us. "I really feel as though it's a commitment to the tremendous senior class of 2020. This is a great group of young people. They stuck together through all of this and I have a great deal of empathy for them. We thought this would be our last best date to give the seniors the recognition they so richly deserve."
Nothing about the last four months was usual or customary, including a big retirement celebration scheduled on his birthday in April. It was cancelled in favor of a surprise visit to his home by the Leadership Team at St. Ed's (under strict social distancing guidelines), at which time Mersky was informed that Pirate Field will be renamed in his honor. He was moved by that, not unexpectedly, since he was seen regularly at that venue for football, lacrosse and soccer games, cheering on the boys and girls to the fullest.
"In a very real way, these kinds of fields on campuses like ours are sacred grounds," he said. "They are the few places where our student-athletes may learn lessons that no other place could teach them. Lessons of committing to something bigger than themselves, being unselfish, experiencing success with classmates, teammates, coaches and others. And, of course, dealing with the harshest realities of failure. All are so valuable for our young people, now more than ever.
"I spent a lot of time there and I can't think of a better place for the school to honor someone like me."
Mersky revealed his intent to retire two years ago, aiming to make the transition orderly and smooth. Nevertheless, with the uncertainty and difficulties facing schools at the moment, this might have been a fine time to get out.
"Of course we didn't plan on a pandemic, and there's no doubt that this was a tremendous burden for our students, families and staff," Mersky said. "We had to make decisions on the fly. We were fortunate because we had a leg up on other schools. Every middle and upper school student had a laptop, so they were used to our website and platform. We made the transition over a five day period in March.
"There will be some great residual effects, some silver lining. We will offer more online classes, and be better able to support students if they must stay home due to contagious illnesses. We surveyed parents, students and faculty every other week, and I would say 85% of our parents were pleased with what we did.
"Whether we have to start later, or start gradually, we will try to keep our next school year whole."
Mersky took particular pride in St. Ed's sports programs, witnessing a rise in participation for both boys and girls during his tenure. He estimated that 70% of the middle and high school students participated in at least one sport. He believed outsiders who peered into St. Ed's through the overt window of sports saw a high degree of character, integrity and sportsmanship.
When asked about the upcoming fall sports season, we were once again advised to consult the supernatural for expert analysis. It's a reference we are hearing more and more.
"I wish I had a crystal ball," Mersky said. "I know it's just not going to be business as usual. Whether it's academics or sports, we are going to have to be adaptive, flexible and innovative. Whether it's bringing our campus back to life, or bringing sports back to our campus, we are going to have to think creatively and communicate well with everyone.
"But for right now, I'm going to say 'NO" to everything through December. I don't want to jump back into anything like educational consulting until January 2021, and it certainly won't be full time. Mainly I'm going to focus on my family.
"It's really important for me at this time of my life to get back with them."