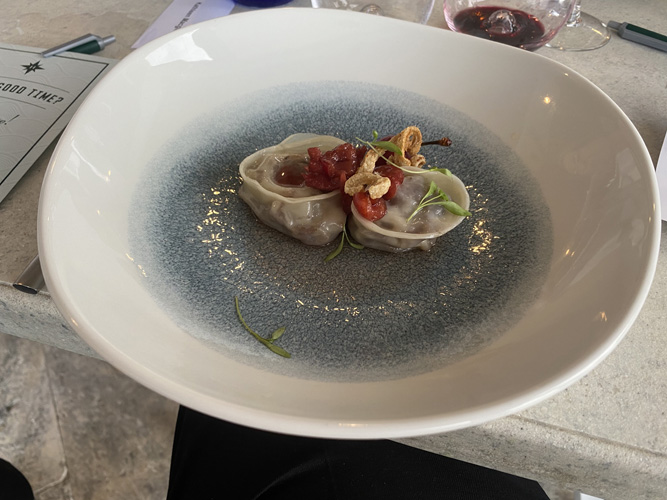 Last Tuesday, after 98 nights of critiquing my own cooking, my husband and I ventured forth for our first restaurant meal in more than three months.
It took something of a special occasion to get him out from our self-imposed quarantine – a wine-pairing dinner at the new Heaton's at the Vero Beach Hotel and Spa.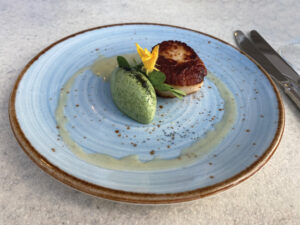 Given last week's surge in COVID-19 cases, even the prospect of an epicurean feast would not have gotten my husband into an enclosed restaurant.
But the new Heaton's offers delightful open-air dining only steps from the beach, with a retractable roof and side curtains that can quickly be brought into play in the event of a sudden summer downpour.
In any event, the featured wines on this occasion were all from the Stags' Leap Winery, not to be confused with the famous Stag's Leap Wine Cellars. (The difference lies in the placement of the apostrophe, but that's a long story.)
Unlike the Stag's Leap Wine Cellars, which produces the Cabernet that bested the top Bordeaux at the 1976 Judgement of Paris, the Stags' Leap Winery is best known for its Petite Syrah.
A complex varietal which offers a hint of cherry skin, the Stag's Leap Petite Syrah was perfectly paired on this occasion with delicious duck confit dumplings, served with black cherries, cherry blossom shoyu, and garnished with crispy duck skin.
My second favorite of the five wines we sampled was Stags' Leap's newest, a sauvignon blanc served on our arrival, which the winery only started producing in 2018. Lively and vibrant, it may be my new favorite sauvignon blanc.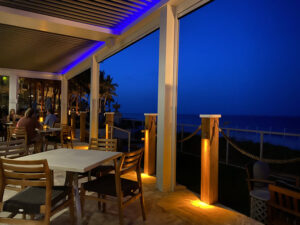 Other courses we enjoyed at this dinner included a seared scallop appetizer with a maple bacon vinaigrette (paired with a viognier), a smoked ostrich loin with braised mustard greens entrée (paired with merlot), and an unusual dessert strudel of fois gras, black plum jelly and cinnamon (paired with a cabernet).
During season, the Vero Beach Hotel & Spa seemed to be running these special events about once a month – and this wine-pairing dinner had originally been scheduled for May. Something apparently happened that caused a delay.
But in the meantime, the hotel got the new Heaton's ready to go as its seafood restaurant, and it's now serving classic Florida seafood evenings from 5 to 9.
This dining deck is quite unlike anything else in Vero, and you really ought to reserve one of its well-spaced oceanfront tables and go try it.
Dining-wise, our island just keeps getting better and better.
I welcome your comments, and encourage you to send feedback to me at tina@verobeach32963.com .
The reviewer will resume her regular restaurant column when the pandemic permits Indian River County to move to a Phase Three reopening.
Heaton's Vero Beach
Hours: Dinner daily, 5 p.m. to 9 p.m.
Beverages: Full Bar
Address:  3500 Ocean Drive, Vero Beach
Phone: 772-469-1060