VERO BEACH — The community united for the second time this week to hold a peaceful rally to protest against police brutality in the wake of George Floyd's death in Minneapolis.
"I came out to speak and be with the movement," said 19-year-old Jasmine Davis, of Gifford. "We have to come together as one to stop violence period."
Davis, a sophomore at Indian River State College, said she hopes the community keeps up the momentum. Davis, who is black, said it's important for residents to get out and become involved.
"The protest today was beautiful," Davis said.
Vero Beach police marched with a diverse group of more than 200 people about 1 p.m. Thursday throughout the heart of downtown Vero Beach. The rally was organized by Black Lives Matter Vero Beach.
Police Cpt. Matt Monaco said officers were present to stand in unity with the community and to show support for the movement against police brutality.
Protester Paul Tanner, 50, Vero Beach, held up a sign with Floyd's pictures. The sign read, "Justice for George Floyd."
"This cause is near to my heart. My father-in-law was killed by a police officer," said Tanner, who is white. "When I saw the (George Floyd) video, I knew we had to come out and protest police brutality and excessive use of force. If you have a bad officer in the mix, call them out and get rid of them."
"No justice, no peace" chants at peaceful rally, march for #GeorgeFloyd in #VeroBeach. #VeroNews pic.twitter.com/Css62dhQPS

— Nicholas Samuel (@JournalistNickS) June 4, 2020
Police led the crowd as protesters marched down 14th Avenue with signs that read "I Can't Breathe" and "Liberty, Justice For All." Some protesters placed their signs at a makeshift mural dedicated to Floyd on 14th Avenue and 23rd Street.
"Black Lives Matter" chants in front of #BLM mural to remember death of #GeorgeFloyd and raise awareness to police brutality. #VeroNews pic.twitter.com/9dZdsNi6Xu

— Nicholas Samuel (@JournalistNickS) June 4, 2020
Protesters gathered in a grassy area near Pocahontas Park, then formed a wide circle. They took a knee and held a moment of silence for Floyd. Some protesters were overcome with emotion.
.@VeroBeachPD comfort protester Shedell, 38, Port St. Lucie, who was overcome with emotion at a rally and march Thursday to remember the life of #GeorgeFloyd and protest against police brutality. #VeroNews pic.twitter.com/DjF5WD0E7B

— Nicholas Samuel (@JournalistNickS) June 4, 2020
Police Chief David Currey and Master Officer Darrell Rivers knelt alongside protester Shedell, 38, of Port St. Lucie, who shed tears. Shedell, who is black, said she came to the protest because she doesn't want her sons to become the next George Floyd.
Protesters sporadically yelled out names of other black people who were killed because of police brutality or racial profiling. Some of those names included Alteria Woods, Ahmaud Arbery, Eric Garner, Trayvon Martin, Tamir Rice, Sandra Bland, Philando Castile and Emmett Till.
"Folks of all genders and colors came out to this protest," said Isaiah Casseus, 23, of Vero Beach, who is black. "I'm tired of expressing to people we're not a threat. I wasn't born an enemy because of the color of my skin."
"Hands up, don't shoot" chants at #Vero rally for #GeorgeFloyd and other victims of police brutality. #VeroNews pic.twitter.com/ARMYN16cPz

— Nicholas Samuel (@JournalistNickS) June 4, 2020
Vero Beach police invited protesters to speak with them directly at another rally scheduled for 5 p.m. in front of the police department.
Photos by Kaila Jones and Nick Samuel (Click on the photos to scroll through gallery)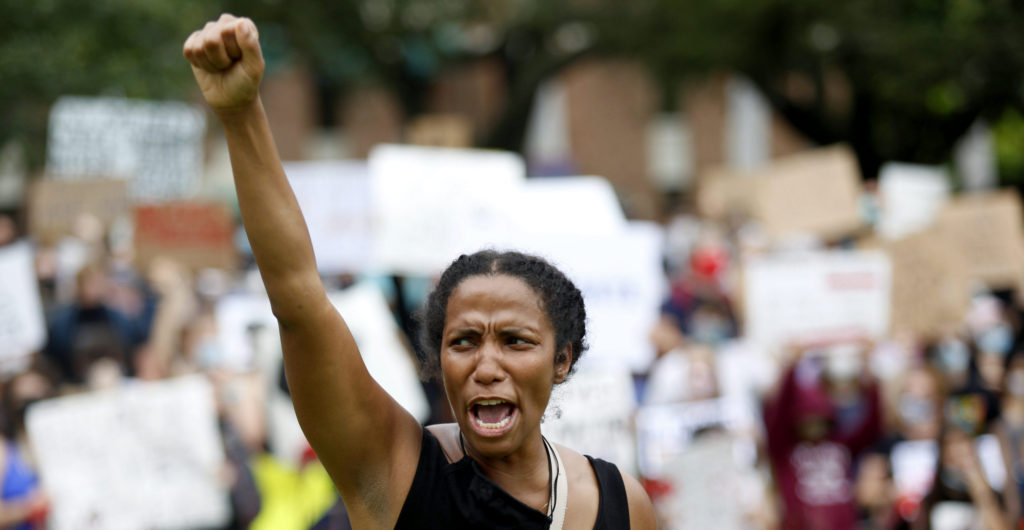 This story will be updated.