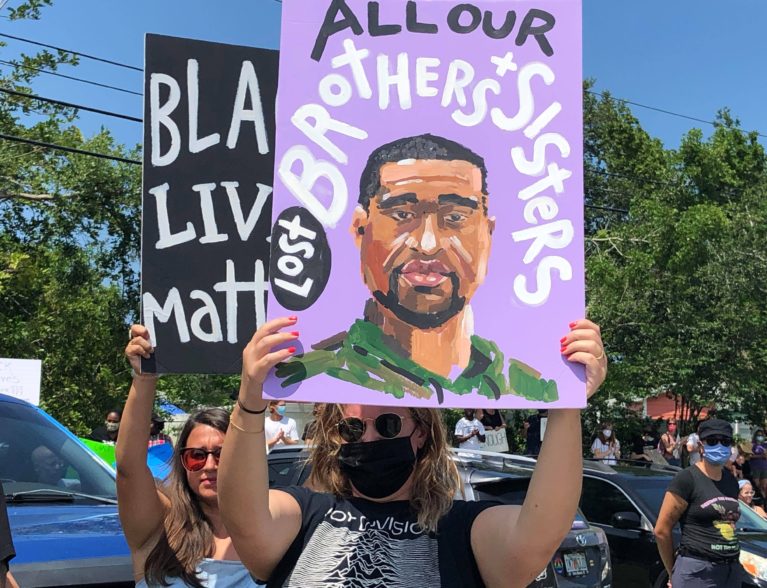 INDIAN RIVER COUNTY — Chants of "I can't breathe" and "no justice, no peace" echoed in the air during a peaceful Sunday rally to raise awareness about police brutality in the wake of George Floyd's death in Minneapolis.
"We have to be the change we want to see. We have to provoke change," said protester Iyana Hayes, 20, of Sebastian, who donned red tape that read "I Can't Breathe" over her face.
"I can't breathe" – protesters continue to chant at rally. #VeroNews pic.twitter.com/5NuvTsW7Fo

— Nicholas Samuel (@JournalistNickS) May 31, 2020
A diverse group of more than 100 people stood on both sides of 41st Avenue holding up signs that read "Black Lives Matter" and "Stop Police Brutality." Some wore protective masks in an effort to prevent the spread of the coronavirus.
The rally, organized by the local nonprofit Pioneering Change Inc, was held across the street from the Indian River County Sheriff's Office. Organizers passed out bottles of water to attendees as they stood in the hot sun.
One sign showed the face of Floyd, 46, who was handcuffed by Minneapolis police on May 25. Officers brought Floyd to the ground lying face down.
A viral cell phone video released last week showed Minneapolis police using what authorities said was excessive force on Floyd, sparking an outcry of global protests.
The video captured Minneapolis Officer Derek Chauvin pressing his knee on the right side of Floyd's neck for more than eight minutes. In the video, Floyd begged to the officer, saying "I can't breathe" several times while gasping for air.
Floyd appeared to lose consciousness before being put on a stretcher and brought into an ambulance. Floyd later died. Chauvin was arrested and charged with third-degree murder and second-degree manslaughter in Floyd's death.
"It hurts. I feel pain, anger and sadness. This has happened too often and for so long," Hayes said. "He was choked and killed. We're still waiting for justice. We still need justice."
"We still need justice." Protester Iyana Hayes speaks at rally following the death of George Floyd in Minneapolis. The rally aims to spark awareness of police brutality. #VeroNews pic.twitter.com/iiubfI5mUE

— Nicholas Samuel (@JournalistNickS) May 31, 2020
Protesters were told to place their signs at a makeshift memorial for Floyd located at 23rd Street and 14th Avenue. A candlelight vigil for Floyd was scheduled for 7 p.m. at 45th Street and 31st Avenue.
Bridge the gap
Pioneering Change Founder and Activist Merchon Green was among several speakers at the rally. Green's mission – to help protect black lives and bridge the gap between the community and law enforcement.
"We're all American. We're all taxpayers. We all want to live in equality," Green said. "We're not anti-police. We're anti-police brutality."
Green also spoke about the importance of voting and the importance of young people being involved in civic matters.
"Your vote is your voice," Green said. "Let your voice be heard."
During the rally, everyone took a knee to pay tribute to Floyd. Some held their fists toward the sky while shouting "Hands up, don't shoot."
The message among the diverse group was unanimous – there needs to be change when it comes to police interaction with the community.
"This is about everyone coming together and unifying to get justice for all," said Freddie Woolfork, Public Relations Director for the Gifford Youth Achievement Center. "It was a beautiful crowd."
Pioneering Change member and activist Aretha Sanders read demands from the community to law enforcement. Some of those demands called for officers to honor their badges, treat citizens with respect, hold other policemen accountable for their actions and to stop killing black people for no reason.
"We will have a better community if we can feel safe and not afraid of those wearing badges and guns," the message read.
Thoughts on racial injustice
Angela and J.P. Demsick, who are white, both wore shirts that read "Black Lives Matter" at the rally. The Vero Beach couple said they brought their four children as well to show support for the black community.
"I was enraged when I saw the George Floyd video. The powerlessness of (Floyd) not being able to stop someone because of their authority," said J.P. Demsick, 34. "It's sick that this is happening. It takes a video posted to social media for people to see racial injustice."
Angela Demsick, 40, said she couldn't bring herself to watch the video of Floyd. But, she did see another viral video that showed 25-year-old jogger Ahmaud Arbery, who is black, being fatally shot by two white men in February in Glynn County, Georgia.
The two men, Travis and Gregory McMichael, each were charged with murder and aggravated assault.
Angela Demsick also followed the story of accountant Botham Jean, a 26-year-old black man fatally shot in September 2018 by a Dallas police officer in his own home. The officer, Amber Guyger, told police she thought she walked in her own apartment and mistook Jean for an intruder.
Floyd's case mirrors the death of Eric Garner, also captured on viral video. The July 2014 footage showed Garner, a black man, being detained by police in New York City after reports of the father selling cigarettes.
The video showed officers put Garner in a chokehold and tackle him to the ground. Garner plead to officers, repeatedly saying "I can't breathe," before appearing to lose consciousness.
Garner was taken to a hospital, where he was pronounced dead, officials said. J.P. Demsick said he thinks "plausible white deniability" is the reason why some of these high-profile cases often go unnoticed, until they are exposed through viral videos on social media.
"We think the majority of white people don't understand the implications of racism still in society today. The more we can help white people to see the black community as people with concerns, the more white people will join them in seeking justice," J.P. Demsick said.
"There's a difference in the way black and white people are treated in society. Black mothers shouldn't live in fear for their sons' lives, knowing they will have to talk to them about how to interact with police."
Law enforcement reacts to Floyd death
Local law enforcement agencies voiced their condolences to Floyd's friends and family following his death.
"We denounce the terrible death Mr. Floyd and all forms of police brutality," Vero Beach police spokesman Master Officer Darrell Rivers said. Indian River County sheriff's Maj. Milo Thornton described the video showing Floyd gasping for air while handcuffed as "tragic and painful to watch."
"Over the course of my career, I have seen this violent abuse of force and civil rights violations occur repeatedly throughout this nation," Thornton said in a statement.  "Under no circumstances is this acceptable behavior and I will never support this or any other form of misconduct."
Fellsmere police Chief Keith Touchberry condemned the "lack of moral courage" of the other officers who stood by as Floyd laid on the ground while Chauvin's knee pressed against Floyd's neck. Touchberry called for better training at law enforcement agencies regarding ethical challenges.
"We must do better to teach our officers how to have the moral courage to do the right thing regardless of how they think their peers may treat them," Touchberry said. "Having the moral courage to do the right thing is what is necessary to manage police conduct before it becomes criminal."
Former sheriff's captain Chuck Kirby said the Floyd video speaks for itself.
"We need appointed police chiefs, elected sheriffs, state prosecutors and you to stand up with one voice and agree that any officer who abuses their power, or stands by and allows it to happen are held personally accountable, without exception," Kirby said.
Sebastian police Chief Dan Acosta said the disregard shown for Floyd's gasps and pleas was "extremely disheartening."
Indian River Shores Public Safety Director Rich Rosell said Floyd's death was a tragedy for the entire nation.
"It's unfortunate," Rosell said. "Law enforcement spends so much time trying to regain the trust of the black community. When something like this happens, you have to start all over."
Rosell said officers should never touch somebody's neck unless the officer's life is in danger.
"This clearly was not a situation where the officer's life was being threatened," Rosell said. "Floyd was handcuffed. I can't understand why the officer went for Floyd's neck. You just don't do that."
Photos by Brenda Ahearn and Nick Samuel
This story will be updated.