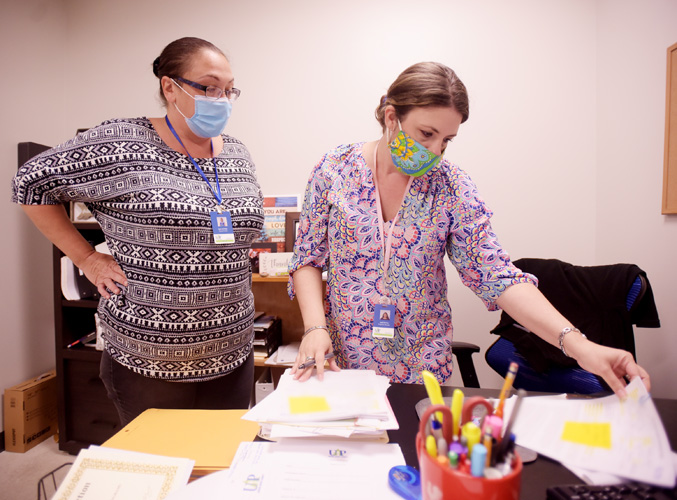 United Against Poverty Indian River County has reached out beyond county and state lines to seek financial aid for residents hit the hardest by the COVID-19 pandemic. As a member of the Stand Together Catalyst Network, UP has qualified to receive more than $200,000, which will be used for direct service grants for individuals needing assistance at its Indian River County, St. Lucie County and Orlando campuses.
The Stand Together Foundation, part of the Stand Together community, has partnered with the Family Independence Initiative to provide philanthropic dollars to #GiveTogetherNow for emergency funding for families during this crisis.
"We're excited about that. Those funds are being distributed across our three campuses," said Annabel Robertson, UPIRC executive director. "That's an exciting thing; in a time of need to be able to bring much-needed resources here to this community."
According to the Give Together Now website, the grants are designed as a "rapid response effort to get cash assistance into the hands of families most affected by the COVID-19 pandemic. But in the face of this crisis, communities are coming together in beautiful and effective ways to empower those who need help in these unprecedented times."
UPIRC serves as a pass-through funder, distributing grants directly to qualifying clients in financial crisis utilizing monies provided by a variety of foundations, civic organizations and the United Way of Indian River County.
Those grants help to financially stabilize workers unemployed or furloughed as a result of COVID-19, caregivers staying home to tend to a child or someone with COVID-19, and people who have been ordered to stay home by a physician.
"There are a lot of different funding sources, and we try to make sure that the people qualify most effectively for the right funding pot. We're trying to serve those who have immediate needs," explained Robertson.
"We're relying on the public to continue to support the work of United Against Poverty. We still need support from the local community to keep our doors open, so that we can do the work. These funds are direct grants. We don't get any money. We just pass it on through to the person in need."
UP has expanded its services to meet the growing need. They recently launched a Mobile Marketplace, where 500 families in Fellsmere were served, including the distribution of nearly 10,000 cartons of eggs.
"We're bringing resources to those who are suffering, and increasing access to food, computer resources, crisis care and financial support to those hardest hit," explained Robertson. "We're one of the only nonprofits that currently has their doors open in the community."
Of the IRC campus alone, she said, "we're seeing 650 people a day across all the services. Last year we served over 6,100 unique families. We've probably increased this last month by 1,000 new families."
To handle the influx of clients, staff has been cross-trained to work crisis cases.
"Everybody here is doing two jobs at the moment, and it's amazing," said Robertson. "I'm so proud of the team and how they've stepped up and have kept working very hard to keep these resources available to the larger community."
While UP relies on local donations to maintain its operation and tend to the increased number of people needing help, contributions are down due to market instability and unemployment.
"It's a scary, scary time," said Robertson.
On the plus side, Robertson said that they have had some poignant moments, with folks helping to "stimulate" the economy by signing over their stimulus checks to "pay it forward" and help others in need.
In February, prior to lives being interrupted by the pandemic, UP celebrated two good bits of news, beginning with the hiring of Gwendolyn Butson as the organization's three-campus CEO.
Buston was previously employed by the Salvation Army and Goodwill, making her uniquely qualified to help further the challenging mission of UP.
Also that month, a $50,000 grant from the New York-based Syde Hurdus Foundation was perfectly timed to help support the health, social and human services programs UP provides, especially in these difficult times.
For more information or to donate, visit UPIRC.org or call 772-564-9365.