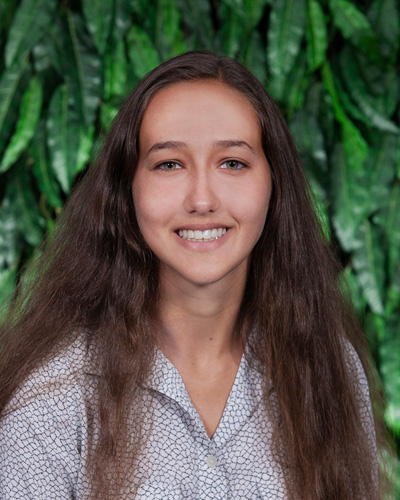 Senior Elise Mallon started at St. Ed's in Pre-K, making her a die-hard, and through the ensuing years she has created a resume that is, well, dream-like. Pick a category – academics, sports, music, just to name a few – and the outcomes speak of excellence through hard work, confidence, intensity and just about every other positive attribute the dictionary can offer.
More to the point, that is the core summation of her achievements, according to St. Ed's Academic Dean/Director of College Counseling Michele Sternberg, who said "Elise is one of the most driven young women I've known in my 25 years at St. Edward's. She holds herself to a high standard in every area of her life."
Duke University is the next stop for the valedictorian of the Class of 2020. Right now, the precise date of graduation is up in the air. The same holds true for the start of the fall semester at Duke. This pandemic has conditioned all of us as we collectively entered a new and unwanted twilight zone.
"The sudden turn of events was very shocking," Mallon told us. "Not one bit did I ever think that anything like this could ever happen. When it all first began, and it wasn't as bad as it is right now, I was not expecting it to get this crazy."
Predictably, her senior year was cruising along in fine shape academically. The same thing was happening in sports, where she was never just an onlooker on any team. In the fall she was the top 5K runner at the state tournament for the first Pirates girls cross country team ever to make it that far. A broken hand sidelined her for a portion of the winter basketball season, but that disappointment might have been mitigated somewhat had the spring lacrosse season proceeded as designed.
"We had only four lacrosse games and I was actually having a really fun time," Mallon said. "Senior Night was scheduled for April 8 and that didn't happen. It's pretty upsetting, honestly. Last semester of senior year is supposed to be exciting and there were a lot of things I was looking forward to.
"Not being able to see my friends every day, not only the people I hang out with outside of school, but also those really good friends I see mostly at school – I really miss those bonds. I also miss the bonds with my teachers as well.
"However, in this situation I'm able to see my family a lot more. We are taking it as it is and trying to find ways to make the best of it, trying to stay as upbeat as possible.
"A typical day at home for me includes some sort of workout. My little sister Sienna is in the seventh grade at St. Edward's. She and I do our classes and assignments online. Our parents (Dr. William Mallon and Dr. Genevieve Mallon) go to work.
"At night we make sure to eat dinner together and then watch a movie. Oftentimes, I go for a run with my mom in the evening, a fun time to talk and laugh while also sweating out the stressors of the day. Then we walk a little more just so we can be outside after being cooped-up inside all day."
Seems like a fine way to cope while riding out today and pondering the vagaries of tomorrow. Plans are afoot to reprise some senior traditions, included a scaled-down, live graduation ceremony in the July 31-Aug. 1 window. Of course, tentative is the omnipresent caveat.
Unlike the current state of disruption, Elise Mallon would like nothing more than to see her college experience unfold as she envisioned back when there was some semblance of order.
"Duke was my first choice," she said. "I did a weeklong camp over the summer and fell in love immediately. The campus is gorgeous and it has a lot of things I'm really interested in. Duke has a very good medical program and a very strong science program, everything I'm looking for. Also, the saxophone professor (we presume there is such a specialty) reached out to me, so I can continue my passion for music.
"I'm definitely interested in joining an intramural sport like basketball, or maybe club running, whatever's available. I've been doing a sport every season for St. Edward's since sixth grade. I can't imagine giving up any of those sports."
In the back to the present mode, she added, "I follow Duke on their Instagram account and I haven't received any specific emails about what is going to happen in the fall."