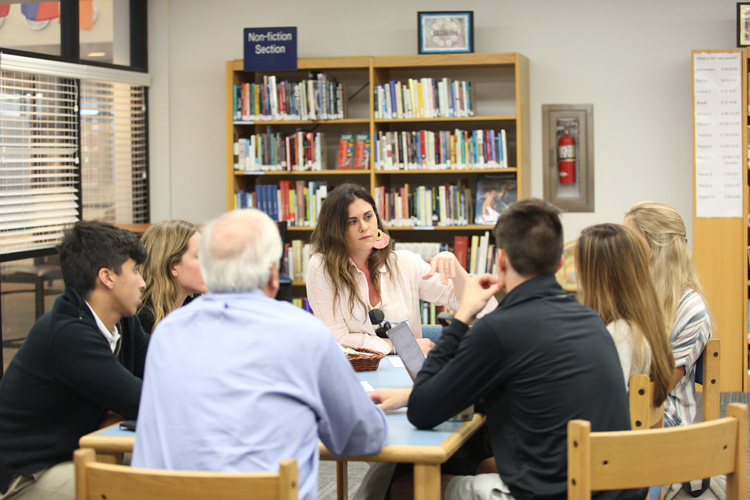 St. Ed's introduced the Entrepreneurship Class to its curriculum a few years ago with the intent of encouraging young people to think about how to better navigate through our increasingly complex economy. Past presentations centered on the successes and problems encountered by local start-up businesses. The theme for this spring included a one-day symposium on real estate featuring a number of agents from this area.
We often hear about the educational system across the board doing students a disservice by ignoring instruction in real-world financial matters. The current economic tailspin only heightens that concern, likely rendering those with the most knowledge and contemporaneous information better able to cope.
Just before school was suspended, instructors Greg Zugrave and Pape Seye assembled the class in the library to hear presentations on various aspects of the housing market. Several of the students had just come off rather difficult season-ending defeats in basketball and soccer. Zugrave coaches varsity boys basketball, Seye varsity boys soccer.
"Like sports, the Entrepreneur Class mirrors real life," Zugrave explained. "The scenarios, guest speakers and projects are all meant to provide real-life problems for the students to solve. Working together as a team is a key element to being successful in this class, and this is likely why many athletes have done well. We are so appreciative of the support from the community. The time and effort put forth by the realtors speaks volumes to that point."
Academia often deals with ideal laboratory conditions, but that is certainly not the prevailing real-world pattern today. A headline in the business section of the March 19 New York Times stated: "Officials Act as Millions Risk Losing Their Homes." The article noted that "the financial shock from the coronavirus pandemic threatens the housing security of millions of Americans, prompting federal, state and local officials – and even judges and the police – to move quickly to ward off foreclosures and evictions. The move is meant to keep people in their homes and avoid a housing squeeze like the one that followed the mortgage-fueled financial crisis of 2008."
All of that at a time when we are urged to keep our social distance and stay at home. Stands to reason that a little knowledge in this area might go a long way for someone aspiring to establish a solid economic foothold via the housing market. That was always a wise choice for past generations. Young people today have big challenges and far too many don't even consider this possibility. We could be reaching a point where our homes, whether rented or owned, actually save lives.
As the school shutdown enters week two, we are reminded of class exercises and teamwork in problem solving. Someday soon we hope all of that reemerges, but for now let's go back and see what three students took away from the introduction to the world of real estate.
German International exchange students Constantin Andres (Osnabrück) and Leon Main (Erfurt) played soccer. Chris Holloway was on the basketball team.
"Entrepreneurship is one of my favorite classes because the class teaches about things that really matter, like improving businesses," said Andres. "For me especially, economics is really interesting because I'm looking forward to studying International Business and Entrepreneurship next year at the Hanze University in Groningen, Holland."
"I enjoyed the Real Estate Project," Main told us. "It was interesting to hear from several real estate agents who showed us their view of different things such as focusing on credit and our credit scores. The Zillow Project makes a lot of sense, because some of us may face the problems of finding a home in just a bit."
"I thought the meeting in the library went very well, and was successful," Holloway added. "It really gave me a good outlook on real estate and how the business is really run. I also thought it was a really good idea because we actually got to talk to realtors who are in the business. They shared their personal stories and it was really different from a regular day-to-day class setting. I believe we should definitely do this again because you really do learn a lot."
Learning has been separated from tradition and gone online. That just may be the wave of the future, but even as many of us hunker down at home, the lessons of teamwork, sharing and cooperation – of the type emphasized in St. Ed's sports and Entrepreneurship programs – are what will get us through this.