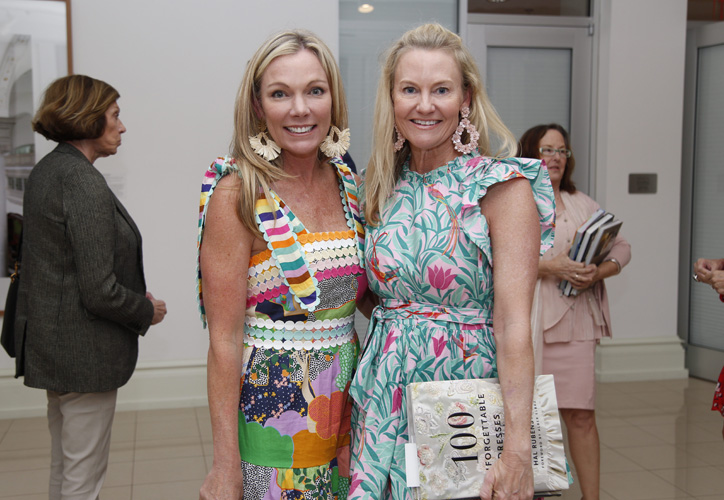 'Wonderful,' 'delightful,' 'hysterical,' 'charming' were just a few of the superlatives overheard as a sold-out crowd of more than 300 guests filtered out of the Vero Beach Museum of Art's Holmes Great Hall after hearing a talk by fashion icon Hal Rubenstein at the third annual Fashion Meets Art event.
An influential voice in the fashion industry, Rubenstein is a founding editor of InStyle Magazine, and a contributor to innumerable publications and media outlets. During his talk, he referenced selections from two of his four books, "100 Unforgettable Dresses" and "I'll Take Romance: 50 Great Moments of Love and Desire."
"He's a very dynamic person, not just a dynamic speaker," said Karen Loeffler, event co-chair with Melinda Cooper. "We were all impressed by Hal's knowledge, insight, charm and wit about fashion, film and life in general. Everyone seems to be quoting Hal. I think our new mantra will be 'What would Hal say?'"
Gorgeous designer evening gowns and cocktail dresses had been donated for the occasion, curated from the closets of FMA committee members.
"Melinda and I were delighted to work with such a talented, enthusiastic and very dedicated committee," said Loeffler. "They selflessly took care of all the details behind the scenes so that Hal could shine."
And shine he did, humorously sharing insider information and keeping his audience enthralled.
"It's a very interesting career, being a man and then being an arbiter of how women should dress," said Rubenstein, noting that in the course of his career, he has easily looked at 250,000 dresses.
Answering the question 'What makes a dress unforgettable,' he said, "Is a combination of the craftsmanship of the designer, how the dress fits on a particular woman and the woman herself. There are certain people you know that could wear a white shirt and a pair of jeans and you go, 'Wow, she looks amazing.' And then somebody else could go out and buy some designer piece and you look and say, 'Oh, I love the dress.' So the work really is on you."
He illustrated a number of memorable looks. Among them, the always chic Audrey Hepburn in Givenchy; the simple yet sexy white slip worn by Elizabeth Taylor in "Cat on a Hot Tin Roof"; the iconic Jean Louis gown Marilyn Monroe wore to sing Happy Birthday to President John Kennedy; Jonathan Logan's A-line "That Girl" dresses; Diane von Ferstenberg's wrap dresses ("Everyone should know: Diagonals are your friend. Always," said Rubenstein); and Cher in Bob Mackie ("All I can say, she's Cher and we're not.").
"Here's some sound advice. If you find a dress, an accessory, anything that you're wild about, do not talk yourself out of it with the rationale of 'but where am I going to wear it?'" Rubenstein advised. Princess Diana, he said, had purchased the daring, Christina Stambolian "revenge dress" she wore the night Prince Charles confessed his affair to the world, three years earlier. "Get it, and trust me, the where will find you."
Later in his talk, Rubenstein shared that he will soon launch the Happy Grownup, online and as a podcast.
"The Happy Grownup is celebrating life after the age of 50. There's something twisted in how we see aging in this country," said Rubenstein, envisioning the site as a place where people can find practical information about ways to look and live better. "The opportunities are incredible, and I want the Happy Grownup to be your new map."
Photos by: Kaila Jones and Stephanie LaBaff
Click HERE to see more or buy photos