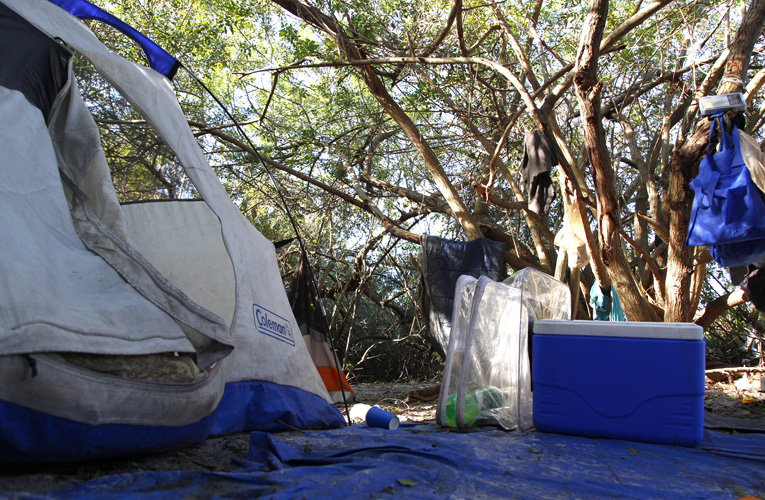 "This is something we desperately need to look at," said Vero Beach Mayor Tony Young when he learned that the Treasure Coast, including Indian River County, has the highest percentage of unsheltered homeless people of any suburban area in the United States.
The dismal distinction was included in the U.S. Department of Housing and Urban Development's 2019 Annual Homeless Assessment Report to Congress, which found that 93 percent of homeless people in Indian River, St. Lucie and Martin counties are unsheltered, sleeping in the woods, in cars or on the streets.
The Treasure Coast Homeless Services Council, which is the lead organization here to report homeless statistics to HUD, conducts an annual survey to determine the area's homeless population. The agency's 2019 Point in Time Count taken on Jan. 29, 2019, revealed a total of 1,499 individuals – 1042 adults and 457 children – are homeless on the Treasure Coast, a 3 percent decrease from the previous year.
Homelessness in Indian River County, however, climbed from 447 individuals to 486 last year.
Four-hundred of that number were unsheltered, according to the report.
"It's something we need to study and explore, because it's appalling that we have people that are homeless and do not have shelter in our city," said Vero Beach City Councilman Joe Graves when Vero Beach 32963 informed him of the report's findings. Graves said the city could potentially partner with local homeless nonprofits and the private sector to provide shelter for the homeless.
County officials, who last week approved several initiatives to create affordable housing, were disturbed by the federal figures for the Treasure Coast.
"That's shocking data that reaffirms we need to continue to work hard in providing solutions that will help agencies such as The Source," Indian River County Commissioner Tim Zorc said.
The Source is a nonprofit organization that provides cold night shelter, emergency hunger relief, counseling and benefit referrals to the county's growing homeless population. The group is currently fundraising to construct a $2.7 million Dignity Village on an undisclosed 25-acre property in the county that will consist of 100 500-square-foot homes for the homeless.
"There are no emergency overnight beds in the city or county," said Anthony Zorbaugh, executive director of The Source.
A lack of affordable housing is one cause of the problem, according to the county's Affordable Housing Advisory Committee.
A recent analysis by the group found there are currently no new single-family home or townhome purchase options for households with annual incomes below $65,000 and no market rate rental apartment options for households earning less than $50,000 to $55,000 per year.
Several committee recommendations adopted by the commission last week included setting a five-year county-wide target of adding 1,500 affordable housing units produced and secured through assistance by private sector and public sector efforts, eliminating impact fees for very low and low income single-family housing of less than 1,000 square feet, and developing regulations that would allow for smaller 36-foot wide lots with smaller less expensive homes.
In December, the Vero Beach City Council approved a zoning variance that cleared the way for a 20-unit affordable housing complex at 1055 Royal Palm Blvd. to help homeless veterans.