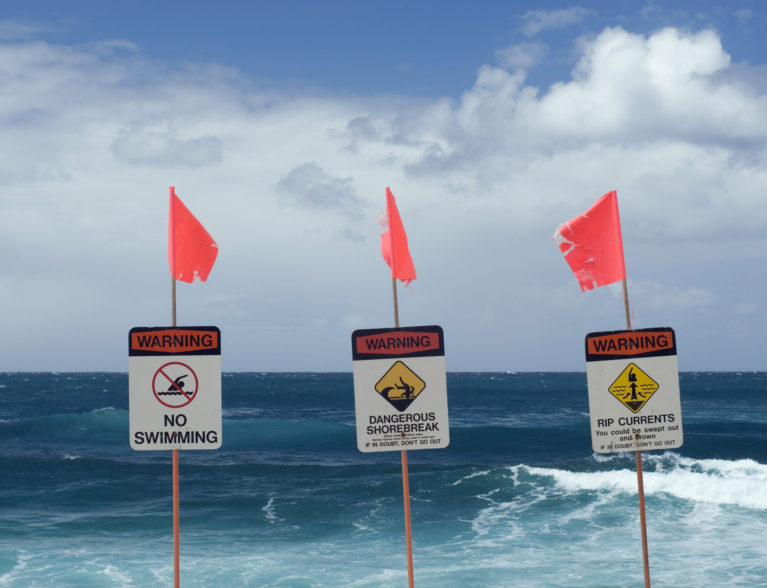 INDIAN RIVER COUNTY — Strong winds and rough seas will make it dangerous to get in the water on county beaches this weekend ahead of the upcoming cold front, lifeguards said.
In addition to the dangerous, pounding surf, weekenders hitting the sand could encounter everything from rip currents to jellyfish-like sea creatures with toxic tentacles. There's also a chance for even more beach erosion, city officials said.
The surf levels will begin to rise Friday morning, and will be between 6-to-9 feet high by 9 p.m., a surf report shows. The wave heights will continue to increase Saturday, reaching between 7-to-11 feet by noon.
"I wouldn't go out in water that has 7-foot waves," Vero Beach Mayor Tony Young said. "The last thing we need is for someone to get caught in a rip current. It's extremely poor judgment to be out in those conditions."
The levels were expected to decrease Saturday afternoon, continuing into Sunday and the start of the week, officials said. Lifeguards said strong winds cause the sudden surge in surf levels.
"When you get strong sustained winds, it pushes the water and creates waves," Vero Beach Lifeguard Association President Erik Toomsoo said. "It's not unusual. Strong winds that come off the water create choppy waves. Any winds that come off the land onto the water create smooth, glossy waves."
Vero Beach was expected to have 10 to 25 mph north winds Friday and Saturday, National Weather Service officials said. A 40-to-50 percent chance for showers was also predicted in the weekend forecast.
Toomsoo said lifeguards track upcoming surf conditions by monitoring forecast reports on weather websites including Magic Seaweed, the National Weather Service in Melbourne and the National Oceanic and Atmospheric Administration. Lifeguards put up high surf condition signs whenever wave levels are expected to reach dangerous heights for swimmers.
Lifeguards put up red flags and double red flags for a variety of incidents that are dangerous for beachgoers, including approaching hurricanes and sharks roaming in the waters, Toomsoo said. A red flag means high caution, while a double red flag means the water is closed.
Earlier this week in St. Lucie County, authorities recovered a body matching the description of Anthony Graham, 27, who was reported missing Feb. 15 after being swept out to sea near Fort Pierce Inlet State Park, U.S. Coast Guard officials said. There have been no drownings in Indian River County so far in 2020, Toomsoo said.
Toomsoo said lifeguards rescued four people Sunday from rip currents at South Beach.
"High surf could cause rip currents. There's a lot of factors," Toomsoo said. "Big surf and inexperienced swimmers are a recipe for a water rescue."
Lifeguards said beachgoers should also stay cautious of the Portuguese man o' war, a fish that carries a stinging-like venom in its tentacles that can paralyze small fish and other prey. Many beachgoers – including two youth – were stung by the venomous fish at the beaches last weekend.
A 4-year-old boy and a 17-year-old girl were rushed to the hospital after touching the man o' war's tentacles, Toomsoo said. Updates on their conditions were not available.
Toomsoo said the winds and water currents wash the poisonous fish to shore. The painful stings are powerful enough to kill other fish and even humans.
Toomsoo said lifeguards put up purple flags alerting swimmers of stinging marine life whenever the man o' war fish wash ashore. Officials are also concerned about another public safety hazard – erosion.
Young said the city was expecting erosion damage at the beaches from the high surf.
"We're doing what we can do to warn the public," Young said. "Those who go to the unguarded beaches are oblivious to its dangers; it's a concern. When the surf gets rough, stay out of the water."
County beaches are still recovering from the mass erosion caused by Hurricane Dorian, which swept through the area last September. In November, county officials started replacing sand that had washed away from shore.
The beach replenishment project will add nearly 180,000 cubic yards of sand from Tracking Station Park south to Castaway Cove. The addition of new sand for Sector 5 is almost complete, according to the county beach project status. 
The high surf conditions were not expected to stall plans for sand replenishment, Indian River County Legislative Affairs and Communications Manager Brian Sullivan said. Sullivan said the overall project was expected to be completed by the end of the month.