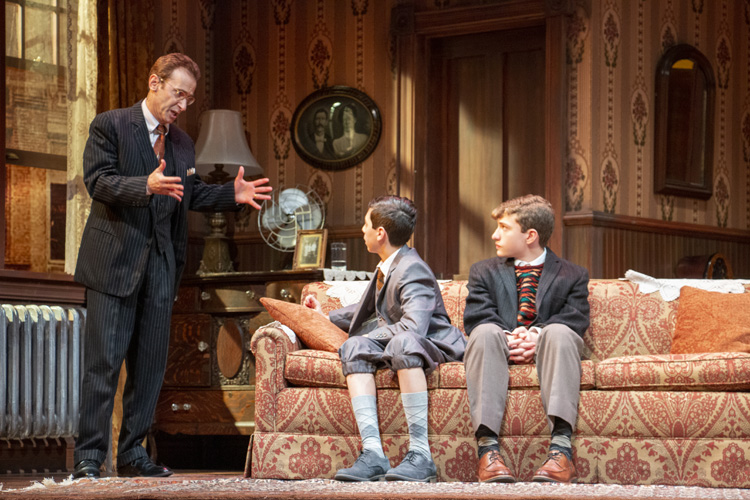 With its remarkably intimate production of "Lost in Yonkers," Riverside Theatre proves a straight play belongs on a mainstage as much as a lavish musical.
Riverside's production of the 1991 play, which won playwright Neil Simon his only Pulitzer Prize, draws the audience into the funny and poignant tale of two boys, Jay and Arty, forced to live with their stern German Jewish grandmother, whose painful life has taught her that tears are for the weak.
Whether in the room or not, Grandma Kurnitz looms. One dares not rest their head on the back of the chair for fear the doily will get out of place. The notion of turning on a fan in the middle of a sweltering day is anathema to her. Loud voices, displays of affection and boys acting like boys are verboten to the woman. The only sweetness she dispenses are the items she sells in her candy shop.
But the boys, 15-year-old Jay and 13-year-old Arty, must live there. Their father had turned to a loan shark to pay medical bills for their mother, who died from cancer. Now the father, a salesman, has an opportunity to hit the road and make good money.
Yes, this is unlike what so many people may expect from Neil "Doc" Simon. A prolific writer, he made a name for himself as a comedy writer in the '60s, with such classics as "Barefoot in the Park" and "The Odd Couple." In the '80s, he reinvented himself with a surprising autobiographical trilogy, starting with "Brighton Beach Memoirs." Through all his characters and situational plotlines, it was "Lost in Yonkers" that resonated so with critics and audiences.
But no play is foolproof. Despite its complex characters, "Lost in Yonkers" still calls for that snap of Simon wit and warmth of Simon heart. Here, director Chris Clavelli lets both shine. A brightness persists in the somber face. A hope lingers that change will come, that hope will break through the sadness. Intermission comes and you want to see what happens. You are invested in these people and cheer them on.
Clavelli's vision is well served by his cast and designers.
Scenic designer Ray Recht brings the apartment close to the stage's edge and fills up the stage opening with the same severity that holds Kurnitz together. But there is also a sly dichotomy.
It is a second-floor apartment, directly above the candy store. Discolored wallpaper, once pretty and romantic, filled with images of rose bouquets, fill the walls. An old photo of a man and woman hangs from one wall. Vintage furniture, worn with decades of use, sit in the rooms. A dining table and chairs, where a family once gathered is nestled into an alcove. This is a place where a large family was raised. Now, it's the home of the old and lonely woman and her daughter, Bella, who matured only into adolescence.
Shami J. McCormick creates a powerful portrayal of Grandma Kurnitz, making her both imperious and broken. Quite the opposite character is Bella, who is also broken but has a deeper strength than her mother. Played with affection by Emily Berman, Bella is the ray of hope. She is especially compelling in the scene in which she confronts her mother with a shocking truth.
Vincent Crocilla as Arty and Bergman Freedman as Jay are warm and funny and most entertaining in their roles as brothers. This is an ensemble piece and, as such, each person has equal weight. These two young actors step up and deliver energetic, engaging and warm portrayals of the two brothers.
Jonas Cohen delivers the right mix of humor and mild threat in his role of Uncle Louis. A tough guy with a heart of gold, he brings the best laughs of the show as well. Those start immediately when he seems to be breaking into the apartment and the boys, sleeping on the couch, yell out "Who's there?" His answer, "Uncle Louis," is hysterical.
He turns off the lights, looks out the window to check the street, and says he's got to stay here for a few days while his apartment is being painted. He warns his nephews to watch out for Grandma Kurnitz because "she could tell if there was salt missing from a pretzel."
Steve Perlmutter is warm and caring as the father, so worried about leaving his sons with his mother. Carine Montbertrand is funny and sweet as Aunt Gert, a woman who struggles for breath as she talks.
Stefanie Genda's costume design is period perfect and especially thematic with Bella's lighter and rosier dresses, which suit her lighthearted nature. Todd Wren's lighting design is atmospheric and works so well with Recht's "dramatic spaces," those offstage areas like the bedrooms, the bathroom and the street, designed to lend a larger sense of the actual world in which the play takes place.
Craig Beyrooti's sound design is always so very excellent. This is a large stage with a large house (where the audience sits). The actors need microphones, yet need to sound natural. Beyrooti always mines gold at this highly nuanced and intricate aspect of play production.
"Lost in Yonkers" shines so well at Riverside. It's funny, poignant, warm and all around just so very lovable. There's something about live theater; when it is this well produced, it can't be beat.
"Lost in Yonkers" runs through Feb. 23 at Riverside Theatre, 3250 Riverside Dr., Vero Beach. Tickets start at $35. Call 772-231-6990 or visit RiversideTheatre.com.