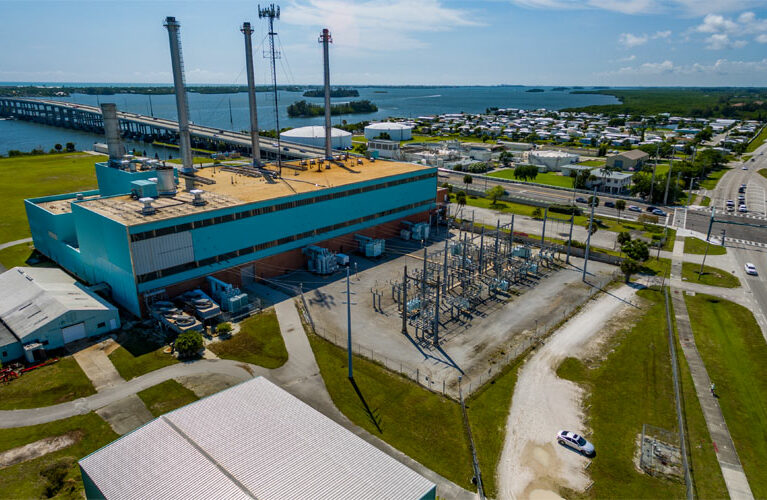 VERO BEACH — The public next week will have several opportunities to meet with planners designing concepts for the redevelopment of Centennial Place to suggest what they'd like to see constructed on the prime piece of waterfront real estate.
A series of public meetings will be held the last week of the month at various locations around the city including the Vero Beach Community Center, Orchid Island Brewery and Walking Tree Brewery. Community members will have a chance to voice to planners from world-renowned urban planning firm DPZ CoDesign what they'd like to see built on the 30-plus-acre site, which flanks the 17th Street bridge on the mainland side and is occupied by the shuttered power plant and current wastewater treatment facility.
The meetings, held from 6:30 to 8:30 p.m. daily, will be visual and interactive, said Irina Woelfle, owner of local public relations firm IWPR Group, which is working with DPZ CoDesign.
"They can bring their ideas and what the team will do is engage everybody in conversations about the most popular and feasible ideas and start drawing them so that the public can imagine and envision them," Woelfle said.
To date, the general public has been providing development ideas on www.SpeakUpVeroBeach.com, the official online forum to collect input.
Popular redevelopment concepts include: park and open spaces, youth programs, dining, entertainment, an event venue and a marina, Woelfle said.
A majority of virtual input has voiced less desire for residential units, offices, co-working space, a hotel or just plain green space, Woelfle said. Roughly 6,500 have visited the site since its inception in early November.
Now it's time for the community to leave their screens and speak up in person.
"We put together www.SpeakUpVeroBeach.com to get people engaged early and often, but there's nothing like experiencing a charette with Andrés Duany and his team firsthand," Woelfle said of DPZ's co-founder. "It is an exhilarating, eye-opening and illuminating process that everyone must see firsthand."
Members of the steering committee – comprised of City Council members and their appointees to help organize community ideas – have several ideas for redevelopment concepts and are also urging participation in the series of public meetings.
"We need to let everybody know that they have a voice here," Committee Chairwoman Vicki Gould said at a recent meeting. "It's the City of Vero Beach, but we want to hear from all ages. We want to hear from Sebastian, Fellsmere, Gifford (and) Vero."
Some redevelopment ideas garnered by city staffers from committee members include: preserving part of the defunct power plant built in the 1960s for a future use, gardens, waterfront recreational use, a showcase for local artists, and a resort.
The planning process is anticipated to last six months and includes time to analyze the site, garner input online, formulate a public survey, hold the public meetings and present a final report to the city council summarizing the community's wishes in May.
DPZ plans to formulate five redevelopment concepts for the prime riverfront site that the public can choose from, ranging from a mostly undeveloped site to a fully developed area that incorporates the wishes of immediate site neighbors, the greater Vero Beach population and elected officials.
The council plans to present the public with a final plan or two and then put the issue on the ballot during the 2020 election so voters can choose what they want done with the site. The city charter prohibits a change in the use of the property unless voters approve it.
Schedule and locations for public meetings:
Jan. 27: Opening presentation from 6:30 p.m.-8:30 p.m. at the Vero Beach Community Center, 2266 14th Avenue
Jan. 28: Informal presentation of the design ideas to date with questions and answers from 6:30 p.m.-8:30 p.m. at the Fairlane Harbour Community Center, 1500 Indian River Boulevard
Jan. 29: Informal presentation of the design ideas to date with questions and answers from 6:30 p.m.-8:30 p.m. at Walking Tree Brewery, 3209 Dodger Road
Jan. 30: Informal presentation of the design ideas to date with questions and answers from 6:30 p.m.-8:30 p.m. at Orchid Island Brewery, 2855 Ocean Drive
Jan. 31: Closing presentation from 6:30 p.m.-8:30 p.m. at First Presbyterian Church, 520 Royal Palm Boulevard