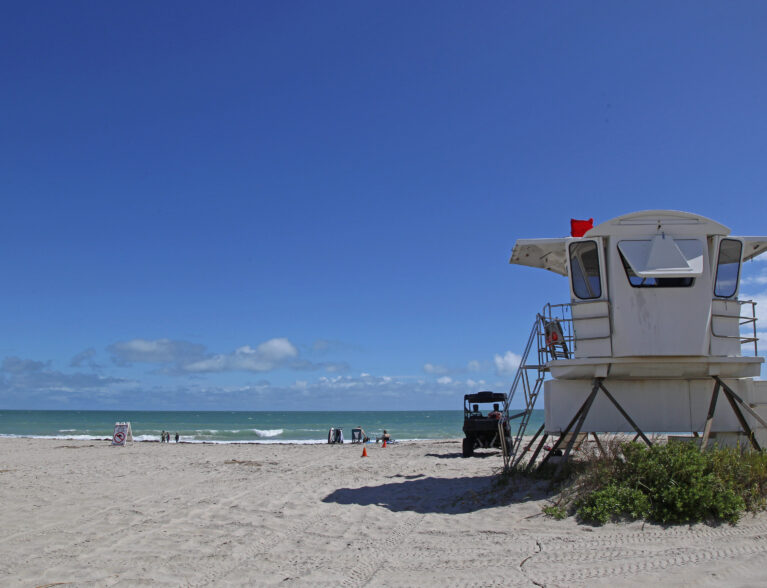 VERO BEACH — The city saw a big dip in beach goers for December 2019, mainly because of rain and a sand-restoration project that closed off entire sections of the beaches, lifeguards said.
December 2019 had an attendance of 51,562 beach goers, compared to the record 85,500 set in December 2018, according to a Vero Beach Lifeguard Association report. Lifeguards noted the city had rainy weather the last two weeks of December, most likely deterring visitors from visiting the city's three beaches – Jaycee Park, Humiston Park and South Beach Park.
The other factor in the big drop was the beach replenishment project, which began in November. The 3.1 mile project – which aimed to restore sand to eroded beaches after 2019 Hurricane Dorian – occurred in three phases.
The areas designated for sand replenishment extended from north of the Seawatch Condos in Indian River Shores south through Central Beach to the Riomar Golf Course, officials said. Two city beaches – Humiston Park and Jaycee Park – were used as access points for trucks carrying sand onto the beaches.
For December 2019, there were 27 medical emergencies on the beaches. An early-December incident was considered major after a 58-year-old man playing in the surf with his back turned to the water was hit by a pounding wave, lifeguards said.
The wave slammed the man into the sand at South Beach Park, VBLA President Erik Toomsoo said. The man suffered a spinal injury and was taken to Lawnwood Regional Medical Center & Heart Institute in Fort Pierce with serious injuries, Toomsoo said.
An update on his condition was not immediately available.
"Unfortunately, this has happened before," Toomsoo said. "We try to teach people don't turn your back on the waves."
Toomsoo said a similar incident involving a 57-year-old man from New York happened a couple years earlier at the same beach. Toomsoo said the man was seriously hurt and put on life support, and that his family eventually pulled the plug.
Further details on the second incident were not available.
The minor rescues at city beaches mainly involved stings from Portuguese Man O' War jellyfish. For humans, stings from the jellyfish – which contain venom – are painful but rarely deadly, officials said.
Last month, three people were rescued from rip currents, bringing the total number of water rescues in 2019 to 24, lifeguards said. Lifeguards advised swimmers should pay close attention to beach condition signs and flags, swim near lifeguard towers and avoid swimming during non-guarded hours.