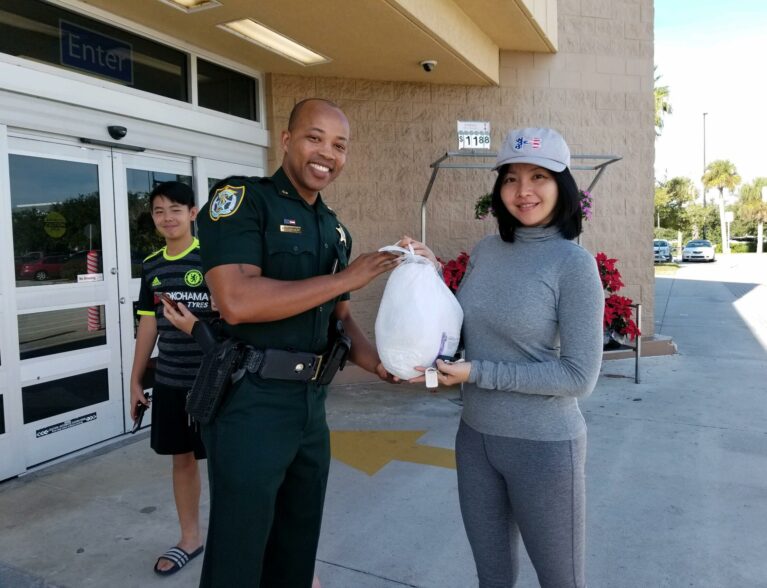 INDIAN RIVER COUNTY — Deputies got an opportunity to add a neighborly touch to their badges Wednesday morning when they gave away donated turkeys to patrons at Walmart stores in Vero Beach and Sebastian.
"Showing residents that we are here to help is an important way of furthering our mission at the Indian River County Sheriff's Office and ensuring the community knows us before they need us," sheriff's spokesman Maj. Eric Flowers said. Flowers said residents were very happy and surprised.
"One lady was coming to Walmart to get a turkey because she had just given hers to a neighbor," Flowers said. "One was purchasing a turkey for missionary neighbors and was grateful to get one for them."
Deputies also partnered with community leaders at the Gifford Youth Achievement Center to hand out turkeys Nov. 21 at Victor Hart Sr. Community Enhancement Complex. The complex is located at 4715 43rd Avenue, Gifford.
"Turkey sharing is a sign of caring for one another," said GYAC Public Relations Director Freddie Woolfork. "It shows compassion."
More than 300 turkeys were given out to residents in need or delivered to their homes throughout the county, Woolfork said. The GYAC has partnered with the sheriff's office for 21 years to give away the turkeys.
Photos provided by Indian River County Sheriff's Office