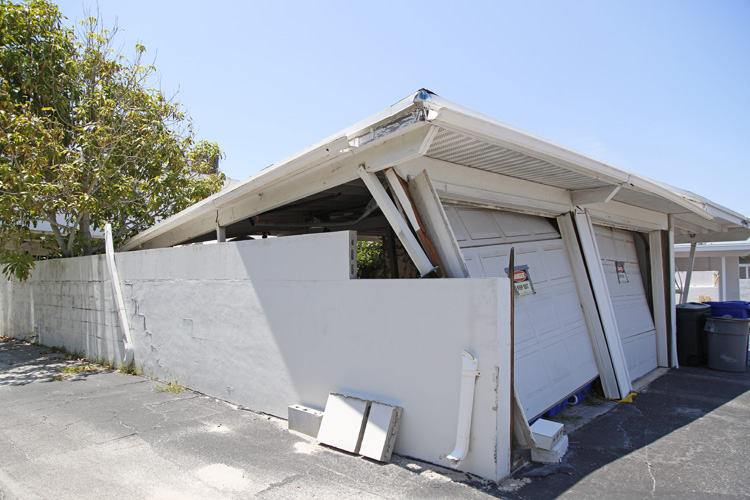 Residents at a Central Beach townhouse complex are angry that the city of Vero Beach has not yet repaired two garages that were severely damaged by a garbage truck eight months ago and appear near collapse.
The smashed garages, located behind townhouses at 2732 and 2734 Cardinal Dr., are leaning precariously toward the parking lot's only exit, creating significant safety issues, several residents said.
"All it would take is a hurricane or fire to knock those garages over and it would block everyone from leaving or entering," said resident Mary Pearson, who lives in the 2730 townhouse apartment. "It's a death-trap waiting to happen."
City Manager Monte Falls said the city is trying to address the problem but has not had much cooperation from the property owner, Raymond Nadeau of Fort Pierce.
"The city has an insurance carrier and has been trying to meet with the owner to reach an amicable agreement," Falls said. "So far that hasn't happened, but we're working on it."
Nadeau, who was reached by phone, refused to discuss the issue.
According to another resident, who lives at 2734 Cardinal – one in a line of townhomes on a quiet block south of Gayfeather Lane – a city garbage truck struck the garages on October 4.
The resident, who didn't want her name published, said her daughter's car was stuck inside their garage for several days. When city officials did not return phone calls seeking assistance, she and her daughter pried the garage door open and slowly removed the car, careful not to disturb the caved-in garage roof, she said.
Because she cannot use her garage, the resident must park her vehicle on the grass in front of her front door. She also must place full garbage containers in front of her porch, which is an eyesore and can stink when it's hot and humid, she said.
Pearson said since the incident in October, city garbage trucks no longer drive behind the townhouses to pick up garbage.
So she, at age 95, and other residents wheel their large garbage containers around to the front of the townhouse every week – no small chore for a woman of her age.
"I'm more than a little concerned right now," Pearson said.
"I'm worried that kids could try to go inside the garages and get killed. If they can't fix it, they need to just remove it."
The garage roof at 2732 is partially caved in and a portion nearly touches the ground.
Falls said he will direct his staff to visit the property this week to make sure the structures are secure and don't pose a danger. If the property is not safe, the allegedly uncooperative owner could be issued a citation.
"We understand residents are concerned and we want to make sure this is resolved as quickly as possible," he said.