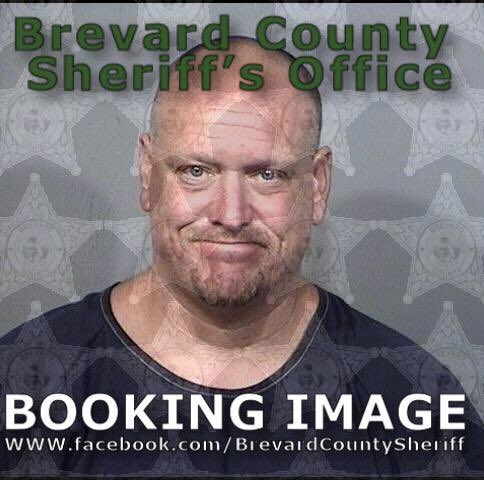 INDIAN RIVER COUNTY — A 41-year-old wanted man killed in a shootout with deputies after a two-county chase that ended in Indian River County, was identified Tuesday.
Indian River County deputies identified the man as Ryan Brett Thomas, of Satellite Beach. The two deputies who fired rounds were not hurt.
The unidentified deputies were placed on paid administrative leave, which is protocol, pending the outcome of the investigation, sheriff's officials said. The names of the deputies were not immediately released.
Deputies said a round fired by Thomas struck the headrest of a deputy's truck during the shootout. The deputy managed to move, taking him out of the path of what would have been a fatal blow to the head, deputies said.
"We are proud of the actions of our deputies last night. Sheriff Deryl Loar previously said in a statement. "Our dispatchers and aviation team did an outstanding job of providing our deputies on the ground with information they needed to make good split second decisions, preventing this wanted subject from further endangering the public."
The shooting closed I-95 in both directions for several hours. Deputies said Thomas had a criminal history dating back to 1996, including more than 20 arrests on felony charges and seven felony convictions.
The incident unfolded about 9 p.m. Friday when Thomas stopped at a rest area between Palm Bay and Sebastian. Two passengers, an adult and a 17-year-old, got out of the vehicle, deputies said.
Brevard deputies learned Thomas had active warrants for drug charges, was considered armed and dangerous and had an AR-15 firearm, authorities said. Brevard deputies went to the rest area and detained the two passengers.
But, Thomas pulled back onto I-95 and continued south toward Sebastian, deputies said. Brevard dispatch notified Indian River County that Thomas was fleeing into the area with a pickup truck pulling an open flatbed trailer, deputies said.
Indian River deputies worked to clear southbound traffic in the area. A deputy deployed stop sticks at the county line, then traveled behind Thomas's vehicle, deputies said.
The truck hit the stop sticks and the tires began to deflate, deputies said. At mile marker 152, the truck tried to make a wide turn through the median, but was blocked by a K-9 deputy patrol vehicle.
Deputies said Thomas began firing several rounds at the K-9 deputy and another deputy in an unmarked truck. Deputies exchanged rounds with Thomas, causing Thomas to be struck and killed, authorities said.
It was unclear how many times Thomas was hit by gunfire. A further search of Thomas' vehicle is pending the execution of a search warrant, expected sometime this week.