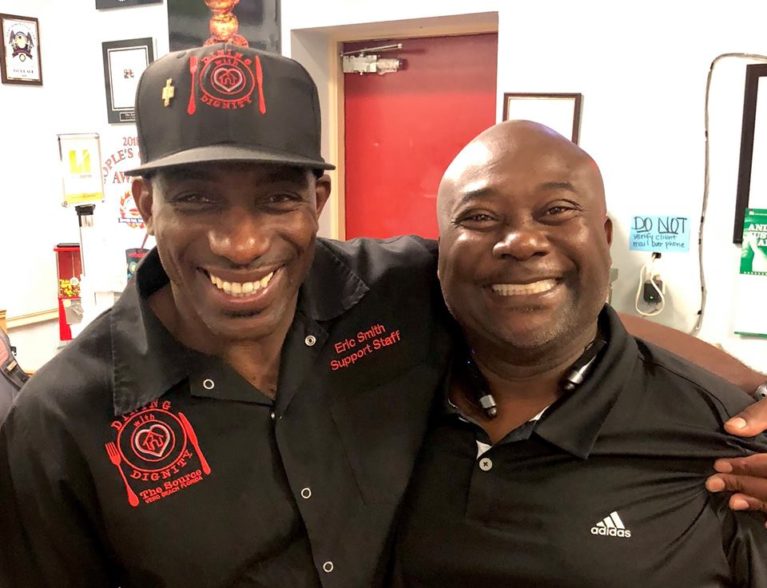 INDIAN RIVER COUNTY — Eric Smith was living his dream.
Smith was an energetic Louisiana State University student on a full ride football scholarship, drafted into the National Football League at 18. The 190-pound, 5-foot 10-inch football star went on to play as a wide receiver for the Kansas City Chiefs and the Chicago Bears between 1995 and 1999.
But his hopes and aspirations would come crashing down soon after. His time on the field abruptly ended because of an injured ankle along with hefty lawsuits from a fight he was involved in while in college.
Smith said not being able to play the sport led him to battle depression, become addicted to crack cocaine and become homeless.
"I was trying to cover up the hurt, shame and guilt," said Smith, 48, who now lives in Vero Beach. "When you go through stuff like that, it's heartbreaking."
But, when a local pastor found Smith sleeping on the stairs of a local church more than a year ago, Smith's situation began to change for the better. The pastor told Smith about The Source, a local Christian ministry serving the poor and homeless.
Smith was one of many people suffering from situations such as homelessness to enroll in the ministry's Dining with Dignity program. Those who enroll learn to prepare meals through a 12-week training program, preparing them to be career ready when they graduate and changing their lives for the better, according to the organization's website.
Even though Smith graduated from the program, The Source hired the former football player as a full time staff member to help train and serve as a 'light' for others.
"You have to trust the process that's bigger than yourself," Smith said, noting that others in the program have graduated and earned jobs at local restaurants. "It's crazy to see what God can do."
Smith also has been clean for the past 18 months, has an apartment of his own and his happily married to his wife, Jennifer Smith.
Journey to the NFL
Smith, a native of Vero Beach, said he attended Vero Beach High School, where he played football. The former
pro-player attended a junior college in Mississippi for two years where he earned an Associate's degree in criminology.
Smith then transferred to LSU, one of many Division 1 schools where some of the nation's best ranked athletes usually attend before being drafted into professional sports. Before finishing school at LSU, Smith was drafted into the NFL.
"Coming from a small town, it felt amazing and overwhelming," Smith said.
Smith bore the number 4 playing for the Kansas City Chiefs and the number 83 for the Chicago Bears. Smith said he had the chance to meet the late and well-known Chicago Bears player Walter Payton.
He saw Payton as a mentor.
Smith played one season for the Bears, according to the National Football League. "I miss the camaraderie and being part of a family," Smith said.
Things seemed to be going well for Smith, until a past incident came back to haunt him.
Downward spiral
Smith said while enrolled at LSU, he was involved in a bar fight that left another man with serious injuries. The man's attorney filed a lawsuit against Smith while he was playing in the nationals, leaving the pro-player with high legal fees.
Around the same time, Smith said he suffered a serious ankle injury during scrimmage practice in 1998. Smith eventually quit playing football and moved back to Vero Beach in the early 2000's.
With a failed career, Smith said he became depressed, started hanging around the wrong people and used crack cocaine. His addiction led him to become homeless.
"Depression creates a lot of (bad) habits in your life," Smith said. "I never did drugs before then."
Smith said he attended rehabilitation facilities for treatment, but he continued to use drugs.
The Source
Smith said Pastor David Palin found him sleeping on the stairs of First Church of God. The pastor directed Smith to The Source, where Smith joined the Dining With Dignity Training Program.
"I'm glad they gave me the the opportunity to try it. It allows you to let go of things that are hindering you," Smith said. "It's one of the best decisions I've ever made. It showed me what God can do."
Smith said those enrolled in the program cook various meals, including chicken with mushrooms and wild rice, zucchini and a salad, for breakfast, lunch and dinner. Smith graduated from the program 18 months ago.
The Source also receives support from various donors.
Guiding others
With overcoming damaging obstacles in life, Smith wants youth and others to make the right decisions before its too late. His main message for youth, especially student athletes, is to get their education first.
"Don't put all your marbles in one bag," Smith said. "If you go to school for free, get your education. They can't take that away from you. Don't let sports be your number one priority."