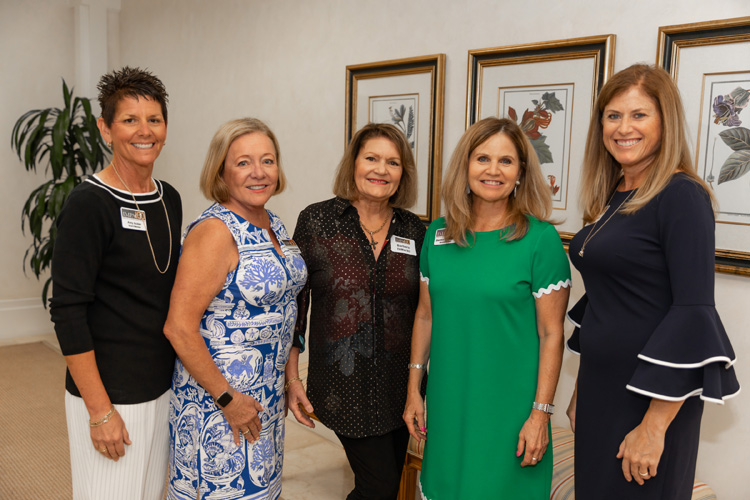 Photo: Denise Ritchie          The Boys and Girls Clubs of Indian River County, H.A.L.O. No Kill Rescue and the Space Coast Symphony Orchestra are the newest Impact 100 Community Partners, each receiving $100,000 grants at the 11th annual Impact 100 Grant Awards and Annual Meeting last Wednesday at the Oak Harbor Club, sponsored by PNC Wealth Management.
It has been a challenging year for the Impact board, led by Denise Battaglini as president and the grants committee, chaired by Brenda Cetrulo. It is also a momentous one, with this year's grants pushing total disbursements to more than $4 million.
"We are a membership organization of all women and this year we are 425 women strong, with 56 new members," said Battaglini, after acknowledging and thanking volunteers and sponsors.
"Impact 100 was started 11 years ago by a small group of philanthropic women who wanted to make a big difference and a big change in our community," said Battaglini. "They were able to get off the ground quickly by establishing themselves as a fund of the (Indian River) Community Foundation, and that's the model we've been operating under ever since."
She said this Impact is now one of the largest in the country, maturing to where it can operate legally, financially and operationally on its own. They have filed for 501(c)3 status and on July 1 will become fully independent of the foundation. In recognition of the longtime affiliation, Battaglini presented a plaque of appreciation to IRCF CEO Jeff Pickering.
Commenting on this unusual year, Battaglini said that while a record-breaking 66 volunteers participated in the grant process, they received a lower than normal number of grant applications. Despite that, the panels reviewed those submissions with integrity and within the guidelines of the evaluation process.
Mary Blair and Kate Hoffmann spoke about their experiences as site captains on the panels.
Blair, a relatively new Vero Beach resident, joined Impact 100 in December and immediately signed up to serve on grants – the "heart and soul" of the organization.
"For many of us, this is paradise, but for a majority of the population who live here, this is paradise in tough times. I learned a phenomenal amount about the poverty, the hunger, the mental health concerns that exist in our community," said Blair. "In our world today when one person thinks they can't make a difference, I think the mantra of this organization – one woman, one check, one vote – shows that one can make all the difference in the world."
"We hope that all of the nonprofit organizations that didn't get chosen this year will apply again," said Hoffmann, adding her hope that nonprofits reach out to the Impact visioning committee for help on improving their grant applications, "so that next year there will be a plethora of applicants."
With 425 member contributions at $1,000 apiece and just three finalists, the board made the decision to roll the extra $100,000 over for future disbursement. It was left to the membership to determine whether to split the surplus $25,000 between the finalists or, as was ultimately decided by Wednesday's vote, to roll that over as well.
"We did not anticipate this, nor do we really understand all the reasons why. We can, however, really assure you that we're addressing it," said Battaglini. She said the board has already begun to review their strategy and criteria, and nonprofits have been invited to a roundtable to give feedback about the process.
Despite the foregone conclusion, there was no less excitement as representatives of the three finalists shared their gratitude and spoke briefly about their organizations and the programs the Impact grants will fund.
Laura Luettger, career counselor at Boys & Girls Clubs, spoke about the Destinations program, which will help prepare their students for college, vocational or technical school, or the military by giving them the counseling, emotional and financial support needed to succeed after high school.
H.A.L.O. founder Jacque Petrone hopes to build on the remarkable success that her no-kill shelter has already achieved through the creation of a H.A.L.O. Enrichment Center, an indoor training center and a low-cost wellness clinic.
Aaron Collins, conductor and artistic director of Space Coast Symphony, plans four programs – a free family concert, a children's concert for first- through third-graders, a shoulder-to-shoulder concert for Vero Beach and Sebastian High School bands, and a once-upon-an-orchestra series, geared toward children and infants.
For more information, visit impact100ir.com.
Photos by: Denise Ritchie
Click HERE to see more or buy photos