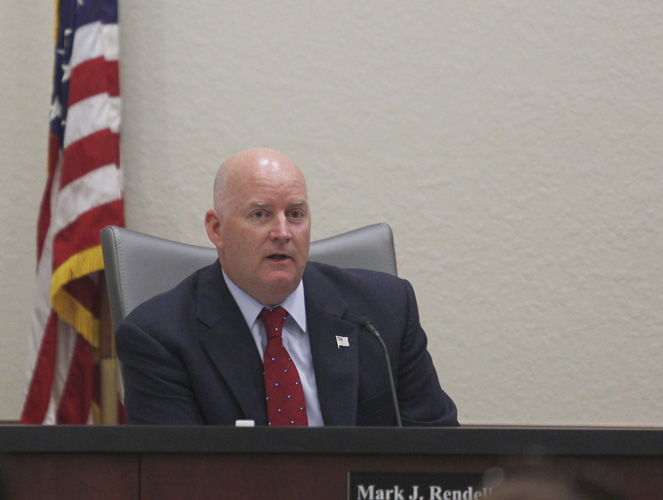 The Indian River School Board has decided not to renew Superintendent Mark Rendell's contract and directed the board's attorney, Suzanne D'Agresta to immediately begin negotiating terms of the superintendent's departure.
Board members agreed to not renew Rendell's contract during a board work session on Tuesday. They will officially vote on the issue at their April 23 board meeting.
"I'm sorry, but you put us in this position when you sent the board a letter stating that you were seeking another job," Board Chairman Laura Zorc told Rendell during the work session. "The elephant was on the table and we needed to make a decision so that our parents, teachers and staff know where we are going."
The board discussed the superintendent's future with the district for nearly two hours before Zorc, and board members Teri Barenborg, Maria Schiff and Jacqueline Rosario agreed to not renew Rendell's contract which expires June 30, 2020. The same four board members then agreed to see if the district can negotiate a departure date for Rendell by July 23, 2019.
Board member Tiffany Justice, who has been Rendell's most vocal supporter, was unusually quiet and said little during Tuesday's meeting. She unsuccessfully tried to sway other board members to give Rendell more time to improve the district.
When it became obvious that she lacked board support, Justice praised Rendell for his efforts since being hired in 2015.
"Thank you for everything," said Justice, whose voice cracked with emotion. "For everything you've done for this district."
Rendell, who sat at the same table with the board, appeared visibly shaken by the board's decision. He did chafe when Rosario asked if he would be able to continue to do his job effectively, knowing that the board does not plan to retain him.
"I actually feel, um, almost shocked by your question," Rendell said."I've done nothing but fulfill my contract since my arrival and every single day that I've been here."