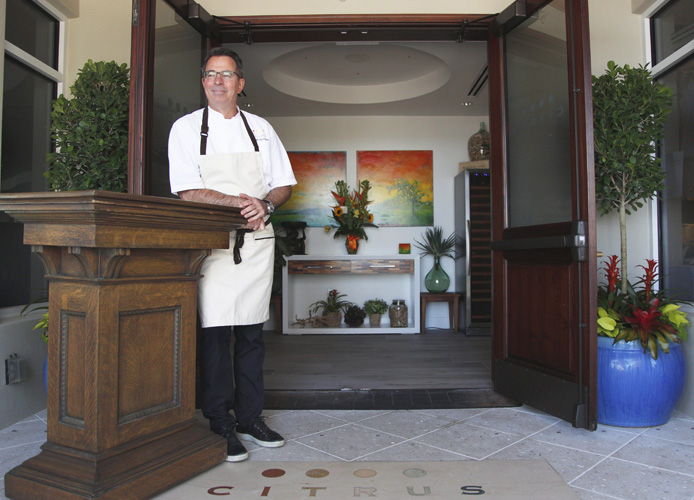 We've all heard the proverbial saying, "When life gives you lemons, make lemonade." Instead of lamenting his misfortune, Chef Scott Varricchio has done just that.
Almost exactly a year after a middle-of-the-night fire destroyed the Citrus Grillhouse, the well-known chef-owner has reopened a new, improved Citrus.
"The fire was horrible, but you've got to take the good with the bad," Varricchio said last Friday as he worked in the kitchen prepping for a soft opening later in the day. He was happily interrupted as one well-wisher after another stopped by to find out when they could get in for dinner as news the restaurant was reopening for dinner began to trickle out into the community.
While the Citrus kitchen was closed, Varricchio didn't let any dust gather on his toque blanche. Instead, he spent time testing and perfecting recipes that he is excited for patrons to try. Curry, coconut, lime with fish and basmati rice along with Valrhona chocolate and brûléed fruit are just a few of the ingredients added to an Indonesian-inspired menu. Not only did he change the menu, he also made some design changes in the seaside eatery.
As any chef worth his salt would, Varricchio retrofitted the kitchen with more "firepower."
The dining room décor also has taken on more of a minimalist feel so as not to compete with the cuisine. And the ceiling was redesigned, the flooring and ceiling tiles have sound-dampening properties, and even the column shapes were changed to further buffer chatter.
Citrus is back, and Varricchio said he plans to offer patrons a dining experience worthy of a three-star restaurant. "It's our goal to be the best restaurant between the Palm Beaches and Savannah, Ga.," he declared.
For hours and reservations, call 234-4114 or visit citrusgrillhouse.com.
The 32963 Dining Review
Our dining columnist, Tina Rondeau, has been visiting restaurants in Latin America. Her column will resume next week.