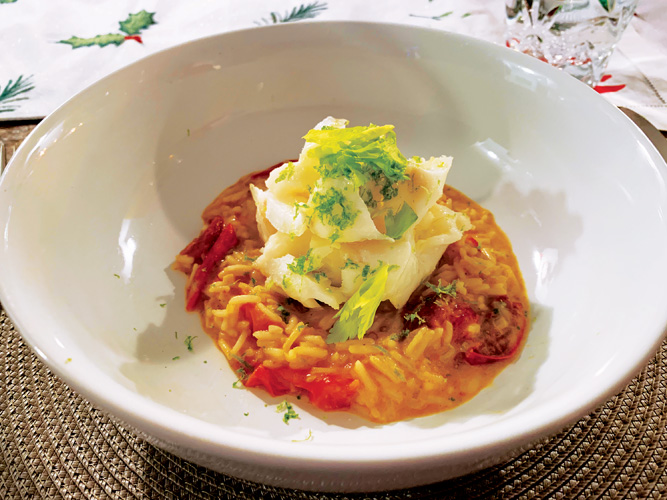 "Do you know when Citrus Grillhouse is going to reopen?"
That's a question I now hear quite frequently, particularly as readers return from up north for the winter and are surprised to find one of their favorite restaurants still a construction site.
But the good news I have from chef-owner Scott Varricchio is that a new, improved Citrus – that's right, he's planning to shorten the name to Citrus – will be back in business in early March, almost a year after it was heavily damaged by an early-morning kitchen blaze.
"We're moving right along now," Varricchio told me. "All of the dry wall is up. We start on the ceiling tomorrow, and the tile work next week."
While the basic configuration of the restaurant remains the same, returning diners this spring will notice two big differences – one they can see, and one they can hear.
Behind the inside bar, contractors have opened two large windows, bringing more light into the restaurant and giving those enjoying a cocktail the ability to gaze out at the ocean.
Perhaps even more important is the work being done on the sound dampening "cloud" that will make up the new Citrus ceiling. Table conversations were always more than a bit difficult when the old restaurant was full, and this should help considerably.
In addition to keeping a close eye on construction along with partner Matt Gaston, Varricchio has also been spending a lot of time in kitchens – both here and around the country – seeking to refine old dishes and create new.
At one point, he spent five days working in the kitchen of Napa's award-winning French Laundry, getting a hands-on look at how they do things in this Michelin three-star restaurant (yes, an old dog apparently can learn new tricks).
On a recent Saturday night, he invited my husband and me to come to dinner at his apartment to serve as "guinea pigs" for several of the new dishes he is thinking of serving when Citrus reopens.
The first course was a very light salad designed for spring – a mix of spinach, snow peas, English peas and pea sprouts, topped with fried shallots, shaved coconut and toasted croutons, and dressed with a red wine vinaigrette. Sensational! It made you wish spring was already here.
The second course was a beautiful piece of citrus poached cod, artfully presented atop a bed of jasmine rice, tomato, coconut and curry ragu. This creative blend of South Asian tastes provided a perfect platform to show off the cod.
Our third course consisted of grilled slices of wagyu strip steak, served with a puree of potato and a Carolina sweet onion. The wagyu steak just melted in your mouth, and was nicely complemented by the slice of Carolina onion, which is even sweeter than a Vidalia.
Finally, Chef Scott served us one of his playful desserts – deconstructed S'mores consisting of chocolate fudge cake, oatmeal lace cookies layered with graham cracker cream, and charred marshmallow topped with a warm chocolate sauce.
If my description of an evening of wonderful dining makes you yearn for the reopening of this seaside bistro, stay tuned. With the busy "season" about to get underway, time will pass quickly. March – and Citrus – will be with us soon.
I welcome your comments, and encourage you to send feedback to me at tina@verobeach32963.com.
This reviewer dines anonymously at restaurants at the expense of Vero Beach 32963.
Citrus Grillhouse
Hours: Still rebuilding from a fire
Beverages: Full Bar
Address: 1050 Easter Lily Lane
Phone: 772-234-4114