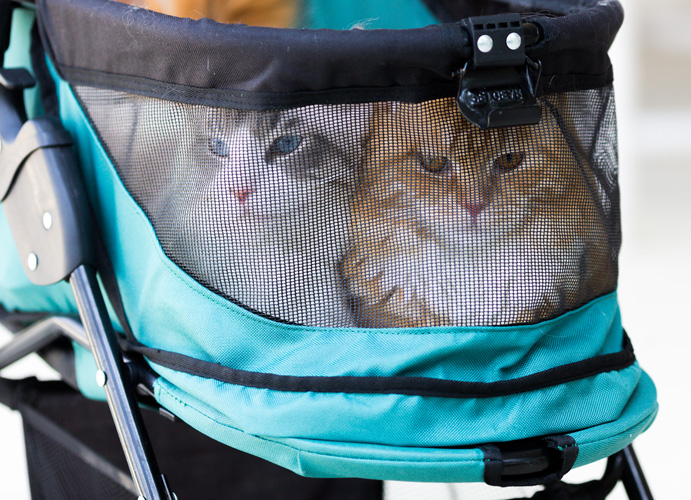 Remember a coupla years ago, how nervous I was about innerviewing pets of the fee-line pursuasion? Well, I'm proud to say I've Grown as a Dog an, several cats down the road, I ree-lize we're all the same, under the fur.
So, anyway, this week, I innerviewed Opie Nathan an his Dad, Cake. Since they're cats, I was a liddle suh-prized when me an my Assistant knocked and heard – barking. The door opened and there was this frenly Border Collie waggin' up a storm, standin' next to a human lady. I began flippin' through my notebook to see if I had gotten my schedule mixed up.
The pooch trotted up for the Wag-an-Sniff an, before I could apologize for my (probably obvious) confusion, she said, "I know who you are! You're Mr. Bonzo the Columnist. I'm Eva. I'm Cake's sister an Opie's aunt. I can sit, an twirl an roll-over an play dead. Watch!" An whoosh, at the lady's prompts, she launched into a very skillful routine: sitting, twirling, rolling over an playing dead. Then she said, "This is Opie's an my Mom, Miss Kimmie. She drives the Fur-Ever Rescue Bus. Madeline's our Sorta Sister. She's elsewhere."
I was getting a liddle dizzy, an more confused, when a meowy voice said, "No worries, Mr. B, we're one big, happy, blended famly. I'm Opie. I'll be your Spokescat. My cat Dad Cake's in the back. Our human Dad, Mr. Tom's at work. Cake calls him Daddy-O."
Opie's fluffy coat was a coupla shades of gold, with white ruff an toes, an he had gold eyes. I made more quick notes, re-grouped, an said, "Great to meet you all!"
As we were getting situated, Cake strolled in. He was a hansome gray an white Ragdoll, looked VERY fluffy an bunny-soft. As per "Basic Cat for Dummies," I waited for him to make the first move. Without hesitating, he approached for the Sniff-an-Size Up. (There's not much wagging in the Cat World.) "I'm Cake Nathan. Miss Kimmie sometimes calls me King Tut cuzza my pawsome posture. But you can just call me Cake. You've met my boy, Opie. Make yourself cumf-tubble."
"A pleasure, Cake," I told him. "I can't wait to hear your famly story."
Cake an Eva curled up, an Opie began. "I'm half Ragdoll cuzza my Dad Cake, an half Scottish Fold cuzza my Mom, Peaches. Cake an Eva were already here when Miss Kimmie brought me home. I'm named Opie cuz I have red hair like the liddle boy on that TV show. My human Dad's Troy. He's gives The Best. Tummy. Rubs. Ever. He's on an Exciting Adventure inna buncha eye-luns called the Gloppa-ghost. He gets to play with big turtles an eee-gwah-nuhs. He's gonna tell us lotsa stories when he gets back."
"Cool Catnip," I responded.
"Our newest famly member is Oliver. We just rescued him. He's a Yorkie. He's 12. He's way liddler than us – only 8 pounds. Me an Miss Kimmie took him to get all spiffed up. He's somewhere restin' now. Me an Eva are gonna help him learn stuff around here. But we'll be nice and slow an not rowdy, cuz he's Real Old.
"I bet your days are fun," I ventured.
"Totally. Me an Cake really like car rides, specially to Natural Pet Store, where we get to ride around in our stroller. One time, before I knew the ROOLS, I accidently bopped some catnip off the shelf an accidently rolled around in it. I was feelin' Super Meow all afternoon. At Halloween, me and Cake were in the big pet costume parade, just us, anna whole buncha pooches. (I was a sheriff and Cake was a Rasta cat with dreads.)
"We love to chase the laser. It's a-MAY-zing! It zips around all over the place, an we kinda go nuts. We're fast, but we haven't ever caught it. One of these days, though … One time, I was starin' intently at this gecko way up by the ceiling. I jumped on the dresser to get closer, and I was concentratin' so hard, I totally tumbled off. It didn't hurt or anything, but I forgot to pretend I meant to do it. SO embarrassing.
"Miss Kimmie taught me how to come when she whistles. An I always do. Unless I'm not in the mood. I sometimes lie on Miss Kimmie's face an help her adjust her make-up. Oooo, an me an Cake's favrite treat is yoghurt, specially strawberry.
"We also get Leash Walks. At first I'd just lie down, which really annoyed Cake, cuz we kept stoppin,' an he couldn't get his Flow goin.' But then I learned Leash Walk Etiquette, and the Cool Cat Stroll."
"Got any special pals?" I queried.
"I did," he said, sorta quietly. "My BFF was Woody. He was a Harlequin Great Dane (that means black-an-white). He'd come over to my house when his humans were away. 'Cept when he got to fly with 'em in a private jet. We played together an snoozed together all day long. I could ackshully walk right under his tummy. After I had the No Kittens Procedure an was feeling Totally Sour Sardines, Woody stayed right beside me till I was all better. But then he got old an went to Dog Heaven. I miss him a LOT. I hope Dog Heaven an Cat Heaven are next door to each other."
I thanked them all for sharing their Blended-Famly Story.
Opie asked me to give you some Important Information from his purr-sonal experience. One time, when he was "Makin' Biscuits" (you know, that funny 2-paw thing all cats seem to do), he accidently scratched Miss Kimmie. And she got Cat Scatch Fever and hadda go to the hos-pittle. Opie felt AWFUL about it. He had No Idea. So he wants cats an their humans to Be Aware. It's real, real rare. Most scratches don't cause it. But it's important information to have.
Till next time,
The Bonz