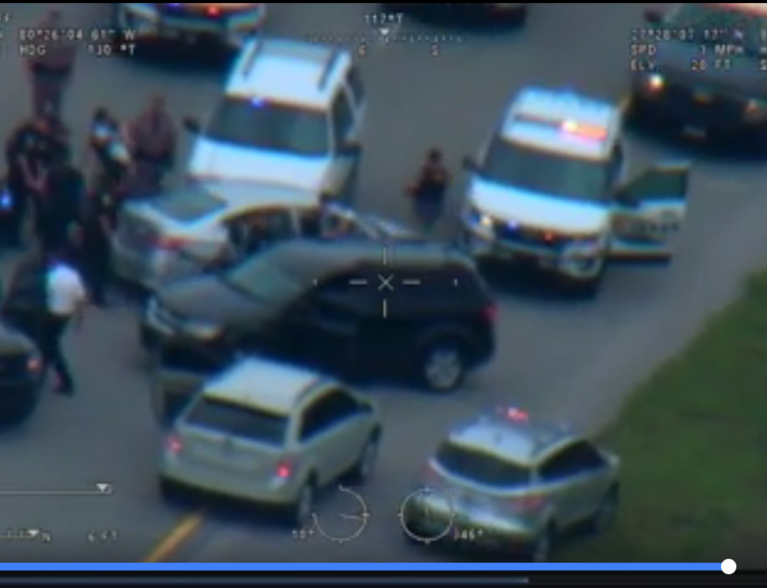 INDIAN RIVER COUNTY — Helicopter footage from a Thursday afternoon chase captured a wanted suspect in a stolen vehicle weaving in and out of traffic and dodging sheriff's patrol units, before being captured in St. Lucie County.
St. Lucie deputies arrested the suspect – identified as 27-year-old Joshua Micheal Ryan – on a variety of charges including aggravated assault on a firefighter, fleeing and eluding police and resisting an officer. Ryan, of the 8800 block of 50th Avenue,  Sebastian, was being held Friday at the St. Lucie County Jail on $265,000 bond.
The intense and lengthy chase unfolded Thursday afternoon after Ryan attacked a disabled person near his residence. Deputies said Ryan initially fled on foot to the Vero Beach Campground, where he stole the light-colored vehicle.
Ryan struck an Indian River County sheriff's patrol car as he fled the scene, deputies said. Deputies chased after the stolen vehicle and blocked off several roads Thursday near residential areas.
Video provided by Indian River County Sheriff's Office. *Click the audio icon in the lower right hand corner for sound. 
A wanted suspect led our deputies on a lenghty pursuit throughout the county. Attached is some video and a press release will follow.

Posted by Indian River County Sheriff's Office on Thursday, November 1, 2018
The helicopter footage – nearly eight minutes and 30 seconds – showed the stolen car swerving through lanes on highways and busy streets. The vehicle managed to dodge sheriff's patrol units and appeared to be traveling at a high rate of speed.
Deputies said Ryan drove through several routes, including south on 66th Avenue, west on State Road 60 and south on Interstate 95.
At several points in the video, the car drifts into the opposite travel lane or drives onto the grassy shoulder to bypass other vehicles. The car is also seen driving in a field and through a plaza parking lot in an attempt to flee from deputies.
The sheriff's helicopter monitored Ryan as he drove into St. Lucie County, where he was detained near mile marker 133, deputies said. The helicopter video showed nearly 20 law enforcement vehicles surrounding the stolen vehicle at the end of the chase.
Ryan was taken into custody and faces multiple charges in St. Lucie County. He also has pending charges out of Indian River County, deputies said.
Details on Ryan's first court appearance were not immediately available.