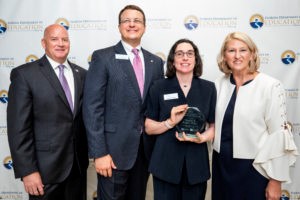 Two local business partners with the School District dedicated to the improvement and recognition of professional teacher development recently received business awards for their impact on the community.
Community Credit Union and Napier & Rollin Attorneys At Law were recognized on June 13 at the 2018 Commissioner's Business Recognition Awards. The ceremony, presented by Wells Fargo, was held during the Florida Chamber Foundation's Annual Education Summit at the Renaissance Tampa International Plaza Hotel.
"The partnership with Community Credit Union provided us with the financial support to offer additional training opportunities for teachers and other staff members," Superintendent Mark Rendell, with the School District of Indian River County, said in a statement.
"The generosity of the Napier & Rollin firm enabled us to honor our school employees with the special recognition they deserve.  I think it meant even more coming from members of their own community." 
Rendell stood alongside Deborah Blair, Education Program Director with Community Credit Union, and Michelle Napier and Kevin Rollin, attorneys at Napier & Rollin, as they accepted the awards in front of a large audience of statewide business leaders, officials said.
Blair said Community Credit Union was honored to accept the Florida Commissioner of Education Business Award and that the agency looks forward to continuing its partnership with the School District for the upcoming school year.
Rollin said he and Napier are flattered to be recognized for their contributions to education.
"We enjoy sponsoring an annual dinner event for all the teachers and employees of the year throughout the District," Rollin said. "The pleasure of having the company of these exceptional people once a year is worth it alone. They are so grateful, sincere, and fun-loving that we look forward to the event all year."
About Community Credit Union
The Community Credit Union regularly sponsors district, administrator and teacher professional development programs. The agency also sponsors district-wide banner programs that provide inspirational and motivational banners for schools.
The union also gives out Rising Star Awards to recognize outstanding new teachers, Principal and Assistant Principal of the Year cash awards, and sponsors special events at individual schools and district departments. The agency sponsored the Vero Beach High School Freshman "Learning Lab" in the 2017-2018 school year.
About Napier & Rollin Attorneys at Law
Napier & Rollin Attorneys at Law began sponsoring a Teacher of the Year Dinner in 2015, officials said. The event was recently expanded to include Employee of the Year recipients.
Napier is a member of the first graduating class of Sebastian River High School. Napier & Rollin have contributed to sports and fine arts school fundraisers in Sebastian and Vero Beach.
Rollin, a Vero Beach Sunrise Rotary Club member, participates in the Rotary Reader Program, which focuses on developing reading skills for elementary students. Rollin has also taught as a guest teacher at Sebastian Middle School on topics including equal protection, due process and the basics of the American Republic.
Photos provided by School District of Indian River County