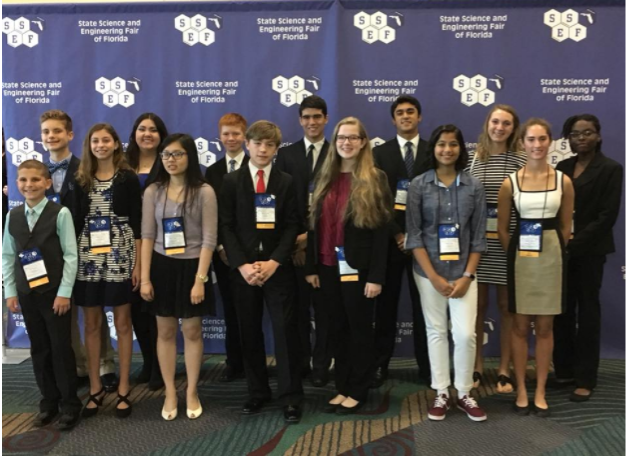 Students recently advanced from competing at a local science fair to competing on the statewide level, winning a variety of awards and continuing to show that academics is key, authorities said.
"It is so exciting to see the hard work of our teachers and students being recognized at such a high level," said School District School Board Chairman Shawn Frost. "Both as a former science teacher and the Board Chair, it makes me proud to be part of a community that places such support and emphasis on achievement in science."
The students participated in the 63rd State Science & Engineering Fair of Florida STEM Competition from March 27 through March 29 at the RP Funding Center in Lakeland, Florida. Eight students won awards.
The students were invited to the state fair after placing in the Indian River Regional Science and Engineering Fair, held Jan. 27 at Gifford Middle School, officials said. Elementary and secondary division winners won prizes for that fair.
The local fair is presented by the Education Foundation of Indian River County in partnership with the School District. The program is funded by grants and private donations, authorities said.
Here are the winners for the state science fair:
Junior Division
Andrew Bickel, Storm Grove Middle School
3

rd

place Behavioral and Social Sciences
Zachary Hessler, Gifford Middle School
$150 Cash Award from Robert & Judy Kryger Family

$200 Cash Award from Society of Mining, Metallurgy and Exploration, Florida Section

2

nd

place Physics and Astronomy

Nomination to Broadcom MASTERS program
Lucy Long, Storm Grove Middle School
Certificate from United States Department of Agriculture

2

nd

place Earth and Environmental Sciences

Nomination to Broadcom MASTERS program
Senior Division
Griffin Wagner, Vero Beach High School
To attend a week-long summer research institute valued at $595 from FAU Pine Jog Environmental Education Center
Katelyn Wahl and Alexandria Thull, Sebastian River High School
$50 Cash Award from South Florida Regional Science and Engineering Fair Awards
Jonathan Womack and Sydney Tran, Vero Beach High School
$250 Cash Award from American Society of Agricultural & Biological Engineering, Florida Section

2

nd

place Engineering