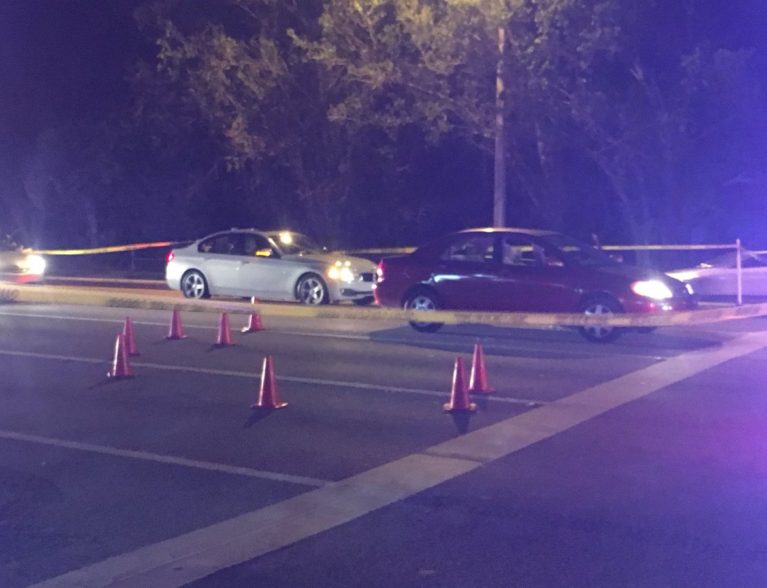 Sheriff Deryl Loar said his detectives "truly wanted to make an arrest" in the aftermath of the deadly road-rage shooting two weeks ago on one of Vero Beach's busiest roadways, but the prosecutor assigned to the case told them they did not have enough evidence to prove that a crime had been committed.
"We had the guy in our interview room for hours, and we feel there should be some type of charge, possibly for recklessly discharging a firearm in public," Loar said, adding, "We can't condone someone just discharging a weapon the way he did.
"It wasn't like it was one or two or three rounds. It was 10 to 15 rounds. He emptied the gun."
Claiming he felt threatened and "opened fire" in self-defense, Timothy Daniel Sartori shot and killed Dennis Wayne Hicks while their vehicles were stopped at the intersection of State Road 60 and 53rd Avenue at about 7 p.m. on Nov. 20.
Four of Sartori's bullets, however, traveled across traffic lanes and struck a third vehicle in which 3-year-old boy was a passenger. Neither the driver of that car, Michael Clemente, nor his young son were injured.
"If that child had been shot," Loar said, "we'd be looking at a manslaughter charge." As of Monday, no arrests had been made and no charges had been filed, but Assistant State Attorney Steve Gosnell said the sheriff's office was continuing its investigation.
"I'm waiting for follow-up investigation to be concluded, and then I'll review the full report," Gosnell said. "You can't make an arrest until you have probable cause. At this point, there's not enough evidence to prove this was an unlawful shooting."
According to sheriff's office reports, the incident began when Hicks, 38, became irate with an unidentified motorist – not Sartori – while driving along 58th Avenue.
With all three vehicles stopped at the traffic light at the State Road 60 intersection, waiting to turn east, Hicks began angrily honking his horn at the unidentified motorist.
All three drivers turned east onto State Road 60. Hicks, of Vero Beach, and Sartori, of Sebastian, were stopped side-by-side at the traffic light at 53rd Avenue, in front of the Applebee's restaurant, when the shooting occurred.
Sartori, 29, told deputies that his window was down when Hicks pulled up next to him, looked over and said, "What's your problem?" Sartori replied, saying he didn't have a problem.
It was then, Sartori told deputies, that Hicks verbally threatened to shoot him and appeared to reach for something, so Sartori grabbed his gun and shot. Sartori then drove into a nearby parking lot, called 911 and gave his version of what had happened.
Loar said Gosnell's initial assessment of the incident supported Sartori's self-defense claim, despite the fact that deputies didn't find a gun in Hicks' car.
"Gosnell is going with the stand-your-ground defense, at least for now, but that doesn't mean there won't be charges coming," Loar said. "We're not done with our investigation."
The sheriff remains suspicious.
"When we questioned him, he was like, 'What do you want me to do? Let him get the drop on me?'" Loar said. "Then he empties his magazine. That seems a little reckless to me."
Loar said the shooting should serve as a warning to local motorists that it is dangerous – and can be deadly – to angrily engage with other drivers. He said 13,000 county residents possess concealed carry permits.
"Somebody looked at somebody the wrong way, and somebody got shot," Loar said. "In this case, the guy who got shot got upset with the wrong driver. It might've been that third car that initiated the whole thing."