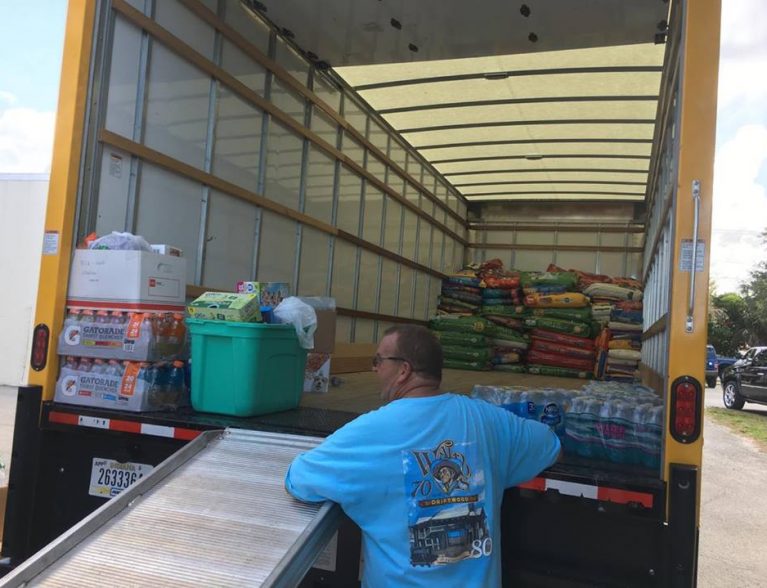 VERO BEACH — Five truck loads of thousands of supplies will leave from local radio stations and head to Houston, Texas, this weekend to help with Hurricane Harvey relief efforts.
Throughout the week, volunteers from the Humane Society of Vero Beach & Indian River County, St. Peter's Academy private school and others have brought pet supplies, canned food, diapers and more to the Treasure & Space Coast Radio building, located at 1235 16th Street, Vero Beach.
"We've had people come in with thousands of items in their cars," said Karen Franke, general manager of Treasure & Space Coast Radio. "The response has been overwhelming."
Treasure & Space Coast Radio is made up of 93.7 GYL, B 94.7 fresh country, 97.1 Ocean FM, 99.7 Jack FM and 1490/1057 WTTB.
Operations manager John Anthony said the listeners are the ones who deserve the credit because they showed up.
More than 50 volunteers Friday formed an assembly line to help stack the supplies in one of the Penske trucks. The volunteers included students from Vero Beach High School, members of the U.S. Coast Guard, Vero Beach lifeguards, Indian River County firefighters, members of Calvary Chapel Vero Beach and more.
The Vero Beach Lifeguard Association donated $1,000 to pay for one of the trucks. Other businesses such as Smith Services and Legler Orthodontics helped pay for the other trucks.
Joseph and Joseph Real Estate and Kite Tax Lien Capital will pay to fly the truck drivers from Houston back to Vero Beach.