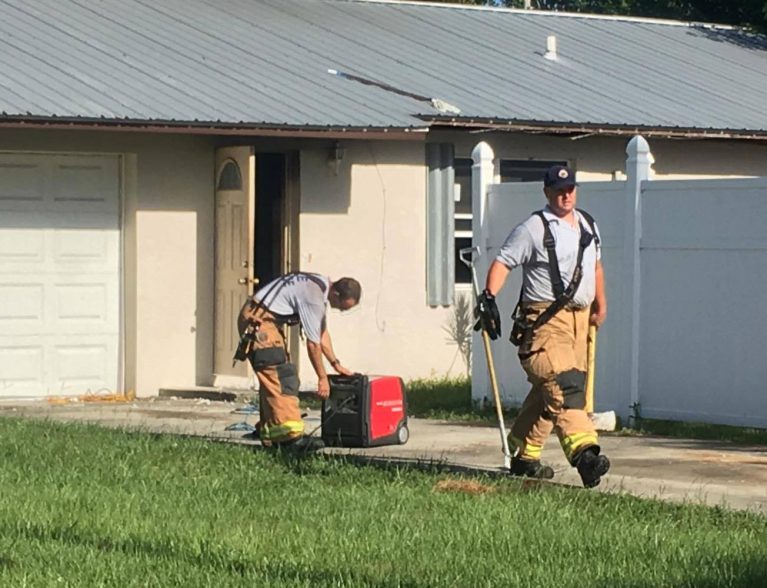 GIFFORD — A family of four is displaced after a home fire that originated from a stove in Gifford, according to Indian River County Fire Rescue officials.
Firefighters responded to the scene shortly after 4 p.m. Monday at the home in the 4000 block of 46th Lane, west of U.S. 1, in Gifford, Fire Rescue Battalion Chief Kyle Kofke said. Crews saw smoke billowing through the front door upon arrival.
Family displaced from home fire in Gifford

A family of four was displaced after a home fire Aug. 21 in the 4000 block of 46th Lane in #Gifford.The fire originated from the stove and was extinguished in about 10 minutes, but it left smoke damage throughout the home, making it uninhabitable.Red Cross South Florida Region has been called to help the family.

Posted by Nick Samuel on Monday, 21 August 2017
The fire was contained to the kitchen and crews extinguished the flames at 4:30 p.m., Kofke said. A mother at the home, Mia Strachan, was able to get her kids out of the home before crews arrived.
She sat in a chair and cried as she watched firefighters walk in and out of her home in the quiet, tree-lined neighborhood. Her son, 14, and daughter, 8, were standing by her.
The dad, who wasn't home, is 37, she said.
"I was cooking dinner and went inside the room; 10 minutes later I heard a crackling noise," said Strachan, 38. "I saw the stove was up in flames to the ceiling. I screamed for my kids to get out and we were able to get out."
No injuries were reported and no other homes were threatened, but the home is uninhabitable from smoke damage, Kofke said.
"Probably everything has smoke damage, including school clothes for my kids," Strachan said.
Red Cross South Florida Region is providing the family with food, lodging and recovery assistance, said spokesman Robert Baltodano.