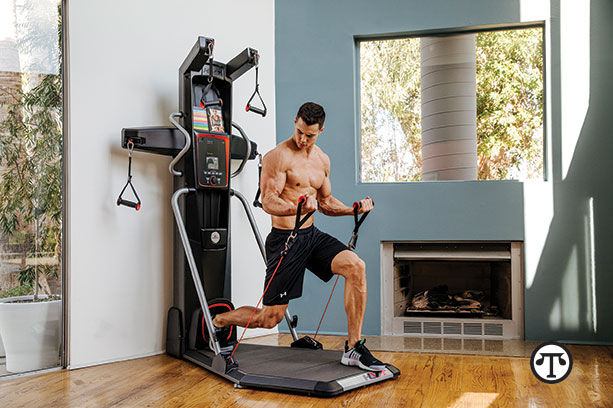 (NAPSI)—Staying motivated to work out can sometimes seem like a daunting task. It's easy to prioritize other things ahead of your fitness routine. It's no surprise that researchers have found that lack of motivation is one of the leading causes of inactivity.
"Committing to a healthier lifestyle doesn't have to be as challenging as it might seem," explained exercise physiologist and Bowflex Fitness Advisor Tom Holland. "Trying different motivational techniques is crucial to living a healthy lifestyle, as fitness isn't one size fits all. Finding what inspires you can help set you on the path to success."
Here are four ways to stay motivated to live a healthy lifestyle:
1. Mix up your workout routine. Do you get bored doing the same workout day after day? Varying your routine and incorporating new and different exercises can refresh and re-energize your workout. You'll also be less likely to hit a weight loss plateau. For example, you can switch up your routine by adding the Bowflex HVT machine (www.bowflex.com/hvt) to the mix. The HVT machine offers hybrid velocity training, which combines cardio and strength training into one effective workout. In about 18 minutes, this machine can deliver the calorie burn of running 1.5 miles, and up to five times more muscle activation than traditional strength training.
2. Bulk up your health and fitness knowledge. Knowing how to exercise properly and being educated on nutritious foods are essential to fitness success. One way to stay focused is to ensure that you're effectively working toward your health goals. In fact, the recent Bowflex Customer Success and Motivation Survey found that health and fitness tips were one of the most important tools for fitness success. These can be found through a variety of resources—from personal trainers and doctors to fitness magazines and healthy-living blogs. One example is the Bowflex Insider blog (www.bowflex.com/blog), which offers expert advice to help readers lead a healthy, active lifestyle. The blog covers topics such as workouts, fitness tips and healthy eating for readers in every phase of their fitness journey.
3. Set goals and track your progress. Setting attainable and measurable goals is key. For example, try starting out with a 20-minute workout, three times a week. Tracking your progress also helps keep you excited and working toward your goals. This can be as easy as using a machine that features tracking software or downloading a fitness app. The Bowflex BXT216 treadmill (www.bowflex.com/treadmills) features Bluetooth connectivity that lets you track your progress, set goals and win awards with the Results app. The app also integrates with other popular fitness apps such as MyFitnessPal, Apple HealthKit, UA Record, MapMyRun and Endomondo.
4. Work out with a friend. Studies show that people who work out with a partner are less likely to skip workouts and more likely to work out harder. Having a workout partner can keep you accountable and encourage you to push yourself further. The next time you head to the gym, try taking a friend or family member. If you can't find someone to work out with, sign up for a community sports team or talk to someone new during your next group fitness class.
On the Net:North American Precis Syndicate, Inc.(NAPSI)