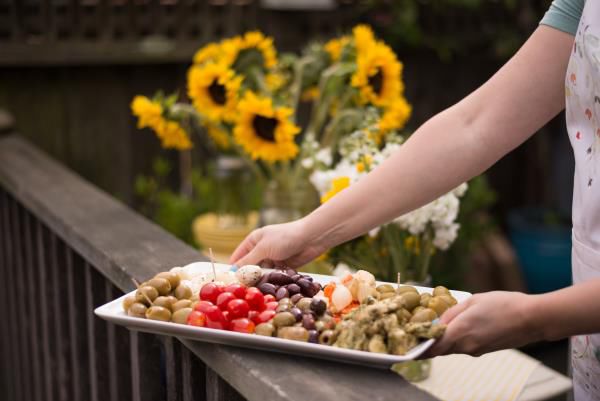 (StatePoint) Make living easy and delicious this summer with Mediterranean-style snacks, appetizers and party trays that are ready to serve in a snap. Whatever the occasion, from barbecues to graduations, you can have a full season of al fresco fun with these ideas.
Decorating and Serving Tips
Choose bright tulips, sunflowers and gerbera daisies for a cheery table setting. Cluster plates of appetizers with flowers for a pleasing presentation. When guests arrive, get a glass in their hands so they will feel welcome and ready to enjoy your delicious foods. The key to enjoyable entertaining is being both prepared and being part of the party.  Create a self-serve atmosphere that gives you, the host, more freedom to enjoy time with your guests.
Smart Staples
With smart staples on hand it's easy to get the party started. Olives for example, are the centerpiece of the Mediterranean diet. Packed with flavor, they are wonderfully versatile. Combined with fresh flavors of seasonal produce, such as asparagus, tomatoes, bell peppers and cucumbers, they can brighten any platter with a rich and satisfying burst of flavor. They are also a natural with any cheese, added to pasta, or served alongside hummus, rustic style breads and refreshing, summery wines.
One, Two, Three Skewers
Try this tasty idea: Start with toothpicks to create single-serve skewers that guests can easily tote as they mingle.
Choose three or four different kinds of olives, small cheese squares and slices of ready-to-eat meats. For example, begin with a Pearls Specialties Kalamata or Garlic Stuffed olive. Next add a slice of your favorite cheese cut into small squares. Then combine with a slice of salami, smoked ham or sautéed rings of flavorful sausage. Skewer everything for easy one-bite hors d'oeuvres. This combination of flavors will keep guests coming back for more.
Simple Snackers
For an impressive plate of appetizers, top large whole grain crackers with a dollop of hummus and cross-cut slices of Kalamata olives. To add color, flavor, and texture, try a beet or basil pesto hummus. Combine colors and flavors by adding thin cucumber slices, crumbled, marinated feta cheese, or a tangy ready-made mango salsa. Serve immediately to keep the crackers crisp. These will disappear quickly and are very visually appealing.
Homemade Olive Bar
Choose an array of four or five different kinds of olives to feature on a large platter. For a variety of choices, check out Pearls Specialties Olives at local grocery stores, Target and Walmart, which offers Kalamata, Greek Queens stuffed with either garlic or jalapeno, a mixed Greek medley, and classic California Black Ripe olives.
Pick up fresh cherry or grape tomatoes, a package of frozen tortellini with pesto sauce, and some bite size "bocconcini," which are small mozzarella balls in olive either marinated with herbs and olive oil, or plain. Combine these items on one large platter in different sections and provide small snack plates and party picks for guests.
For more ideas, recipes and tips, visit olives.com/pearls.  
With the right ingredients and cheery table settings, summer entertaining can be easy, fun and bright.